NZXT FZ LED Fan and Sleeved LED Kit – Case Lighting Overview
Got a Window? Use it!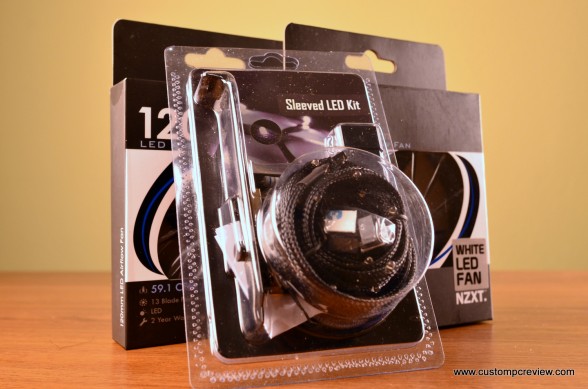 Chances are, you have a bookcase or some cabinets at home with large windows up front. Most of us do, and chances are, inside those bookcases or cabinets, we have lighting. Why? Well, we've gotta show off how awesome our book collections are or how beautiful our china is.
We spend tons of money on high end windowed cases, matching colors and all that cool stuff each year, but honestly, how many of us go that extra mile to light everything up? From what I've seen from many of my own builds as well as those from others, I'd have to say not many, but it shouldn't be that way. There are many inexpensive options out there for illuminating your PC and today we'll be taking a look at a couple of these options from our friends over at NZXT.
The products we've selected today have a couple of goals in mind:
Everything needs to be simple to install.
We want to achieve maximum effect with minimum cost
NZXT FZ LED 120mm Fan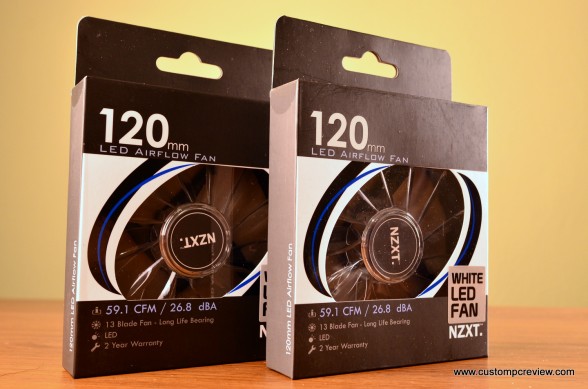 The first product we'll be taking a look at is the newly introduced NZXT FZ LED 120mm Fan. This is actually one of NZXT's newest products to hit the market and comes in both 120mm and 140mm flavors. Aside from the difference in sizes, the fans also come with different LED colors such as white, blue, green, orange, and red.
Today we'll be taking a look at the 120mm version. The fan has a rotational speed of 1200RPM, a noise level of 26.8dBA, and an air flow rate of 59.1CFMs. While we won't be focusing on fan performance today, the fan definitely looks great on paper – offering a very good noise to air flow ratio, especially for an LED lit fan. Additionally, NZXT also emphasized that this fan has a "Long Life Bearing". Upon further inspection, the fan actually comes with rifle bearing fans, which are significantly more durable than cheap sleeve bearing fans that are all too common on the market today.
Specifications
| | |
| --- | --- |
| MODEL | FZ-120mm LED Airflow Fan |
| LED | White, Blue, Green, Orange, and Red |
| VOLTAGE | 12V DC |
| CURRENT | 0.21A (rate), 0.30A (safety) |
| DIMENSIONS | 120 x 120 x 25 mm |
| INPUT POWER | 2.52W (rate), 3.60W (safety) |
| SPEED | 1200+/-200 RPM |
| AIR FLOW | 59.1 CFM |
| AIR PRESSURE | 0.71 mmH₂O |
| NOISE | 26.8 dBA |
| BEARING | Long Life Bearing |
| LIFE | 40,000 Hours |
NZXT Sleeved LED Kit
The second product we'll be taking a look at is the 2m NZXT Sleeved LED Kit. Sleeved LED kits are nice because they create very little heat, use very little power, yet are able to achieve stunning effects. Coming in at only $17.48 on Amazon, it's quite possibly one of the easiest and most inexpensive upgrades you can add to your case to give it the extra wow factor it deserves.
Easy Management: Designed to take up minimal space and fit in narrow areas in any case, the Sleeved LED Kit provides numerous LEDs on one cable to simplify installation.
5 Kit Colors: Set the mood or mix and match with red, green, white, blue, or orange kits.
Sleeved LED Kit comes in 2 lengths; 1m and 2m.
3-Step Light Sensitivity: Allows user to turn LEDs on high, medium, and low settings or turn off.