[section label="Introduction"]
Gigabyte's Mid-Range X99 Motherboard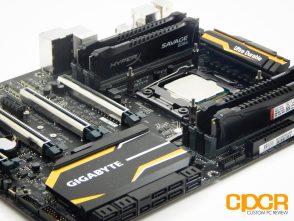 When Intel launched the Broadwell-E platform earlier this year, Intel's X99 chipset saw a surge in interest as many users became interested in upgrading their systems which required a suitable motherboard to match. Today we have an X99 platform motherboard that sits at below the $250 pricepoint and has the features to keep up with most users needs.
Today we'll be reviewing the Gigabyte X99P SLI which is a motherboard that falls into the $200 range with a fairly extensive list of features making it quite competitive on paper.
The original X99 SLI motherboard from Gigabyte was priced at the $200 price point but could be easily found $25-$50 cheaper on sale making it one of the better value picks for those looking to get into the X99 platform. Will the Gigabyte X99P SLI be the perfect balance between price and features as well? Let's take a look!
Specifications
Manufacturer
Gigabyte
Model
X99P SLI
Form Factor
ATX
Socket
LGA 2011-3
Chipset
Intel X99
Memory
8x DDR4 DIMM Slots (Up to 128GB)
Quad-Channel, up to DDR4 3200MHz+
Video
Discrete Graphics
Audio
8-Channel High Definition Audio w/Optical (Realtek ALC1150)
LAN
Intel I218
Slots
5x PCI Express 3.0 (1X16, 2X16, 3X8, 4X8 (Based on 40-Lane CPU)
1x PCI Express x4
Storage
10x SATA 6GB/s
1x M.2 PCIe connector
1x SATA Express connector
Onboard Connectors
1x 24-pin ATX main power connector
1x 8-pin ATX 12V power connector
10x SATA 6Gb/s connectors
1x PCIe power connector
2x USB 2.0 connectors (supports 2x USB 2.0 ports)
2x USB 3.0 connector (supports 2x USB 3.0 ports)
5x Fan Headers (1CPU 1 Watercooling Header, 3 System fans)
1x Front panel audio connector
1x Direct audio power connector
1x Thunderbolt 3 (DisplayPort) connector
2x System panel connectors
1x Power button
1x Reset button
Rear Panel I/O
1x Clear CMOS button

1x LAN (RJ45) port


1x PS/2 Keyboard/mouse port
4x USB 2.0 ports
2x USB 3.0 ports
1x Optical S/PDIF OUT connector
5x OFC audio jacks
Warranty
3 years
Check Pricing
Amazon
[section label="A Closer Look"]
A Closer Look At The Gigabyte X99P SLI
Here's a look at the packaging for the Gigabyte X99P SLI.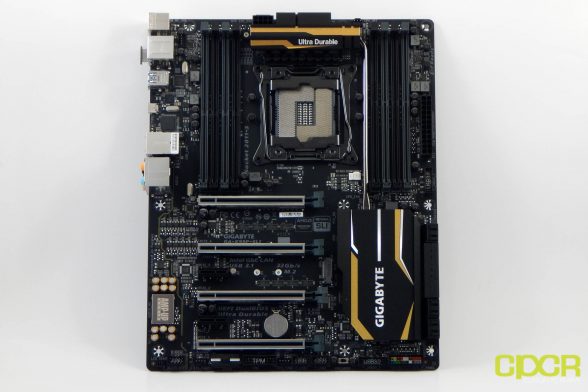 The Gigabyte X99P SLI is utilizes the massive EATX form factor to support all its features. It's equipped with Intel's X99 chipset, which supports Intel's socket LGA 2011-3 processors. The Gigabyte X99P SLI has an all-black PCB with mostly black and gray components with yellow accents (fantastic if you love the Pittsburgh Steelers, but not so much if you're a Baltimore Ravens fan).
Rivalries aside, this board is also a part of Gigabyte's Ultra Durable motherboard family. The Ultra Durable designation implies a number of quality features such as solid capacitors, rigid multilayer PCB, and components that are a notch above the run-of-the-mill general quality.My personal experience with the Ultra Durable line has always been quite positive with few if any exceptions.
A huge focus of the Ultra Durable designation is in the reliability of the power delivery. The Gigabyte X99P SLI uses high-end components such as server-grade Cooper Industries Eaton Ferrite 1007R3 R15 inductors (chokes), an IR Digital PWM, and the International Rectifier 3556m MOSFET (IR PowlRstage) which is the same MOSFET used in the SOC Champion and other high-end Gigabyte boards. These MOSFETs, also known as DirectFET MOSFETs, use a single package design where the high and low side MOSFETs are combined into a single package for better efficiency.
On this particular board, we get a 7+1 power configuration, which is decent for basic CPU overclocking but memory overclocking will likely suffer a bit compared to higher end motherboards with more memory power phases. For most applications, however, CPU overclocking will yield the greatest real-world performance benefits.
Gigabyte has also equipped the CPU power delivery system with a massive heatsink to reduce heat during operation. Heat could negatively affect the operation of the chokes and capacitors and induce unstable power input.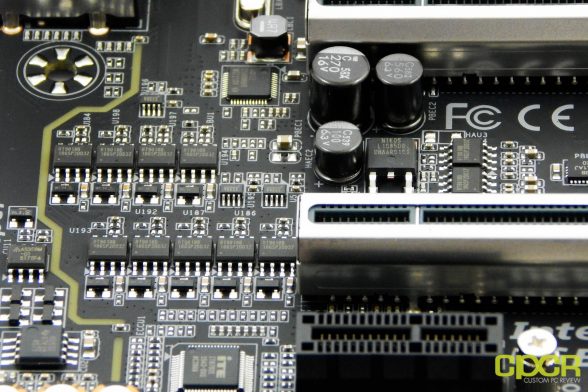 The capacitors onboard are all solid black Japanese capacitors, which is the same used in most of Gigabyte's most premium motherboards including the SOC Champion.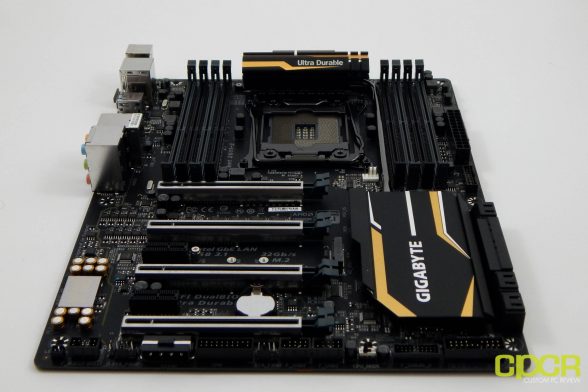 The on the board, expansion options on the Gigabyte X99P SLI include 4x PCIe Slots, 10x SATA ports, 8x USB headers (4x USB 3.0/2.0 and 4x USB 2.0/1.1).
The motherboard also comes with 4 fan headers and one radiator pump header, all of which support PWM mode for dynamically adjusting PWM supported fans.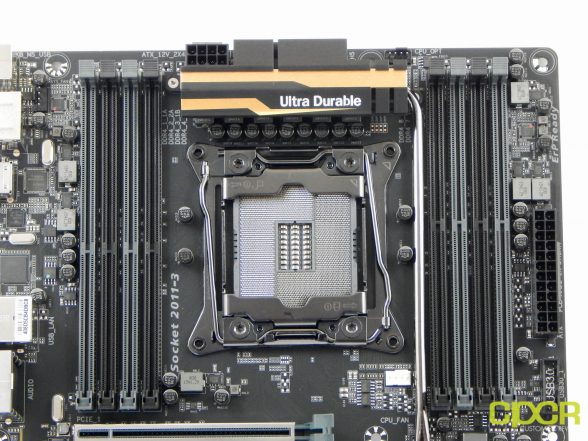 To the right of the board is the standard 24-pin connector. Next to it is the standard 8-pin CPU connector which is in the standard upward facing style. On the Gigabyte X99P SLI, Gigabyte also added a gold plated CPU socket which has added pins in the socket for improved overclocking capability.
One feature curiously missing is Reset, Power and Clear CMOS buttons which are found on many of Gigabyte's motherboards. These features would've been wonderful at this price point.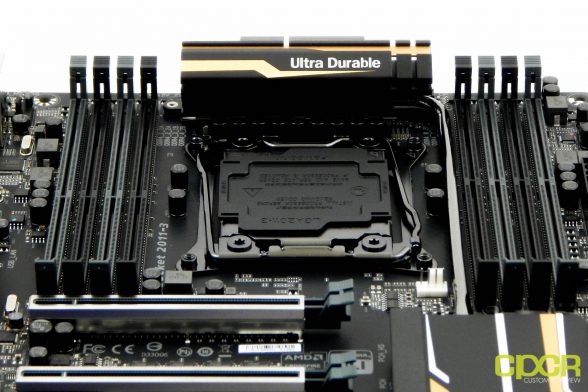 This motherboard supports up to 128GB of quad-channel DDR4 memory via 8x DIMM slots, so four DIMMs must be installed to take full advantage of the parallelism provided by the quad memory channels. Gigabyte specifies a maximum frequency of up to 3200MHz (OC). These slots are a combination of black and gray, so color coding is here. Of course, you could always check the manual as well.

For storage, our Gigabyte X99P SLI  includes a total of 10x  SATA ports, which are rated for 6Gb/s. The X99 chipset does natively support up to 10 SATA 6Gb/s ports, and also includes SATA Express. This board does include the standard M.2 port which was tested with a Kingston HyperX Predator. Considering the decent availability of high-performance PCIe SSDs, this is very good to see.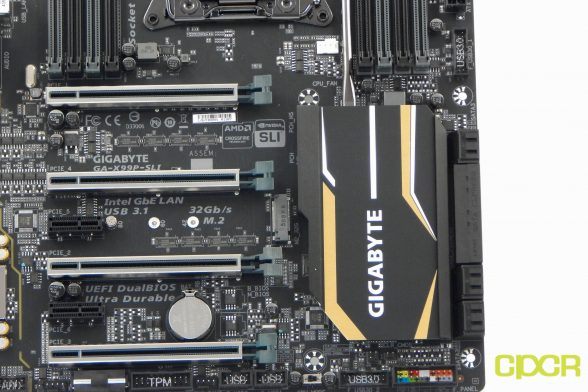 On this board, we have 4x PCIe 3.0 slots, which means that when it is paired with a compatible, 40-lane processor, 4-way SLI and CrossFireX configurations are possible at x8/x8/x8/x8. With our entry-level 6-core Core i7 5820K, we'll only be able to address 28 of those lanes, and therefore be limited to up to  3-way SLI and CrossFireX configurations (x8/x8/x8) occupying the top three PCIe slots.
Here we see the PCI Express slots flanked by the Southbridge heatsink which yet again is black and yellow with some white accents.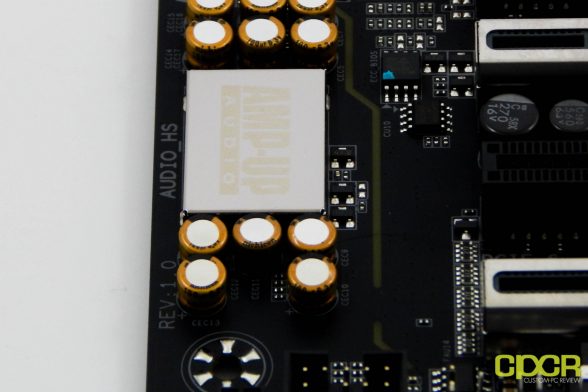 On the audio side of things, Gigabyte is using the industry-standard Realtek ALC1150 with their AMP-UP Audio, which if you get past the marketing lingo means a shielded audio chip to help decrease interference and improve clarity along with high-grade Nichicon Gold audio capacitors and an OP AMP.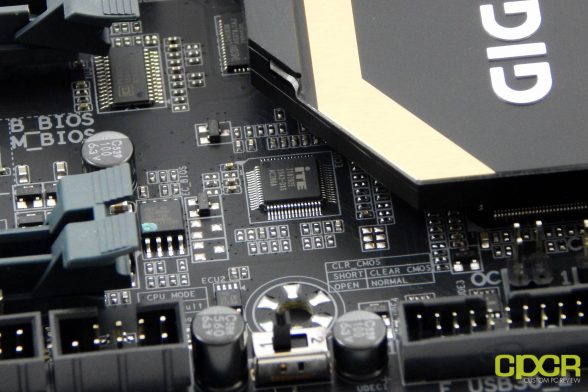 Fan control and monitoring is performed via ITE IT8792E the system controller.
Let's take a look at the bottom of the Gigabyte X99P SLI Starting from the left we get an extra 6-pin power connector for powering those triple and quad GPU configurations, front panel connectors, fan header, COM Port header, TPM as well as USB 3.0 and 2.0 headers finally with the CPU Unlock mode being built in, which in our testing did not help sustain more stable overclocks, although it may for higher end CPUs.
At the rear of the board, we see 4x USB 2.0 ports, along with 3x USB 3.0 ports, a single USB 3.1 Type-A connector, and a USB 3.1 Type-C connector. We also have a Thunderbolt 3-certified DisplayPort, standard audio output, and a PS/2 connector for legacy peripherals.
[section label="UEFI/BIOS"]
Gigabyte X99P SLI UEFI Interface
The Gigabyte UEFI incorporates a simple startup guide for new users with the real meat of the settings behind hid behind the "Classic UEFI" mode or the new "Smart tweak skin". We'll be looking at the Smart tweak version today.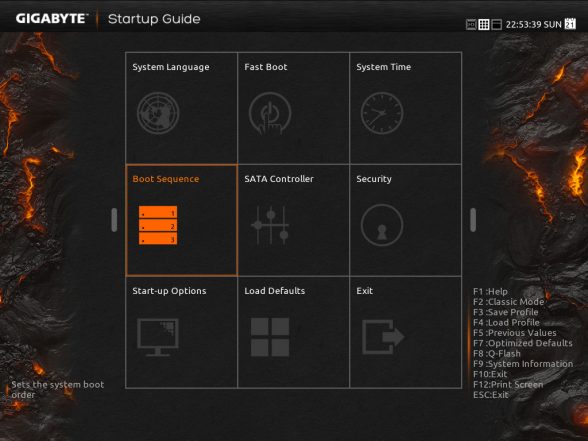 First off we have the frequency menu, which allows adjustment of some of the overclocking settings. Gigabyte has made it simple to change any of the options and there's also some decent descriptions for those unfamiliar with overclocking that go along with the options as well. I did find that some of the descriptions for the settings are curiously missing, and those are the ones that would have been helpful to me as a more advanced overclocker, but those who are more novice overclockers should find these settings helpful.
We also have our adjustments for voltages here. The explainations for some of the voltage controls are very basic. I recommend digging a bit deeper in Google before modifying any values.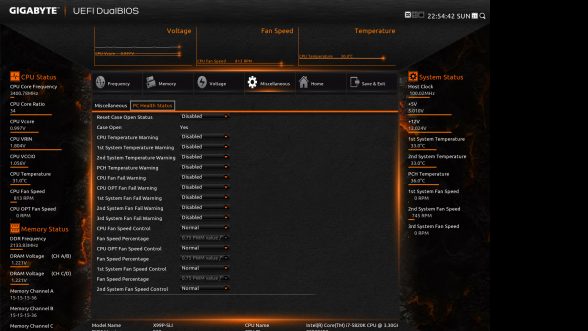 In the miscellaneous menu, we have the fan control menu, which allows fine tuning of the 4 fan headers on the motherboard. Within the UEFI, there's actually only very basic options for fan controls which include a normal mode, a performance mode, and a full speed mode.
Finally here is a look at the other settings in the UEFI Bios the options are pretty standard for most boards in its class and things like QFlash has been done by competitors as well.
[section label="Software"]
Gigabyte X99P SLI Software
With the X99 chipset motherboards, Gigabyte has re-purposed the software from a few generations ago maintaining a more unified look across all software along with the UEFI BIOS. To organize the software, Gigabyte has included the APP Center, which is a launcher software for Gigabyte's software.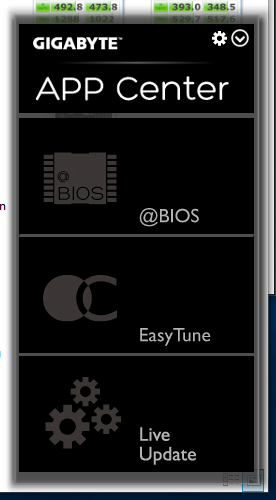 The APP center is relatively similar to what it's been in years past, the major change is the inclusion of only @BIOS and, Live Update and EasyTune.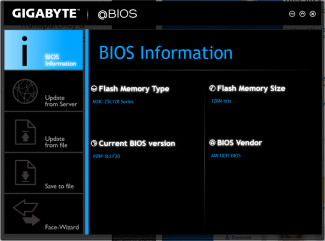 @BIOS allows updating the BIOS right from within Windows. Updates can be downloaded from Gigabyte's servers or you can update from a file. You can also save your current BIOS to a file and you can change the BIOS boot up image as well.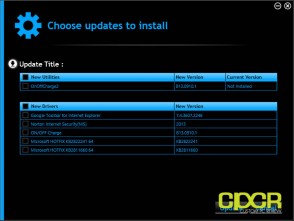 As usual, Gigabyte also has Live Update, which helps you keep all your software up to date without having to go to Gigabyte's website. Live Update automatically checks for new updates from Gigabyte's website then you can choose which updates you want and it'll automatically download and install them for you.
The biggest software package Gigabyte offers is their EasyTune software, which allows users to tune a good chunk of their motherboard settings and overclock on the fly. Gigabyte makes it pretty easy for users to just go in and autotune their systems to preset profiles. The profiles are decent, but more often than not, they use excessive amounts of voltage to achieve overclocks that you can do manually for less. There's also an advanced section that allows you to adjust pretty much every setting available in the BIOS. What's cool here is that if you do find a decent setting, you can go ahead and save it directly to BIOS right from the software. This is functionality not previously available via the older EasyTune software.
[section label="Testing Setup"]
Haswell-E Testing Setup
[section label="Overclocking"]
Gigabyte X99P SLI Overclocking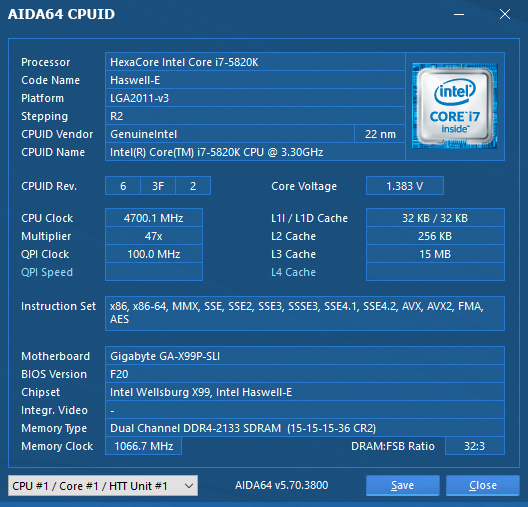 Basic overclocking on the Gigabyte X99P SLI was a fairly easy process. With the NZXT Kraken X61 280mm AIO CPU cooler, I was able to reach 4.7GHz at 1.38V which is done simply by changing multipliers and Vcore. I also tested increasing the strap speeds for some additional performance, but the system was not able to get the system completely stable.
Interestingly, the Patriot DDR4 2800MHz RAM kit I used could not run at the XMP settings with this motherboard so I had to run it at stock JEDEC timings shown above. With other motherboards I was able to reach 3,000MHz on this kit, so there's either some sort of compatibility issue here or the board simply doesn't like higher clocked memory. Either way, memory compatibility may be a concern.
[section label="CPU Performance"]
Gigabyte X99P SLI Performance
CPU Performance
Cinebench R15
CINEBENCH is a real-world cross-platform test suite that evaluates your computer's performance capabilities. CINEBENCH is based on MAXON's award-winning animation software CINEMA 4D, which is used extensively by studios and production houses worldwide for 3D content creation. MAXON software has been used in blockbuster movies such as Iron Man 3, Oblivion, Life of Pi or Prometheus and more.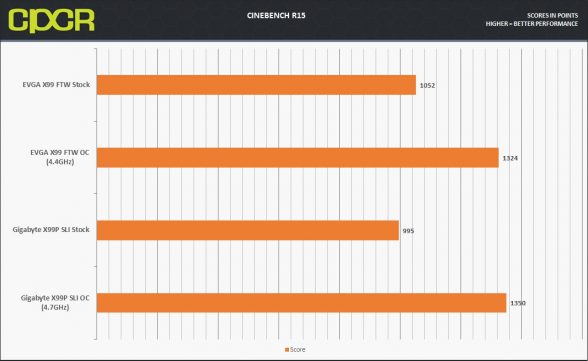 Here we see our Gigabyte board being slightly behind the EVGA model, but 50 points somewhat troubling, after retesting the system at stock we get the same results. We see very similar results with the much higher OC on the Gigabyte board compared to EVGA's model.
PCMark 8
The PCMark 8 Creative benchmark includes workloads typical of enthusiasts and professionals who work with media and entertainment content. With more demanding requirements than the Home benchmark, this benchmark is suitable for mid-range computer systems. PCMark 8 Creative includes web browsing, photo editing, video editing, group video chat, media transcoding, and gaming workloads.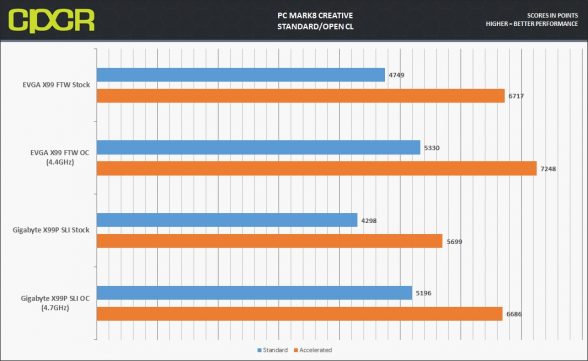 Here we see our Gigabyte X99P SLI slightly trailing behind the EVGA board, we assume it loses due to the different storage controllers on the board. All in all a solid performance from our much cheaper Gigabyte board.
Handbrake
For those on the cutting edge of Video encoding H.265 allows even greater file compression at no quality loss, although incredibly system intensive it is the future of video compression and we test it here using Handbrake.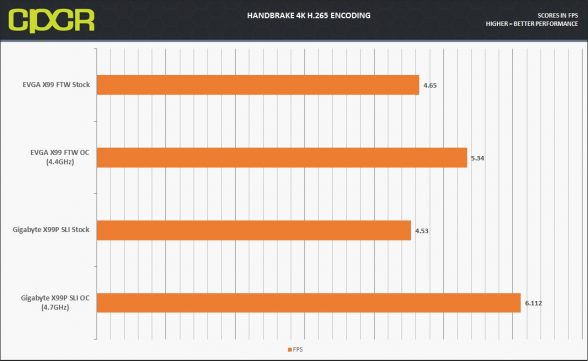 The gigabyte motherboard gains a 35% increase by reaching 4.7GHz. A feat the lower clocked 4.4GHz configuration cannot keep up with.
Photoshop Radial Blur
We use Photoshop CC 2015 in the Radial Blur test which has been used as a benchmark for the past few years, links to the benchmark and instructions can be found here.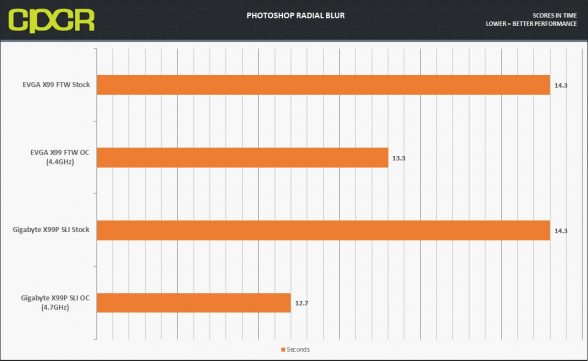 Here we see an application that traditionally favors clock speed and RAM latency, our 4.7GHz OC shows its teeth cutting the render times down 15% from stock speeds, although the 4.4GHz OC does come pretty close as well.
[section label="Memory Performance"]
Memory Performance
AIDA 64
AIDA64 Extreme Edition is a streamlined Windows diagnostic and benchmarking software for home users and enthusiasts.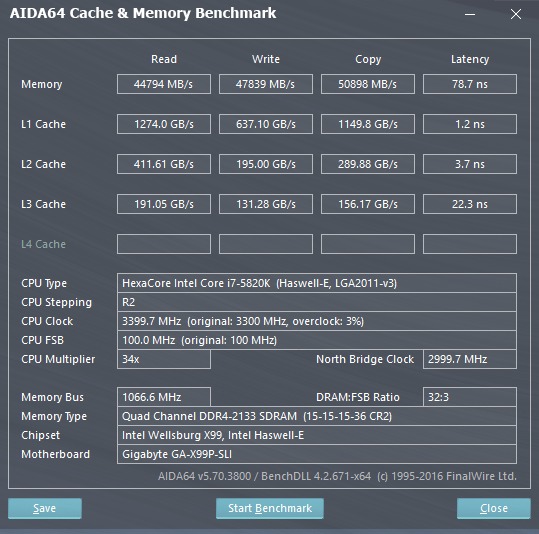 Our Patriot Kit was unable to hit its XMP Profile and here are the results at standard JEDEC timings.
WinRAR
WinRAR is one of the most popular archiving software on the market, for our testing, we simply use the built in benchmark and record Compressing speeds.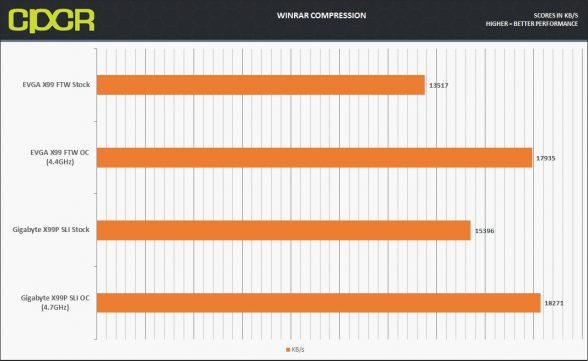 The Gigabyte X99P SLI seems to take a small lead at stock, and after re-running the results we saw the same results.
7-Zip
7-Zip is the alternative to our previous benchmark WinRAR and is a very successful and open source alternative.
Here oddly enough the EVGA motherboard gets much higher results at 4.4GHz, and it seems to lose performance at 4.7GHz we can almost certainly attribute this to the lower clocked memory.
[section label="Graphics Performance"]
Graphics Performance
3D Mark
3D Mark is Futuremark's latest benchmark utility used widely by gamers, enthusiasts, and overclockers to benchmark system performance and stability under consistent graphics loads.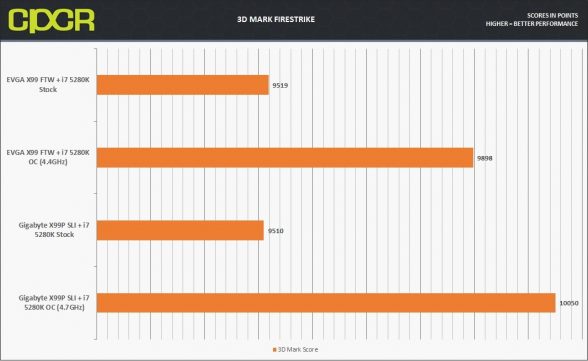 Looking here we see the slightly lower clocked setup with the EVGA mobo trailing a close second. Very strong performance from both systems here.
Rainbow Six: Siege
Rainbow Six Siege is one of the most popular shooters out today. Using Ubisoft's AnvilNext2.0 engine. Solid multicore utilization, along with lots of physics-based environmental destruction, particle effects such as smoke and fire and, fast paced action makes this for one spectacular CPU gaming benchmark.
Our benchmark uses the built in tool which does a flyby through the "House" map as explosions go off and lighting and particle effects fill the screen.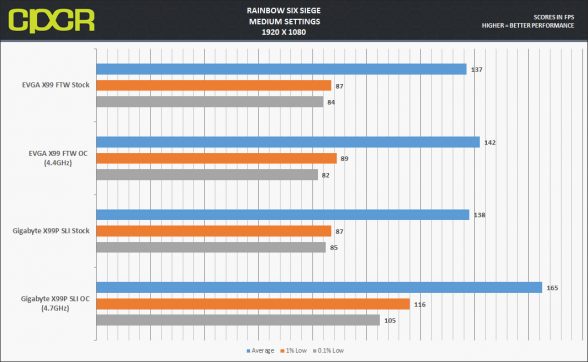 Here we see the game seems to take a huge performance boost from the OC, with the minimum .01% going from 82FPS to 105FPS at 4.7GHz a 25% boost in FPS. Oddly enough the EVGA board at 4.4GHz got a slightly lower FPS minimum once OC'd either way this game seems to appreciate the higher clock speed now and from my personal experience, this game gets CPU bottlenecked at high settings.
GTA V
The hotly anticipated PC release of Rockstar Games' fifth installment of their Grand Theft Auto franchise, easily proves once again, that when it comes to open-world games, no one does it better. With lots of new features and graphical enhancements built specifically for the PC version, it's no wonder it took them so long to optimize it. With advanced features such as tessellation, ambient occlusion, realistic shadows, and lighting, mixed with the largest open-world map in franchise history, this is one beautiful, well-optimized PC title.
We test Grand Theft Auto 5 using the last scene in the game's built-in benchmarking tool. We test on 'High' settings with Anti-Aliasing turned off.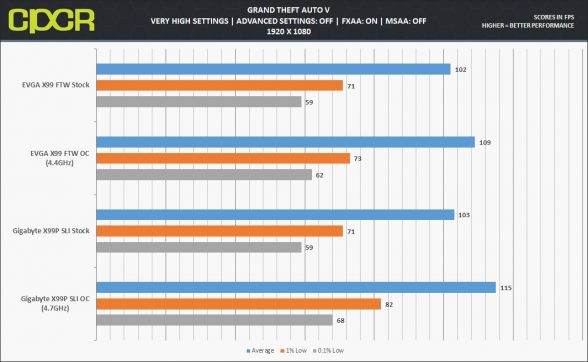 Looking at GTA We see the game does enjoy the benefit of running better minimums at higher OC's giving you a good reason to try to hit a solid overclock.
[section label="Storage Performance"]
Storage Performance
SATA Performance Crystal Diskmark
Crystal Disk Mark is another popular benchmark which allows us to measure both sequential read/write speeds as well as random read/write speeds. With this benchmark, tests can be run using both random fill (incompressible data) and 0 fill (compressible data). Realistically in typical computer usage scenarios, data being transferred will consist of a mixture of both incompressible and compressible data.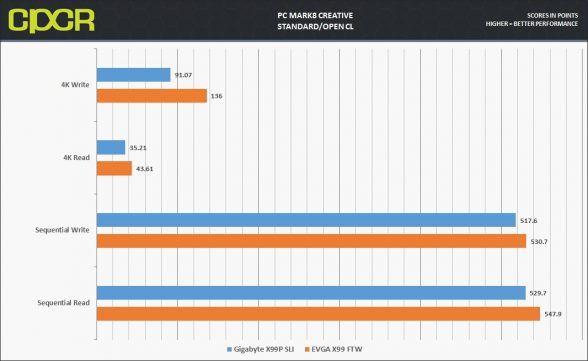 Frankly not much to speak of here the EVGA motherboard seems to be a bit ahead it's rather close to margin of error, although this may have to do with a slightly different I/O. Again this would be nearly impossible to notice in real use.
USB 3.1 Performance
Kingston HyperX Savage USB 3.1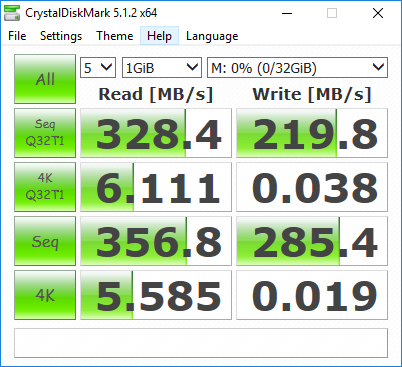 We see very good USB 3.1 performance out of this drive but not enough to fully saturate USB 3.1, this is not any fault of the motherboard itself but most likely the USB controller on the flash drive itself.
PCI-E M.2 Performance
Kingston HyperX Predator M.2 480GB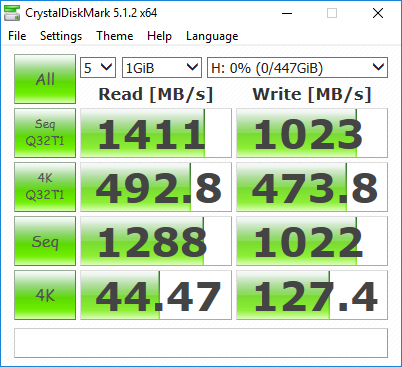 The HyperX Predator was able to reach above 1400MB/s reads and 1000MB/s writes.
[section label="Conclusion"]
Gigabyte X99P SLI Conclusion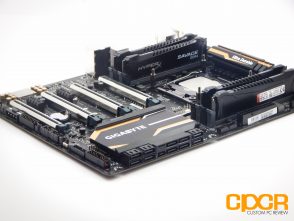 At around $200, I think the Gigabyte X99P SLI is a very compelling option. The board keeps up in feature parity to most motherboards in its class and it has some things that set it apart, the biggest of which is Thunderbolt 3 support which could be used for daisy chaining displays and would be very useful for those using this board for a workstation system.
As expected of a Gigabyte motherboard it is overbuilt and rock solid. One thing that's easily noticeable is the thick and rigid PCB which has been a feature of Gigabyte's Ultra Durable initiative for quite a while. Gigabyte also equips their motherboards with quality heatsinks as well which are beautifully painted to match Gigabyte's color schemes. Relatively new is also the PCIe slot shields which reduce stress on the PCIe slots due to heavier graphics cards. Overall one thing I can say about these Gigabyte mid-tier motherboards is that they're definitely built to last.
As for overclocking, the Gigabyte X99P SLI proved to be solid as well. I was able to reach 4.7GHz on my chip despite Broadwell-E's lackluster overclocking capabilities in general. One issue I did have is overclocking the memory as it didn't seem to want to reach the 2,800MHz that my Patriot kit was rated for. This may be due to a compatibility or board issue, but without additional high speed memory kits to test, I can't pinpoint it at this moment.
As for audio, Gigabyte equips the X99P SLI with an onboard Realtek ALC1150 onboard audio solution which I tested using my Sennheiser 280 Pro headphones. Gigabyte's onboard audio soultion is definitely one of the better onboard solutions and I would say it performed better than the EVGA X99 motherboard I reviewed previously.
As far as other issues, I didn't notice much. Gigabyte has done a great job designing this motherboard and I have very little complaints. One thing I would like to see though is dedicated motherboard power, reset, reset CMOS buttons either on the motherboard or on the back of the I/O. It's a feature we've enjoyed having on many previous Gigabyte motherboards and can be very useful when troubleshooting systems or setting systems up for the first time.
With all that said and done, the Gigabyte X99P SLI is a very good choice for someone looking to get into X99 without breaking the bank and I have no problems recommending it.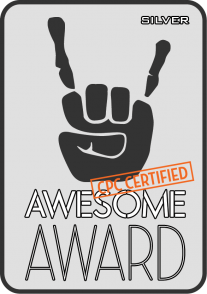 Sample provided by: Gigabyte
Available at: Amazon