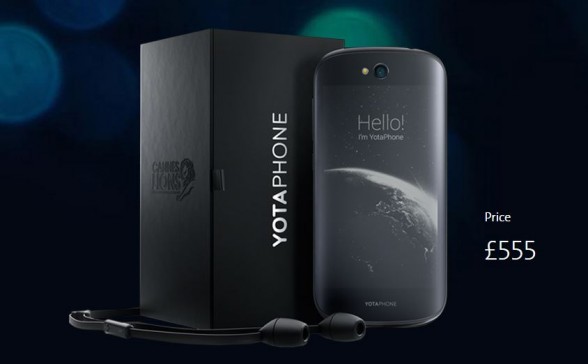 2014 has seen a lot of fantastic smartphones, but very few smartphone companies have dared to break new ground like Yota Devices' YotaPhone 2.
A quick glance at its internals reveals that it's nothing that we haven't seen before – the YotaPhone 2 sports a Qualcomm Snapdragon 800 CPU, a 5″ 1920 x 1080p AMOLED screen (442ppi), 2GB of RAM, and a 2500mAh battery. For a phone that costs a 555 euros (around $678 USD), one could even argue that the specs are a bit unjust for the price.
But what makes the YotaPhone 2 unique is its capacitive touch e-Ink display on the back. Yes, the YotaPhone 2 is a phone with dual screens. The e-Ink display sips power since it doesn't use LEDs to show output, and can be used as a completely independent display with the YotaEnergy mode. According to Yota Devices, YotaEnergy mode can extend the battery life to 48+ hours on a single charge by keeping only the basic smartphone functions alive (100 h if you are exclusively using it exclusively for eReading).
This means that now there's a device that blends the best of both eReaders and smartphones. Compared to an average eReader, the Yotaphone is much more versatile due to its integration with smartphone apps and features. As a smartphone, the YotaPhone is running Android 4.4 KitKat and has the hardware to keep up with the best. 

But the YotaPhone has a few problems to overcome. Aside from being fairly expensive, it's only available for purchase in the UK. Also, a case that can protect both displays is non-existent. Although Yota Devices has lined the YotaPhone 2 with Gorilla Glass 3, a drop from any significant height will run the risk of damage.
The first YotaPhone was created in 2012 and it also featured a dual-sided display. Unfortunately, it failed to catch on. The YotaPhone 2 took nearly everything from the YotaPhone and made it better: sleeker looks, upgraded hardware, and better displays on both sides. Hopefully this time around, it will gain more traction than its predecessor did (at least in the UK).
Source: Yota Devices