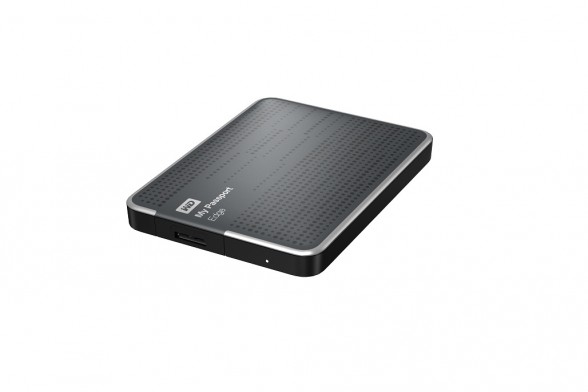 Press Release
My Passport® Edge™ Family Offers Super-Fast USB 3.0, Auto Backup, Password Protection and Hardware Encryption in Ultra-Compact Design
WD®, a subsidiary of Western Digital Corp., today introduced its newest version of My Passport® line of portable hard drives for PC and Mac with the debut of My Passport Edge™. The My Passport Edge and My Passport Edge for Mac® feature 500 GB of storage and a USB 3.0 interface for fast read/write speeds to help consumers effectively manage, share and enjoy digital content everywhere they go. Its sleek, ultra-slim design makes transport easy and convenient while a variety of security features protects the drive's content from unauthorized access.
The My Passport Edge for Mac portable hard drive complements popular MacBook® computers and MacBook Air® computer designs with an all-aluminum exterior to protect the drive and its contents from everyday bumps. The My Passport Edge for Mac is also compatible with Apple Time Machine® for added peace-of-mind and seamless operation out of the box with one's Mac computer.
The My Passport Edge (PC-version) portable hard drive incorporates WD SmartWare™ continuous and automatic backup software to create a copy of users' computers' content to ensure personal digital files are backed-up and protected in the event of computer loss or theft. For a sleek look, the My Passport Edge was also re-engineered with a new design for a premium finish.
"WD's new My Passport Edge portable drives for Mac and PC offer mobile users a safe, compact, attractive way to conveniently work or play anywhere life or business may take them," said Jim Welsh, executive vice president and general manager of WD's branded products and consumer electronics groups. "We know that people who bring personal and business content along with them on their travels are concerned with portability and with maintaining privacy while also protecting their data. We design all My Passport products with a small footprint and with security and protection in mind."
Pricing and Availability
My Passport Edge and My Passport Edge for Mac 500 GB portable hard drives come with a 3-year limited warranty and are available on the WD store at www.wdstore.com and at select retailers and distributors. MSRP (USD) of the My Passport Edge is $109.99 and $119.99 for the My Passport Edge for Mac portable hard drives.
For more information regarding the My Passport Edge portable hard drives please visit the WD website here.