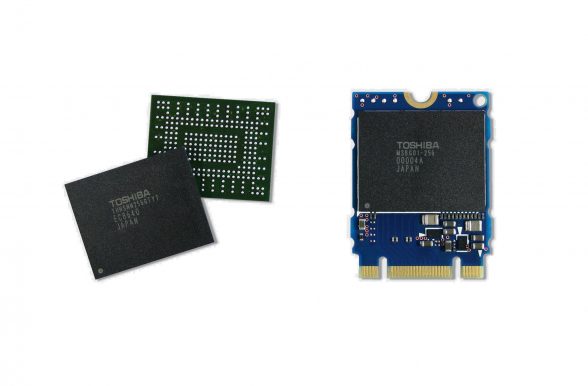 Hot on the heels of Toshiba's recent 64-layer 3rd Generation BiCS 3D NAND announcement, Toshiba also recently announced their upcoming BG series SSDs designed for tablet and ultraportable applications.
Available in capacities of 128GB, 256GB, or 512GB, what's special about Toshiba's BG series SSDs is that it come in either a 16mm x 20mm BGA package or in a M.2 2230 module. In order to achieve such capacities in such a small form factor, Toshiba is using an in-house controller solution combined with their BiCS TLC 3D NAND packaged into a single chip. Further reducing size, Toshiba removed the need for onboard DRAM by taking advantage of the NVMe standard's Host Memory Buffer (HMB) feature which can allocate host memory for flash management purposes. Performance figures were unfortunately not specified however, the BG series SSDs will support NVMe over a PCIe Gen 3 x2 interface.
Toshiba will be showcasing the BG series SSD at FMS this year with samples available 4Q2016.