Thunderbolt 3 to Go Royalty Free, Become Natively Integrated into Future Intel CPUs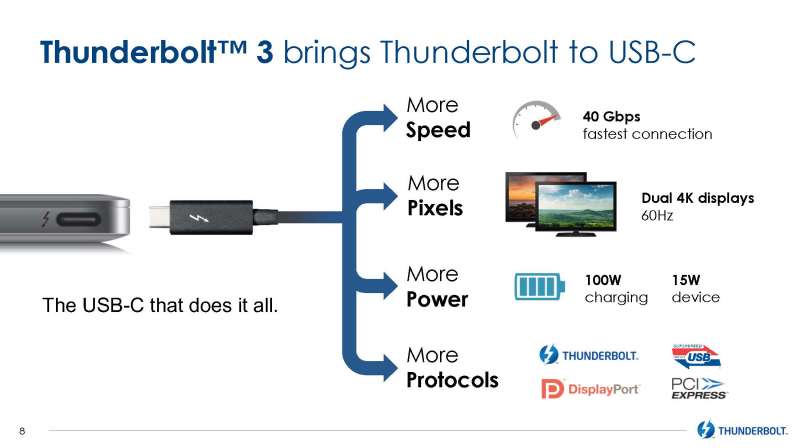 Thunderbolt may become as ubiquitous as USB one day as Intel VP Chris Walker recently shared news that Intel is planning to make the Thunderbolt Protocol specification free beginning sometime next year. Intel also shared news that Thunderbolt 3 will be integrated into future CPUs although no information was provided as to which processor would receive integrated Thunderbolt support first.
Thunderbolt 3 has amassed decent popularity over the past few years as a faster external interface alternative to USB 3.1. Current generation Thunderbolt 3 is capable of bandwidth up to 40Gb/s, which is 3x faster than current generation USB 3.1 Gen 2 which features maximum bandwidth up to 10Gb/s. Adoption of the Thunderbolt standard has also significantly improved as well thanks to Intel's strategic move to allow Thunderbolt to be used over the USB-C connector. This has allowed PC OEMs as well as motherboard makers to integrate Thunderbolt into their systems without having to physically add an additional port into the mix. Cost of licensing the Thunderbolt standard has really been the final barrier to widespread adoption and with the recent announcement, we may begin seeing more widespread adoption of Thunderbolt 3 down the road.
Source: Intel