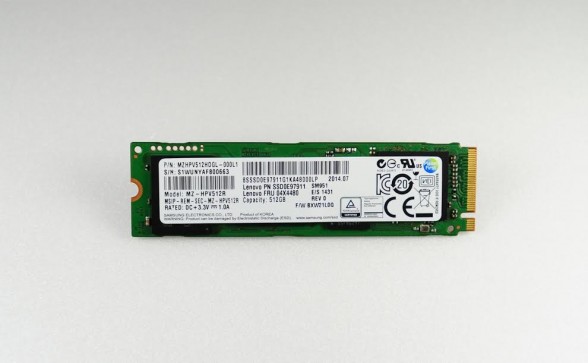 First revealed at the Samsung SSD Summit back in July, Samsung recently announced that the SM951 M.2 PCIe SSD is now officially going into mass production.
For those unfamiliar with the drive, the Samsung SM951 is a M.2 PCIe SSD designed for notebooks and workstations. It will be the successor to the Samsung XP941 M.2 PCIe SSD and like its predecessor, it will likely only be available to OEMs/System Integrators.
Previously when we covered the SM951 back in July, the performance was rated at up to 1,600/1,000 MB/s sequential reads/writes and 130K/100K IOPS 4K random reads/writes; however, according to the recent press release, Samsung seems to have tweaked the specs of the SM951 slightly and it will now be capable of performance up to 1,600/1,350MB/s sequential reads/writes and 130K/85K IOPS 4K random reads/writes on PCIe 2.0. Furthermore, the SM951 also appears to have support for PCIe 3.0 which will boost performance up to 2,150/1,550MB/s sequential reads/writes. The SM951 will also be available with either AHCI or NVMe interfaces.
No word on pricing or availability at this time.