If you've been following the rumors, this likely won't come as a surprise, today NVIDIA unveiled its upcoming Rise of the Tomb Raider bundle, which pairs its high-end GTX 900 series graphics cards with the sequel to 2013's Tomb Raider reboot. That title, which originally held AMD's "Gaming Evolved" branding, in addition to AMD's first-generation TressFX hair technology, will be replaced by NVIDIA's "The Way It's Meant To be Played" program for the sequel. Although, there's no mention of whether or not the game will feature any of NVIDIA's GameWorks technologies.
NVIDIA Discover the Legend Within Bundle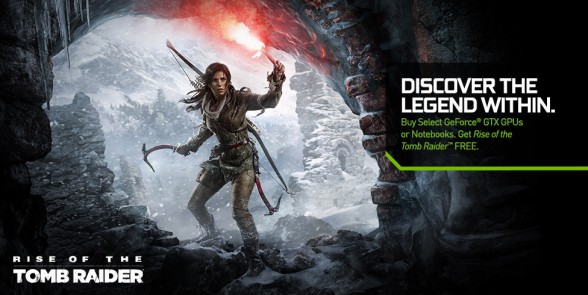 The new bundle which NVIDIA dubs "Discover the Legend Within" will be available with qualifying purchases of NVIDIA's GeForce GTX 980 Ti, GTX 980, and GTX 970 models, in addition to qualifying notebooks which feature NVIDIA GeForce GTX 980, 980M and 970M GPUs.
The bundle is available now at participating retailers and online stores. Rise of The Tomb Raider is due out for PC (Steam and Windows 10) on January 28th.