NVIDIA Announces Gears of War 4 GeForce GTX Game Ready Bundle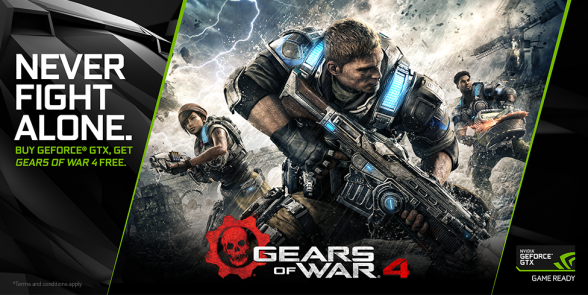 Gears of War 4 will be launching next month for both PC and Xbox One and today NVIDIA has announced a new promotion to bundle the title with its latest NVIDIA GeForce graphics cards and gaming notebooks. The "Never Fight Alone" bundle, which will include a digital copy of the full Gears of War 4 game will be available starting today with qualifying purchases of GeForce GTX 1080 andGTX 1070 graphics cards and select GeForce 10 series powered gaming laptops.
Gears of War 4 System Requirements
While the news of the bundle is great for fans who are in the market for a new GPU, you're probably interested in finding out if the title will run on your current rig. Thankfully, we have that information as well.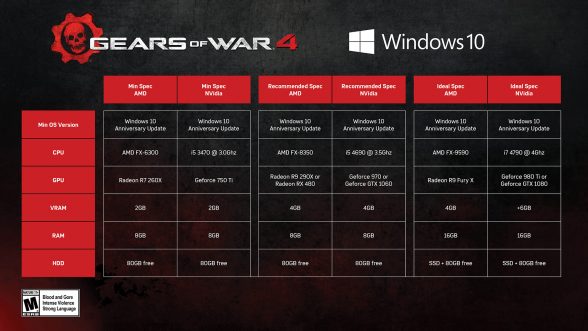 Minimum Specs:
OS: Windows 10 Anniversary Update
CPU: AMD FX-6300 or Intel Core i5 3470 @ 3.0GHz
GPU: Radeon R7 260X or GeForce GTX 750 Ti
VRAM: 2GB
RAM: 8GB
HDD: 80GB free
Recommended Specs:
OS: Windows 10 Anniversary Update
CPU: AMD FX-8350 or Intel Core i5 4690 @ 3.5GHz
GPU: Radeon R9 290X or RX 480 or GeForce GTX 970 or GTX 1060
VRAM: 4GB
RAM: 8GB
HDD: 80GB free
Ideal Specs:
OS: Windows 10 Anniversary Update
CPU: AMD FX-9590 or Intel Core i7 4790 @ 4.0GHz
GPU: Radeon R9 Fury X or GeForce GTX 980 Ti or GTX 1080
VRAM: 4GB/6GB+
RAM: 16GB
HDD: SSD + 80GB free
It was also recently revealed that in addition to supporting cross-platform play between PC and Xbox One for all of the game's co-op modes, the title will also support split-screen co-op on PC and offline LAN support. Gears of War 4 launches on Xbox One and Windows 10 PCs on October 11th and is available for pre-order right now!
Source: NVIDIA