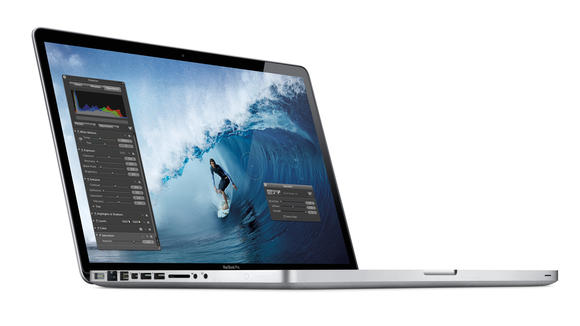 Today, Apple announced a refresh of current generation MacBook Pros with the Retina Display, Ivy Bridge processors, and Nvidia Graphics.
In addition to a redesigned body, the main feature to the next generation MacBook Pro 15″ is the inclusion of the hugely popular Retina Display which has the highest pixel density of screens available on the market today. Previously only available on the iPhone 4 and iPad, it's finally found its way onto the MacBook Pro 15″. According to Apple, the Retina Display on the new MacBook Pro 15″ will feature a pixel density of 220 ppi , a resolution of 2880×1800, a viewing angle of 178°, 75% less reflection and 29% higher contrast than the screen found on the previous generation.
Performance updates include the latest Intel Core i7 Quad Core CPU, Nvidia's GT 650M GPU,  up to 16GB of DDR3 memory at 1600MHz, and a maximum SSD capacity of 768GB. The updated i7 processor will feature Intel's Ivy Bridge 22nm fabrication process with a clock speed of up to 2.7GHz (3.3GHz in Turbo mode), while the GT650M is based on the Nvidia's Kepler architecture and wil feature up to 1GB of GDDR5, a core speed of up to 850MHz, and a128 bit memory interface.
As with all previous MacBooks Pros, battery life is still excellent top notch giving you about 7 hours with web browsing, 30 days on standby, and can last 1000 full charge and discharge cycles. Additionally featured is two USB 3.0 ports, two Thunderbolt ports, a new MagSafe 2 power connector, a SD card reader, HDMI out, 802.11n and Bluetooth 4.0.
Despite the increase in performance and excellent battery life, the new MacBook Pro didn't gain any weight; in fact, it actually lost some. Measuring in at only 0.71 inch and 4.46 lb, the new 15.4 inch MacBook Pro is 21% thinner and 20% lighter than the previous generation. This is a blessing to travelers and students who are constantly running around campus all day.
However, performance and pixel density aren't the only things that went up as the price did too. The entry level MacBook Pro 15″ with the Retina Display which comes with a 2.3GHz Intel Core i7 Quad Core CPU, 8GB of memory, and 256GB of flash storage now checks in at $2199, a full $400 more than the entry level standard MacBook Pro 15″. But Apple also offers a version of the updated MacBook Pro without the Retina Display that's priced at the regular MacBook Pro price of $1799.
Source: Apple
Press Release
Apple Introduces All New MacBook Pro with Retina Display
SAN FRANCISCO—June 11, 2012—Apple® today unveiled an all new 15-inch MacBook® Pro featuring a stunning Retina™ display, all flash storage and quad-core processors in a radically thin and light design. Measuring a mere 0.71 inches and weighing only 4.46 pounds, the completely redesigned MacBook Pro sets a new standard in performance and portability for pro users.
"The MacBook Pro with Retina display pushes the limits of performance and portability like no other notebook," said Tim Cook, Apple's CEO. "With a gorgeous Retina display, all flash architecture and a radically thin and light design, the new MacBook Pro is the most advanced Mac we have ever built."
The new MacBook Pro Retina display is the world's highest resolution notebook display with over 5 million pixels, 3 million more than an HD television. At 220 pixels-per-inch, the Retina display's pixel density is so high the human eye cannot distinguish individual pixels from a normal viewing distance, so text and graphics look incredibly sharp. The Retina display uses IPS technology for a 178-degree wide viewing angle, and has 75 percent less reflection and 29 percent higher contrast than the previous generation.
Featuring a precision engineered aluminum unibody design and an all flash storage architecture, the all new MacBook Pro is the lightest MacBook Pro ever and nearly as thin as a MacBook Air®. Flash storage that is up to four times faster than traditional notebook hard drives enables the all new MacBook Pro to play four simultaneous streams of uncompressed 1080p HD video from internal storage.* The flash storage architecture also delivers improved reliability, instant-on responsiveness and 30 days of standby time.
The MacBook Pro with Retina display features the latest Intel Core i7 quad-core processors up to 2.7 GHz with Turbo Boost speeds up to 3.7 GHz, NVIDIA GeForce GT 650M discrete graphics, up to 16GB of faster 1600 MHz RAM and flash storage up to 768GB. Two Thunderbolt and two USB 3.0 ports allow pro users to connect to multiple displays and high performance devices, and a new HDMI port offers quick connectivity to HDTVs.
The MacBook Pro battery delivers up to 7 hours of wireless productivity, and uses advanced chemistry and Adaptive Charging technology to provide up to 1,000 recharges.** The MacBook Pro also features a FaceTime® HD camera, glass Multi-Touch™ trackpad, full-size backlit keyboard, dual microphones, enhanced speakers, 3-stream 802.11n Wi-Fi and a thinner MagSafe® 2 power port.
OS X® Lion, iPhoto®, iMovie®, iTunes® and other Apple apps including Aperture® and Final Cut Pro® X have been updated to take full advantage of the new MacBook Pro with Retina display. The updated Aperture 3.3 also includes revolutionary new image adjustment features and now supports a unified photo library so photographers can move seamlessly between iPhoto and Aperture.
The all new MacBook Pro ships with OS X Lion. Starting today, customers who purchase a Mac are eligible for a free copy of OS X Mountain Lion when it becomes available. Mountain Lion introduces innovative features including the all new Messages app, Notification Center, system-wide Sharing, AirPlay® Mirroring, Game Center and the enhanced security of Gatekeeper. With iCloud® built into the foundation of OS X, Mountain Lion makes it easier than ever to keep your content up to date across all your devices.