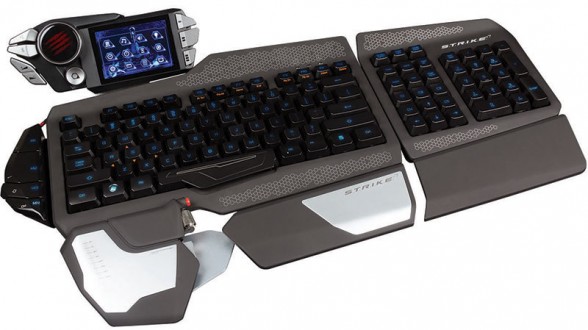 Press Release
Advanced Touch Sensitive Display and Modular Construction Enhance Competitive Gaming
Mad Catz Interactive, Inc. announced today the S.T.R.I.K.E.7 Professional Gaming Keyboard for PC. Designed to deliver the highest levels of customization and performance, the S.T.R.I.K.E.7 features a unique modular design and the V.E.N.O.M.™touch screen interface. The S.T.R.I.K.E.7 ships worldwide today.
The unique V.E.N.O.M.™ touch screen interface enables the gamer to take control of their gaming environment, launch games or applications at the swipe of a finger, deploy custom macro commands, program chat, game, media settings and more.
"The S.T.R.I.K.E.7 is the first in a line of new keyboards and rounds out our PC gaming range of F.R.E.Q.headsets and R.A.T. gaming mice." said Darren Richardson, the President and Chief Executive Officer of Mad Catz Interactive, Inc. "Our engineers created a keyboard that delivers unprecedented customization and performance. We believe the S.T.R.I.K.E.7 will capture the imagination of passionate gamers and continues to demonstrate our ability to innovative in the core gaming sector."
For additional information, check out the product page here.
http://youtu.be/3AbwJON7ECk