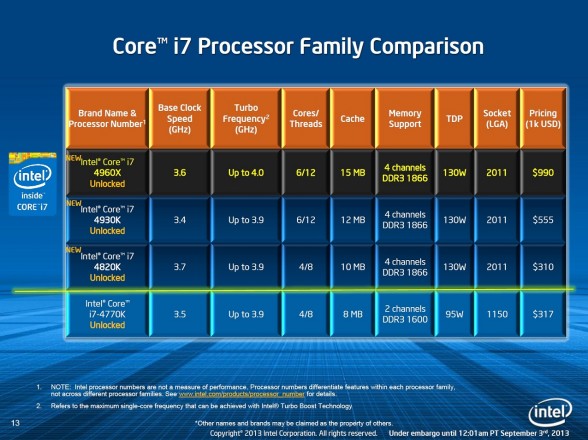 For consumers looking for top tier performance, there's currently nothing faster than processors based off Intel's Sandy Bridge-E platform, and while the lineup is still the creme of the crop for consumer based desktop applications, the microarchitecture underneath Sandy Bridge-E is based off technology that's nearly two years old. While Intel has been busy developing and releasing mainstream processors based off newer microarchitectures such as Ivy Bridge and Haswell, the HEDT (High End Desktop) platform hasn't really changed since late 2011, until now.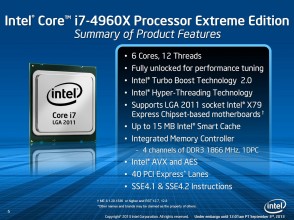 Just in time for IDF (Intel Developer Forum) 2013, Intel recently announced the release of their latest Ivy Bridge-E HEDT processors based off the (you guessed it!) 22nm Ivy Bridge microarchitecture. While this isn't new stuff, it's definitely a welcome update for those still holding out on an Intel HEDT based system. The new processors will include the Intel Core i7-4960X, Core i7-4930K, and Core i7-4820K, which will be replacing the aging Core i7-3970X, Core i7-3960X, Core i7-3930K, and Core i7-3820.
As expected, the top of the line Intel Core i7-3970X will be a beast, featuring a 6-core/12-thread processor running at a 3.6GHz base clock with the capability of turboing up to 4.0GHz. The updated processor also includes Ivy Bridge's enhanced memory controller, which now supports quad channel DDR3-1866 memory. Additionally, Intel will also be releasing the 6-core/12-thread Core i7-4930K and the 4-core/8-thread Core i7-4820K.
Unfortunately while the new HEDT processors are getting the microarchitecture upgrade, the same can't be said about the chipset platform as Ivy Bridge-E processors will continue to use the existing LGA 2011 socket alongside the X79 platform that's been around since the introduction of Sandy Bridge-E processors back in 2011. This means we'll be stuck with a number of X79 limitations such as two SATA 6Gb/s ports and native USB 2.0 rather than a full array of 6xSATA 6Gb/s along with native USB 3.0 support. No plans for the release of the X89 chipset has been revealed at this time.
Pricing on the new processors will start at $310 for the Core i7-4820K, $555 for the Core i7-4930K, and $990 for the Core i7-4960X. The latest processors will be available starting next week. For more information, be sure to check out Intel's latest blog post here.