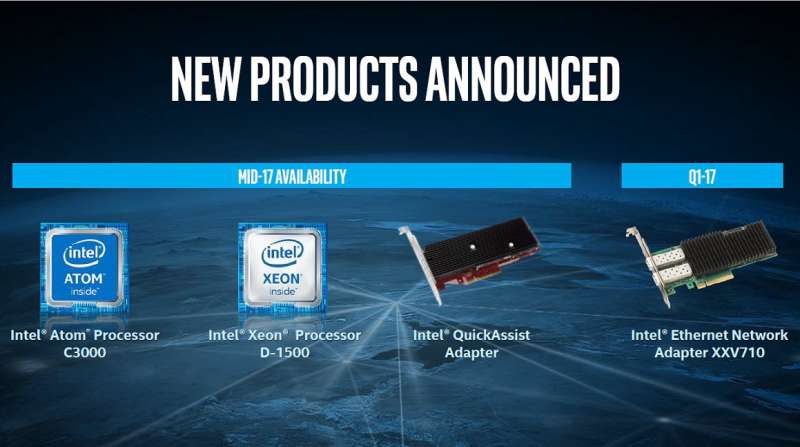 Intel recently launched their latest Atom C3000 "Denverton" CPUs based on the 14nm FinFET Goldmont architecture for low power applications such as networking, storage, and IoT.
Featuring between 2 to 16 cores and clock frequencies between 1.5GHz to 2.2GHz, the Intel Atom C3000 is a powerhouse of a chip with the flagship 16-core chip capable of outperforming the previous generation Intel Atom C2750 by 2.3x.
Additionally, the Atom C3000 is also capable of supporting ECC memory, virtualization (including Intel VT-d), 10 GbE Ethernet, Intel QuickAssist technology, power consumption as low as 8.5w, and for networking applications, up to 19Mpps of Layer 3 forwarding.
The Intel Atom C3000 is currently sampling with full availability expected in mid-2017.
Also noteworthy is Intel's upcoming refresh of the Xeon D platform with the upcoming Xeon D-1500. The major features incoming for the Xeon D-1500 include 10GbE support and Intel QuickAssist. The Intel Xeon D-1500 is also expected to become available in mid-2017.