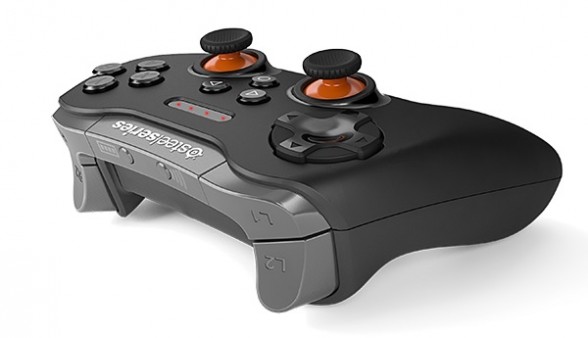 SteelSeries has always been at the forefront of gaming peripherals with their extensive lineup of headsets, mice and keyboards. Several years ago, SteelSeries unveiled the Stratus wireless gaming controller for iOS and since then have also unveiled the XL version for iOS as well.
For E3 2015, SteelSeries is continuing to expand the lineup by now offering the Stratus XL Gaming Controller to PC and Android. The Stratus XL promises to provide a premium solution in a wireless controller market over-saturated with cheaply made hardware and glitch ridden software. Despite the competition, Steelseries is confident that the customization options and build quality of the Stratus XL will be enough to win gamers over.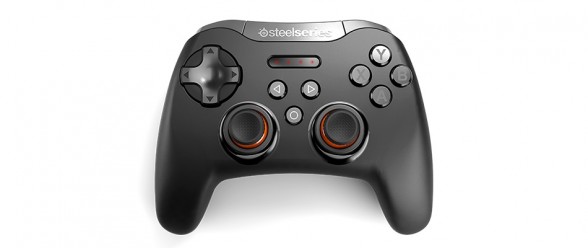 The Stratus XL has a conventional button and joystick layout with four buttons on the right side labelled A, B, X and Y, a direction pad on the left, menu buttons and LED indicators in the middle, and two joysticks near the bottom. Gripping the controller I could instantly tell that it was quite comfortable, conforming well to my medium sized hands.
The buttons are tactile and responsive, which is to be expected from a high quality product, but it's still worth mentioning given the vast amounts of cheap PC game controllers that suffer from mushy buttons. The joysticks are similar to those on the Xbox controllers with the dimple on the top while placement wise of the joystick and d-pad resemble the PlayStation controllers.
The SteelSeries Stratus XL is powered by two AA batteries, which may seem outdated compared to devices sporting built-in rechargeable batteries. That said, SteelSeries believes that by using standard AA batteries, the batteries can still provide up to 40 hours of gameplay yet can easily be swapped out and help keep the product's overall cost down. Connectivity options is still Bluetooth, which is the same as the rest of the Stratus gaming controller lineup.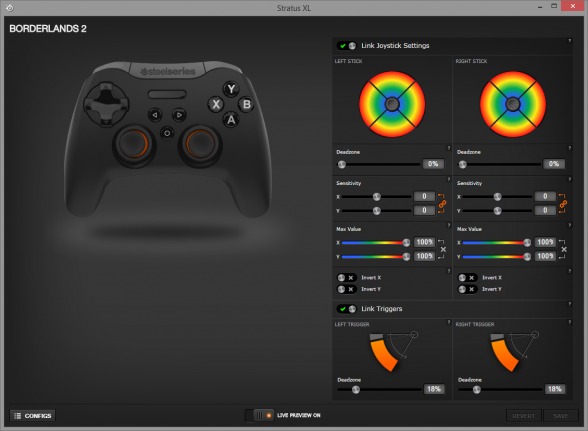 Software wise, SteelSeries is using SteelSeries Engine which is arguably the cleanest and most streamlined peripheral management software suite I have had the pleasure of using. Not only does the software platform connect and manage all your SteelSeries peripherals in an organized manner but also allows users to tweak features of the Stratus XL, including joystick sensitivity, joystick dead zones and trigger actuation points. The level of customization is thoroughly impressive and is sure to appeal to gamers seeking the perfect fit to give them the competitive edge.
The Stratus XL for Windows and Android will be available soon for $59.99. The Stratus XL for iOS is available now for $69.99.
Source: SteelSeries