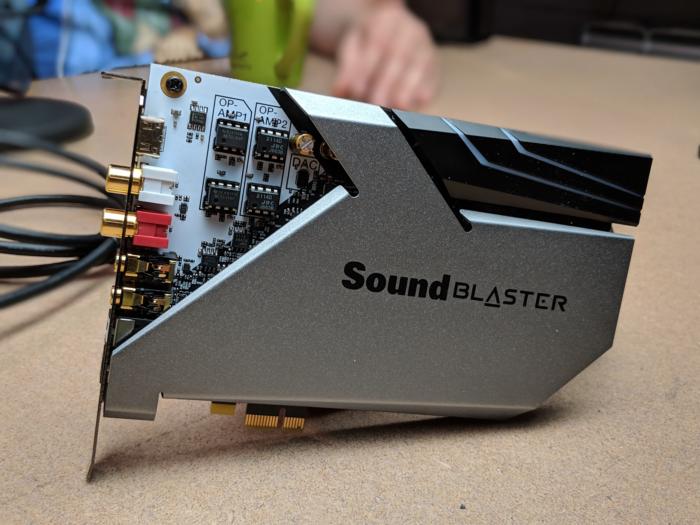 Recently, Creative has announced their latest soundcard aimed at audiophiles and music enthusiasts. Priced at a rather expensive $300, the new Sound BlasterX AE-9 packs some unique, ultrapremium features including an DAC, removable opamps, breakout box, and a dedicated power supply which will help reduce the pesky digital interference and white noise emitted from your system's electronics.
Powering the Sound BlasterX AE-9 is Creative's staple sound chip, the Sound Core 3D audio processor. In addition to this, it also features replaceable operational amps which can be swapped out depending on the end user's audio preferences. According to Creative, the Sound BlasterX AE-9 features a 129dB signal-to-noise ratio and packs an ESS Sabre 32 DAC (Digital To Analog Converter) for crystal clear audio.
For headphone users, Creative's SoundBlasterX AE-9 features their Xamp headphone amplifier, which amplifies each stereo channel of headphones out separately. There is also a switch that allows users to control 3D virtualization easily. The breakout box, which houses the external DAC utilizes both TRS and XLR connectors for the microphone and provides 48-volt phantom power.
For I/O, Creative features Optical In and Optical Out, standard 3.5mm jacks for the rear, center, and sub, as well as RCA stereo out for the rear connections. Interestingly enough, there's also a 6-pin power connector for the card which should provide cleaner power with less interference than that coming from the PCIe slot.
The Creative SoundBlasterX AE-9 is expected to retail for $299 by the end of this month.
Source: PCWorld