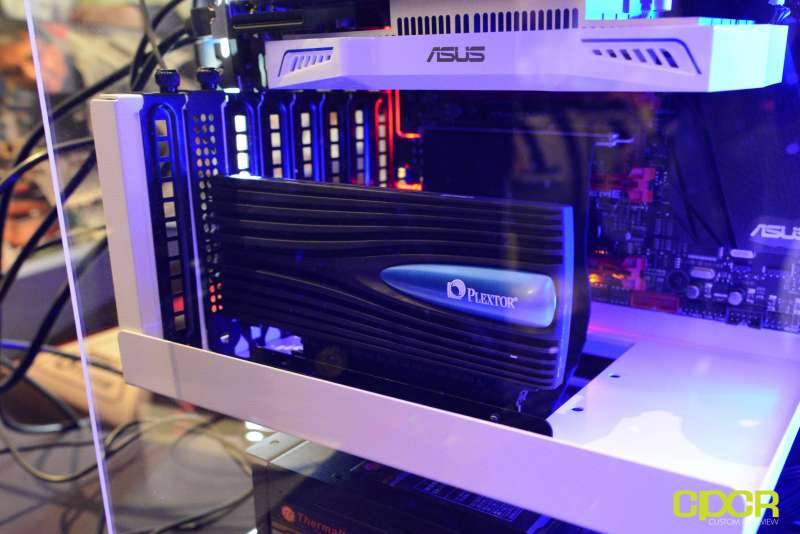 For the most part, SSD introductions were few and far in-between at CES this year, but SSD maker Plextor made a splash in CES with several new product announcements.
Plextor M8Se PCIe SSD
The Plextor M8Se series of SSDs looks to bring the best cost to performance ratio to the high-end consumer market. Powered by Toshiba 15nm TLC along with the Marvell 88SS1093, the M8Se supports the PCIe Gen 3 x4 interface and the latest NVMe standard, allowing the top capacity Plextor M8Se model can reach up to 2.45GB/s in sequential reads and 1GB in sequential writes. 4K random performance is blazing fast too, rated at 210K IOPS reads and 175K IOPS writes. The M8Se will be offered in M.2 2280 and HHHL form factors.
The biggest differentiator with Plextor SSDs has always been their ability to produce SSDs with custom software and firmware support. With the Plextor M8Se, Plextor is launching PlexNitro and an updated version of PlexTurbo. These technologies will allow users to quickly and seamlessly cache data in the memory for increased performance.
The Plextor M8Se is slated to launch in June 2017. Pricing is still up in the air at this time.
Model
PX-128M8SeGN
PX-256M8SeGN
PX-512M8SeGN
PX-1TM8SeGN
Capacity
128GB
256GB
512GB
1TB
NAND
Toshiba 15nm TLC
Controller
Marvell 88SS1093
Sequential Read
Up to 1,850MB/s
Up to 2,400MB/s
Up to 2,450MB/s
Up to 2,450MB/s
Sequential Write
Up to 570MB/s
Up to 1,000MB/s
Up to 1,000MB/s
Up to 1,000MB/s
Random Read
Up to 135,000 IOPS
Up to 205,000 IOPS
Up to 210,000 IOPS
Up to 210,000 IOPS
Random Write
Up to 80,000 IOPS
Up to 160,000 IOPS
Up to 175,000 IOPS
Up to 175,000 IOPS
Endurance
80TBW
160TBW
320TBW
640TBW
Plextor EX1 External PCIe SSD
The Plextor EX1 first made its debut at Computex 2016 and formally started shipping in November. The EX1 transfers data over a USB 3.1 Gen 2 Type-C port and can reach sequential read/write speeds of up to 550MB/s reads and 500MB/s writes. Capacity options include 128GB, 256GB, and 512GB.
The Plextor EX1 also features AES encryption capabilities for those who want the peace of mind of having their files safe in case the drive is lost or stolen.
The Plextor EX1 is already shipping at $79.99 (128GB), $119.99 (256GB), $199.99(512GB).
Plextor SSD Roadmap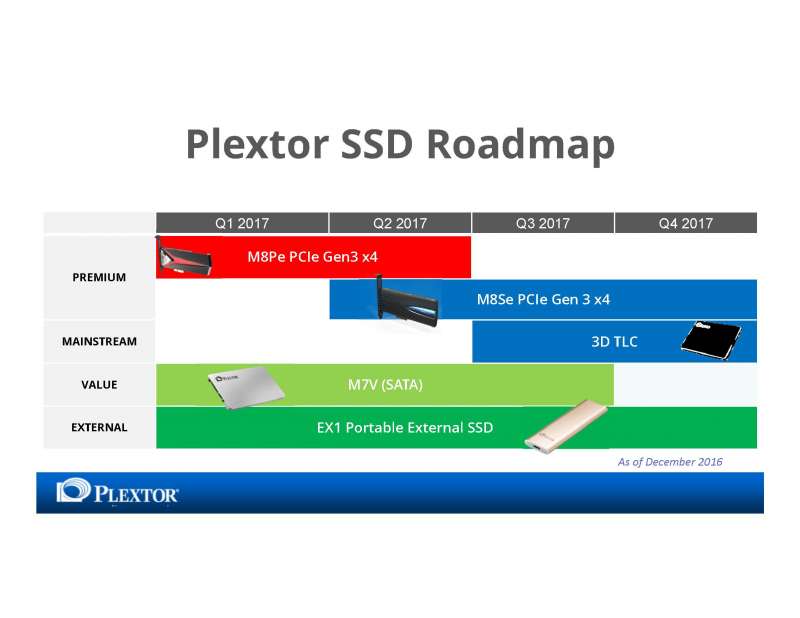 During the presentation, Plextor also shared their SSD roadmap all the way through 4Q17. Most of this stuff has already been announced with the exception of the 3D TLC NAND SSD which is expected to ship in 3Q17. No further details were shared about the drive with the exception that it may pack Toshiba 2nd Generation BiCS 3D NAND.
Lite-On Wi-Fi CD/DVD Player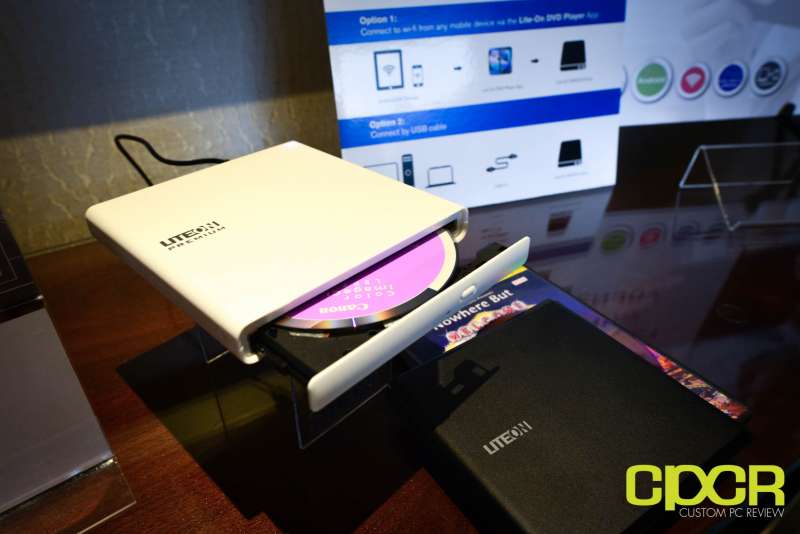 A tour of the CES suite of the largest optical drive maker isn't complete without checking out some CD/DVD drives. While I personally had no idea innovation is still happening in this segment, Lite-On had a new Wi-Fi CD/DVD Player designed for those looking to stream CD/DVD content over a wireless connection. I guess if you still haven't migrated your DVD collection to MP4s (or found it on one of the many streaming sites), this is just the solution you've been waiting for.