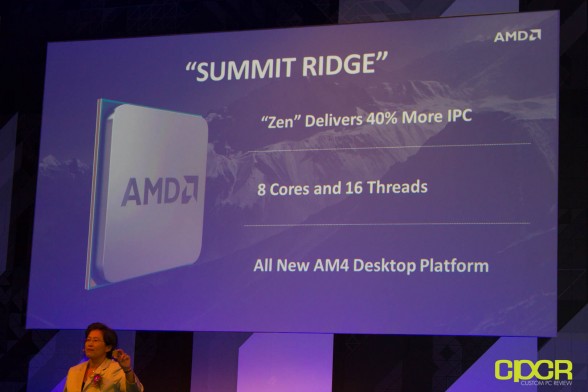 Up until this point, AMD has been all talk about their upcoming "Summit Ridge" Zen architecture based CPUs, but a recently leaked benchmark of two AMD Zen Engineering Sample CPUs in the Ashes of the Singularity benchmark database may have just confirmed some of AMD's claims.
In the database, two Zen ES CPU unique identifiers popped up – 1D2801A2M88E4_32/28_N and 2D2801A2M88E4_32/28_N. Based on the unique identifiers it appears that the CPUs are both clocked at 2.8GHz base and 3.2GHz turbo, but the 1D variant significantly outperformed the 2D variant.
Although the full results of the leaked benchmarks have been pulled from the database at this time, WCCF managed to put together a chart with the meaty details of the Ashes of the Singularity CPU benchmark.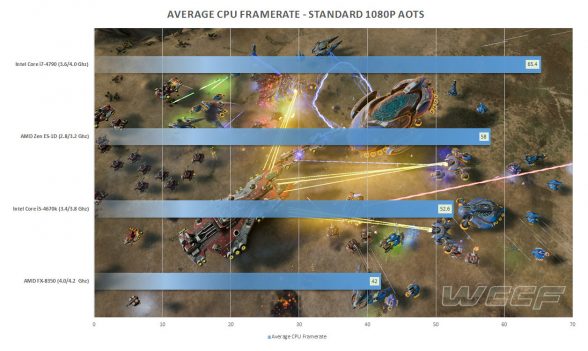 Above we can see four CPUs being compared, the Intel Core i7-4790, AMD Zen ES-1D, Intel Core i5-4670K, and AMD FX-8350. According to the results, the AMD Zen ES-1D was able to outperform the Intel Core i5-4670K by approximately 10% and the AMD FX-8350 by approximately 38%. However, it did come in approximately 11% slower than the Intel Core i7-4790. If these numbers are true, AMD's claims of 40% IPC improvement may be right on the mark which should make Zen's architecture very competitive against Intel's products.
Of course, these are engineering samples benchmarked on a single benchmark without full knowledge of actual clock speeds, drivers, other hardware, etc. so I'd highly recommend taking these benchmarks with a grain of salt. However, this is the first time we've seen actual benchmarks for Zen, and if these numbers hold true across the board, we may see something very competitive from AMD come 4Q2016.
Source: WCCFtech