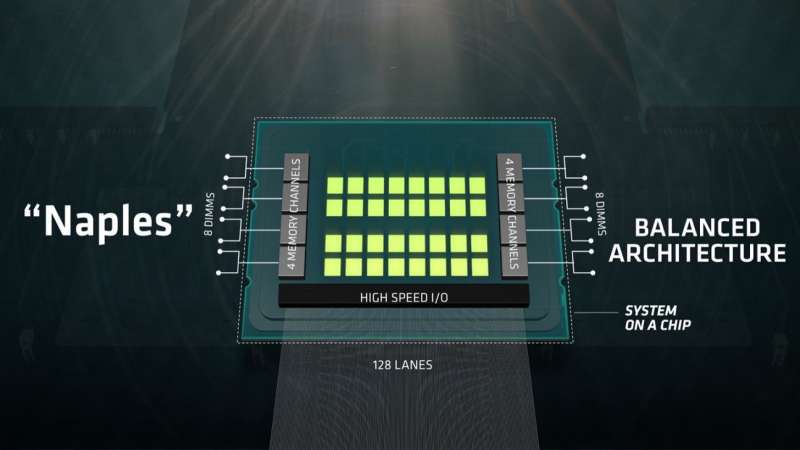 Not even a month has passed since AMD launched their Zen based Ryzen desktop CPUs and AMD is already preparing their assault against Intel's Xeon server dominance with their upcoming Zen based Naples CPUs.
The new server CPUs, which AMD refers to as SoCs will feature 32-cores/64-threads, eight memory channels, up to 2TB of DDR4 memory, and 64 PCIe 3.0 lanes. This is spec for spec far more powerful than its chief competition, the Intel Xeon E5-2599A v4 processor which features a paltry 22 cores, four memory channels, up to 1.54TB of DDR4, and 40 PCIe 3.0 lanes. AMD claims that the Naples SoC is able to offer 60% better performance and 122% more memory bandwidth than the Intel Xeon E5-2599A v4.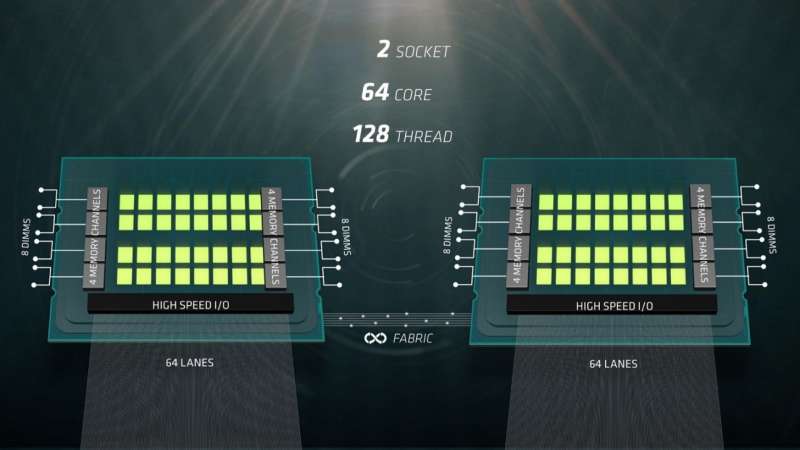 With a dual SoC Naples system, servers will have access to 64-cores/128-threads, up to 4TB of DDR4 memory, and 128 PCIe 3.0 lanes. The two processors are connected via the new high speed Infinity Fabric interconnect.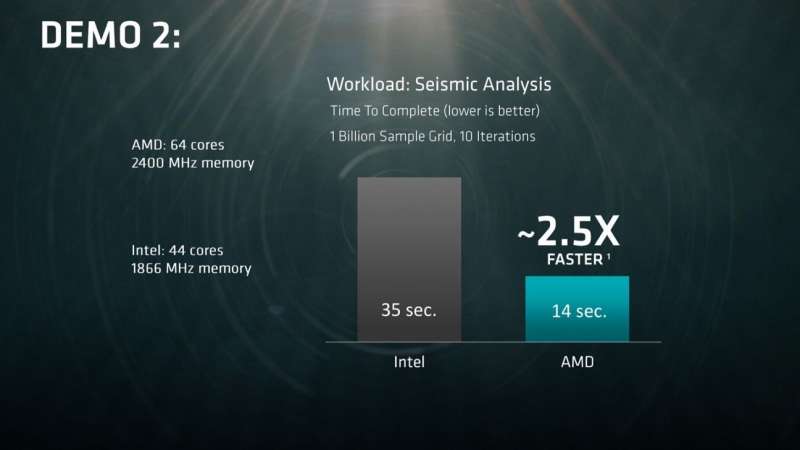 In a seismic workload demo, AMD demoed the dual Naples SoCs to be as much as 2.5x faster than a comparable dual Xeon E5-2699A v4 system. Quadrupling the size of the data set, the Naples SoC based system completed the workload without issue while the Intel based system crashed. No other benchmarks were demonstrated at this time. Similar to the launch of Ryzen, AMD appears to be taking the trickle information every so often approach with Naples, so we'll likely get more information as the chip gets closer to launch.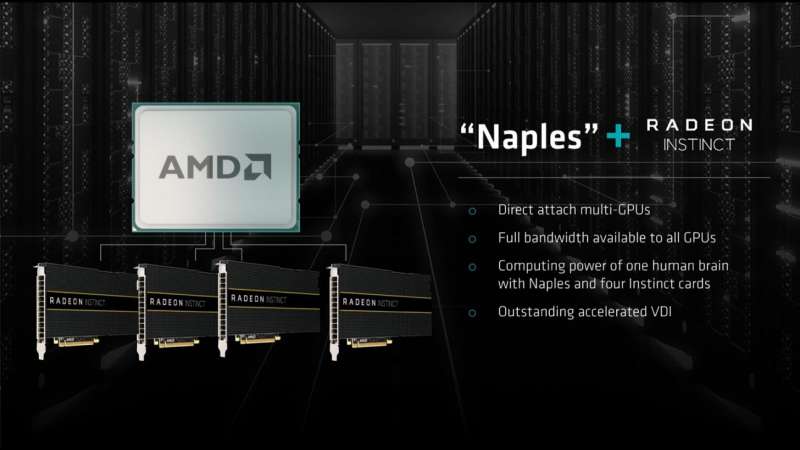 In addition to CPU compute, AMD is also gearing up Naples to be the platform to work seamlessly with Radeon Instinct for GPU compute applications such as deep learning and VDI (Virtualized Desktops).
AMD is currently planning to launch their Naples SoCs by 2Q2017 with wide availability expected for the 2H2017. No word on pricing just yet, but if AMD's Ryzen desktop lineup pricing is any indication, AMD is likely to undercut Intel's offerings by significant margins.