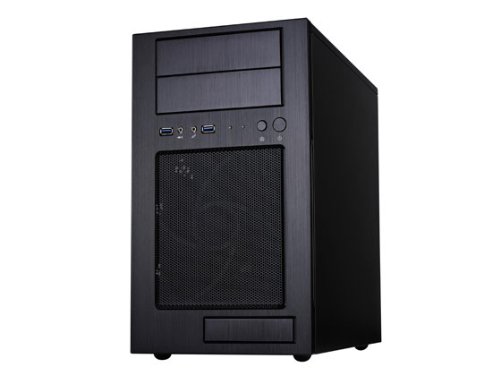 A couple days ago, I posted the $2000 video editing and gaming build, but some of you have asked "What if I don't have $2000 to spend on a computer? What then? What if I don't play games and just want the best photo/video editing machine around with a budget of $1,000-$1,200? Can you recommend me a computer build?"
Well, yes. Certainly! I went back to the drawing board and here's what I came up with for a great photo editing / video editing computer to fit into the budget. How's that for ya?
Budget: $1,000 – $1,200
CPU – Intel Core i7 2600K
Not much has changed here since the $2000 gaming/video editing build. The i7 2600K still presents the best price to performance out there when it comes to video editing. Sure, you can go LGA 2011 and purchase an i7 3960X for the best possible performance, but only serious professionals need apply here.
Motherboard – ASUS P8Z68-M Pro
For the motherboard we're going to go with an ASUS mATX board. We're not really looking for graphics performance or crazy high overclocks. What we are looking for is a solid, stable board that provides us plenty of high end features for a great price. I believe this is what we have here. In addition to ASUS's reputation for rock solid stability, we're also looking at support for SATA 3 6Gb/s, DisplayPort compatibility, USB 3.0, and more. You can't go wrong with this board.
Memory – 2x 8GB Corsair Vengeance 1600MHZ DDR3 Low Profile 1.5v
There only a couple applications in this world where a ton of memory come in handy and video editing is certainly one of those applications that top the list. Make sure to stock up so you don't run out!
Video Card – None
Wait, but how do I edit videos without a video card? Well, contrary to popular belief, video editing is mostly a CPU oriented task. Since this build is strictly a photo/video editing build, we've opted to use the integrated graphics on the i7 2600K.
I know, I know, you ask what if I don't REALLY want to play games, but I mean sometimes I still want to do some light CS 1.6 or something? Well, in that case, you can opt for a GeForce GTX 550Ti. It'll take care of all your casual gaming needs and depending on if your application supports CUDA or not, it might even accelerate video encoding.
Boot Drive – Corsair Force GT 120GB
Similarly with the video editing / gaming build, we're going to go with the Corsair Force GT. It's still one of my favorite SandForce SF-2200 powered SSDs, capable of pushing up to 555MB/s reads and 515MB/s writes. It also features synchronous NAND which means it'll perform great even in situations where data being transferred is highly incompressible.
Of course, none of that matters. What WILL impress you is the ridiculous fast loading times. Very, very useful for those who hate watching Premiere and Photoshop load!
Hard Drive – Western Digital Caviar Green 2TB
Unfortunately, opting for an SSD will mean only 120GB storage space on your boot drive. Let's supplement that shall we? 2GB should be more than enough to get you started and should hold you over until hard drive prices tumble… again.
Optical Drive – OEM DVD Drive or OEM Blu Ray Drive (Any Manufacturer)
Grab either of the two above. Currently Blu Ray media is still a bit too expensive for my tastes, but if you want your videos to come out nice and clean on Blu Ray, you might not have a choice. For the purposes of this build though, I went with a DVD drive. Feel free to go Blu Ray.
PSU – Corsair Builder Series CX430 V2
What's my favorite budget end power supply? Well, that would be the CX430 of course! We're talking about a relatively high quality PSU for only $45. I don't really think there are any other PSUs out there that can top that.
Looking to add a video card in the future? Grab a Corsair Enthusiast Series TX650 instead! This is one of my MOST recommended power supplies and should power any mid-high range graphics card on the market. You can't go wrong!
Case – Silverstone TJ08-E (Evolution)
We've been going with Corsair, Cooler Master, Antec, but let's look at another heavy hitter on the market. Today's featured case will be the SilverStone TJ08-E. It's a mATX case which means it'll be small and portable, but don't mistake that with lack of features! It's got front USB 3.0, magnetic dust filters, a top of the line 180mm "Air Penetrator" front fan, an aluminum front panel and a painted black interior to boot!
Great airflow, quiet and a classy design. What's not to like?
CPU Cooler – Cooler Master Hyper 212 Plus
Cheap, quiet, affordable. Oh wait, did I mention it had excellent performance too? Yeah, easily overclock your i7 2600K to 4.2GHz or 4.5GHz for an extra 20%-30% performance boost. Easy…
Operating System – Windows 7 64 bit
Total current price on Amazon for this build is $1,157.80. If you've got an external hard drive or something you can forego the hard drive and save another $129.99 making it the final price only $1027.81 shipped!
Don't need a hard drive AND don't need 16GB of memory? Drop down to 8GB of Corsair Vengeance DDR3 making the final price $982.81! Don't forget, you can always drop in 2 more stick of memory if you find you REALLY REALLY need it.
Remember, if you have any questions, need some help, or need to fit the build into your budget feel free to visit the forums at http://forums.custompcreview.com. Feel free to request a custom build as well!
Looking for more builds? Check out our Computer Builds page for more!