[section label=1. Dell Ultrasharp 32]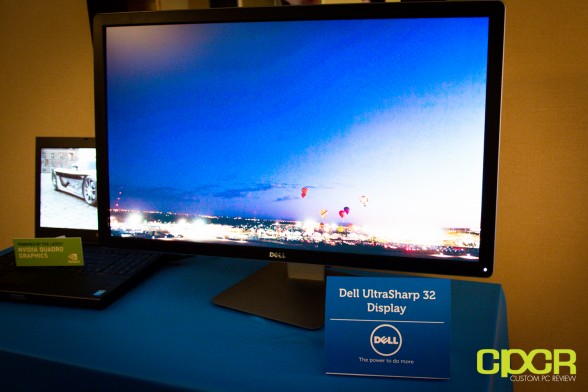 Behind closed doors here at SIGGRAPH 2013, Dell recently pulled the wraps off their latest Ultrasharp 32″ display. This gargantuan display is expected to be Dell's flagship professional series monitor featuring an Ultra HD resolution of 3840×2160 (140ppi) based off of Sharp's IGZO (Indium Gallium Zinc Oxide) display technology. As expected of a Dell Ultrasharp display, the monitor will feature a wide color gamut of 1.07 billion colors, a whopping 64 times more colors than a standard TN panel based monitor.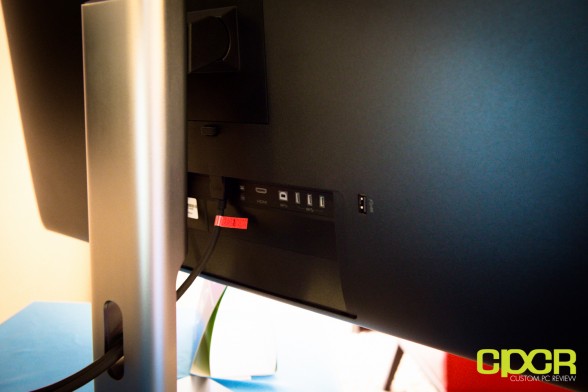 Connectivity options include DisplayPort, mini-DisplayPort and HDMI. There's also a built in USB 3.0 hub as well as a SD card reader as well. Panel aside, Dell is also giving the Ultrasharp 32 a full aluminum stand rather than the usual plastic stands generally found with Dell monitors.
During my meeting with Dell, I had the opportunity to personally take a look at the screen and I'd have to say I'm quite impressed with the panel. Colors were extremely vibrant, viewing angles were quite comparable to top IPS panels on the market and unlike some professional screens out there (looking at you, Apple), the entire Ultrasharp 32 screen is coated in a nice, non-relective matte finish, which Dell tells me has been tweaked for better performance over previous Ultrasharp displays. For the gamers out there interested in the panel, Dell is claiming that the IGZO display will have similar response times current IPS based Ultrasharp monitors (~6-7ms).
No official word on pricing at this time although I'd expect the display to be priced somewhere in line with ASUS's 31.5″ Ultra HD display, which currently runs for around $3,500. Dell expects the monitor to be available in Q4 of this year.
[section label=2. Press Release]
Press Release
Dell UltraSharp 32 monitor with Ultra HD resolution
Dell's largest and highest resolution UltraSharp monitor, Dell UltraSharp 32 with Ultra HD, features phenomenal front of screen performance, high pixel density and is optimized for Dell Precision workstations. Designed for media & entertainment professionals doing color critical work including film & video editors, animators, game and app developers, modelers and programmers – Dell UltraSharp 32 monitor with Ultra HD resolution gives you:
A screen as big as your imagination and exceptional Ultra HD 3840×2160 resolution
High performance display featuring cutting-edge IGZO screen technology
Wide color gamut with 1.07 billion colors – more than 64 times more colors than standard monitors (1.07 billion vs 16.7 million colors)
Total color control via the included Dell UltraSharp Color Calibration Solution software, including hardware LUT access.
Available in the fourth quarter of 2013