[section label=1. Introduction]
Kingston Technology, Fountain Valley, CA, USA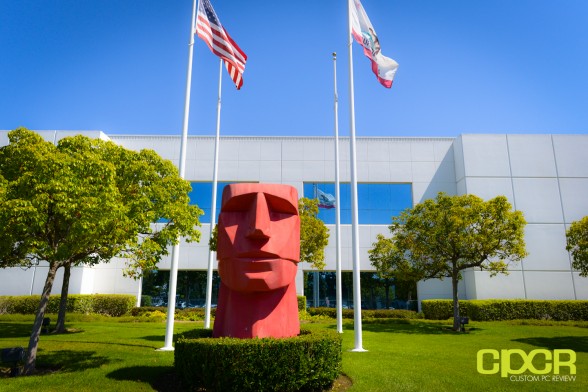 Ever wondered what it'd be like inside the headquarters of the world's largest memory manufacturer in the world? Sure you did, and we did too. That's why we made the trip out to Kingston Technology's USA headquarters in Fountain Valley, California to find out!
Background
Since all of you are reading a hardware review site, you've probably heard of Kingston. In fact, we've previously done more than a couple reviews on Kingston products such as their recently released Kingston HyperX 3K SSD, but other than getting an idea of how well the product performs, we don't really know anything about the company who produced it.
Kingston Technology is huge. Started back in 1987, Kingston is currently the world's largest 3rd party memory manufacturer with a whopping 45.8% market share by revenue! (iSuppli, Nov 2010) Comparably speaking, the second largest memory giant, Adata Technology, only commands 7.6% market share and popular Micron subsidiary, Crucial Technology, only commands a 5.9% market share.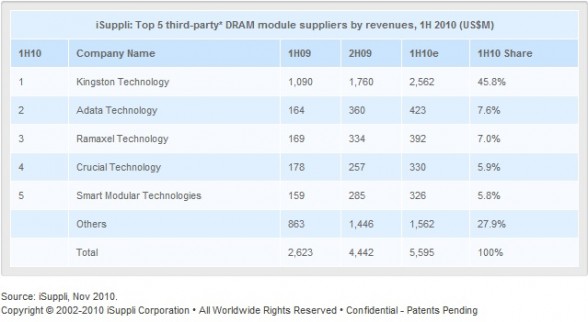 As expected of such a large memory manufacturer, Kingston has strategically placed locations all over the world to better serve their global audience. This means in addition to the USA headquarters in Fountain Valley, CA, they've also got additional headquarters in both London, England and Hsin-Chu, Taiwan. Those interested in a little more about Kingston, please check out their website here.
[section label=2. Inside Kingston – R&D and Manufacturing]
A Closer Look Inside Kingston
R&D (Research & Development)
The first stop in our tour was the offices, which includes operations, marketing, sales, purchasing, customer service, etc. Of course, we're not too interested in the business side, so we ended up in engineering section pretty quickly.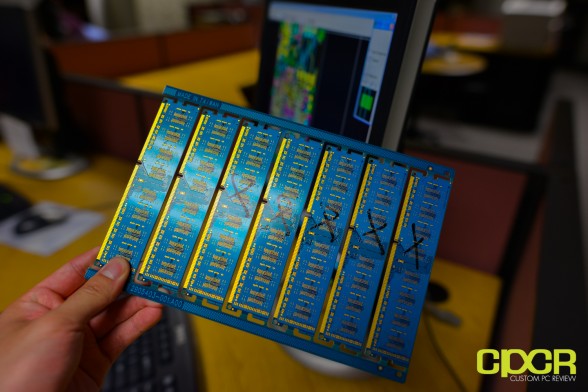 As you may expect, engineering's where all the R&D gets done, so PCB designs, memory module selection, etc. is all done here. Aside from R&D, the main office floor also includes compatibility testing labs as well. To ensure components that get shipped out never come back again, Kingston has a couple good sized labs for testing their memory in upcoming products such as motherboards and CPUs, cross compatibility testing with memory from other manufacturers, and a variety of other testing as well. This ensures that Kingston's memory will be 100% compatible with any motherboard/CPU configuration you're planning to throw at it. Because of all this testing, Kingston Technology with their dominating 46% market share no less, only employs a total of 3 tech support staff!
Factory (Manufacturing)
In addition to all the R&D, operations, and all that awesomeness going on at Kingston, they also have full SMT (Surface Mount Technology) production lines as well. While most production has shifted to their overseas production facilities in China, Taiwan and Malaysia, a fair amount of production still happens right here in the USA. Yeah, seriously. There's still stuff made in the USA. That said, all factories, overseas or not, are built to the same exact standards, operated in the exact same way, and use the exact same components sourced from the exact same companies so a memory product produced in the USA will be pretty much identical to the one produced in say China.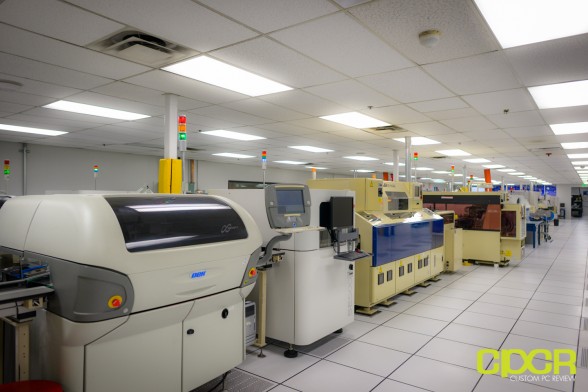 Inside the Kingston production facility, we'll be checking out a SMT line for memory DIMMs. Obviously then, the first thing that happens is that the memory DIMMs need to get made. This is where the SMT process comes in as all the components needed for producing something like a memory DIMM gets assembled using the technology. This is actually a very widely used process for production of most computer components – not just memory. Above is what a memory SMT assembly line looks like.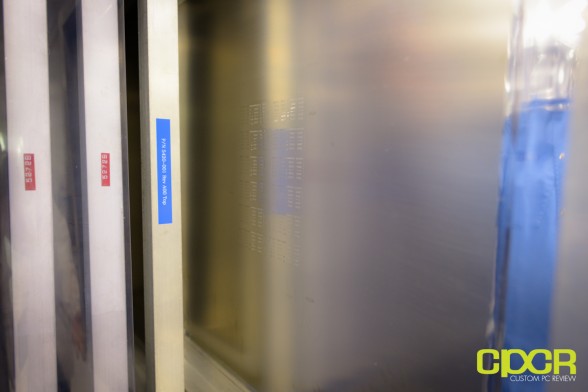 Stencils used for the application of solder onto the PCB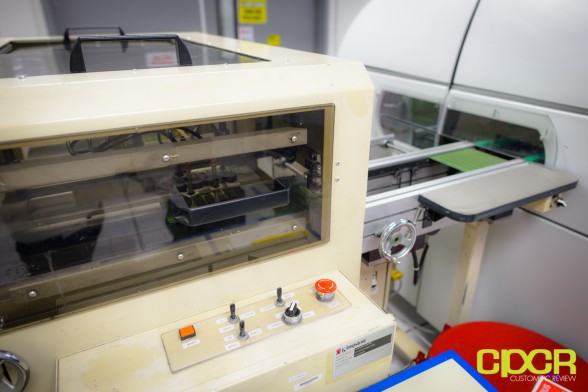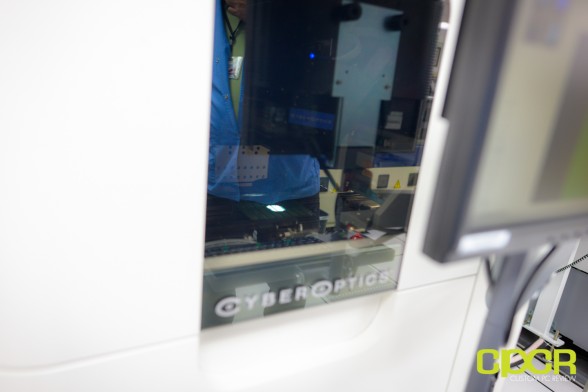 High resolution photographs ensure all the solder points are done correctly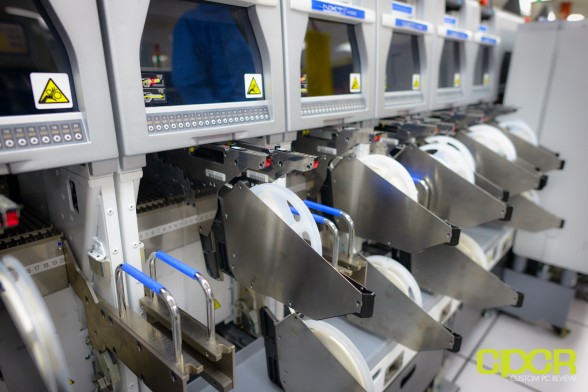 Components are placed onto the PCB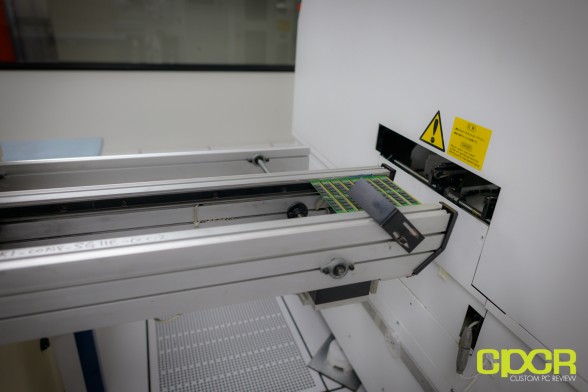 Ovens for soldering the components onto the PCB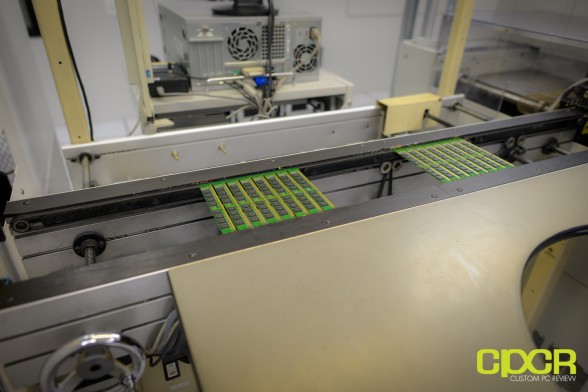 Visual inspection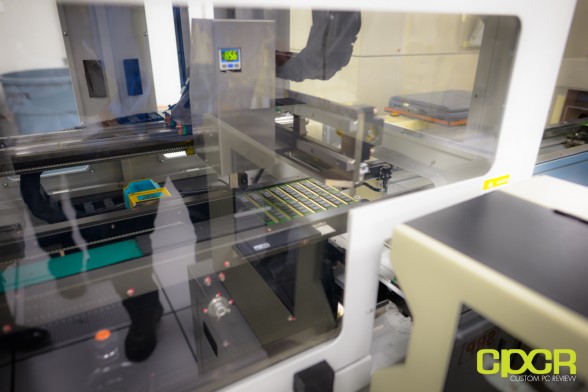 Each Kingston memory product from here on out will get its own label which will give tech support a full rundown of exactly when the product was made, which batch, and the engineer who signed off on it.
[section label=3. Inside Kingston – Testing & Burn-in]
A Closer Look Inside Kingston (Cont…)
Testing & Burn-in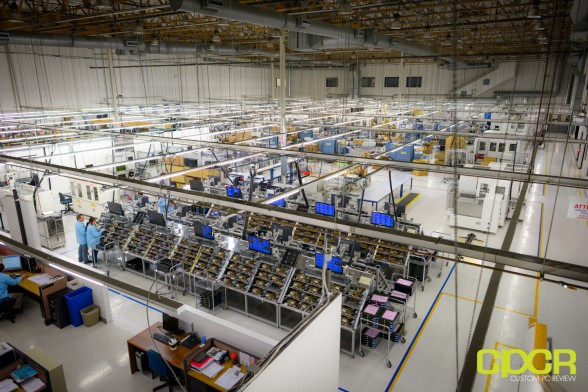 After memory production is complete, each memory module is then programmed, tested, and burned in – literally. This is the type of value add you're getting by going with a top tier company like Kingston as not every company out there will spend the time and resources to make sure each memory stick shipped is properly tested before it ships.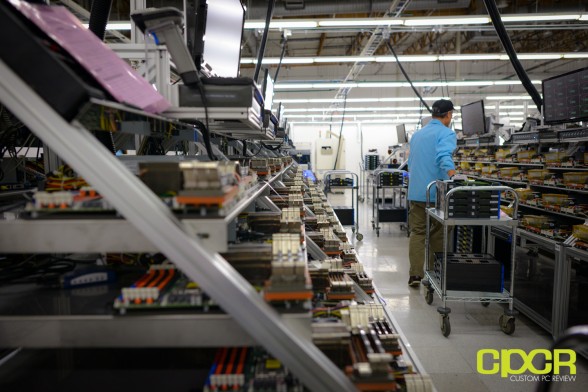 This can either be done manually…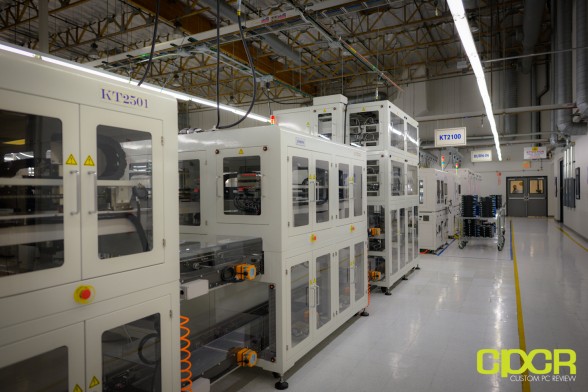 Or it can be automated through Kingston's own custom designed, automated testing machines. Here's a look at one of their newer machines which is capable of testing thousands of modules per day. Each of these machines house motherboards for memory modules to be tested and burned in.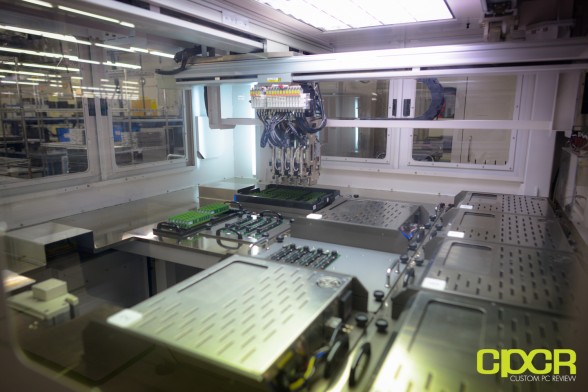 Here's a look inside one of the older machines to see how it's all done. Underneath each of the metal plates is a motherboard and a robotic arm brings memory from the trays to the motherboards to be tested.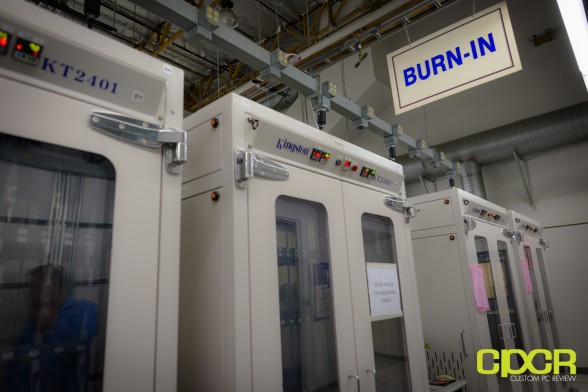 Ever wonder why server grade memory costs more? Here's a part of the reason why. In addition to the hotboxing each stick of memory gets during the initial testing, Kingston also subjects server memory to full on burn-ins in high temperature, heat controlled environments ranging northwards of 175°C. This ensures that memory going into hot server rooms won't be the component that fails.
[section label=4. Inside Kingston – Packaging, Shipping, and Conclusion]
A Closer Look Inside Kingston (Cont…)
Packaging and Shipping
With production, testing, and burn in complete, now it's time to package these bad boys. Again they've got some pretty specialized machinery to make this happen.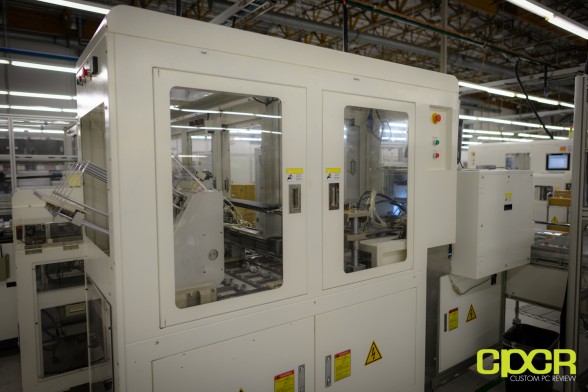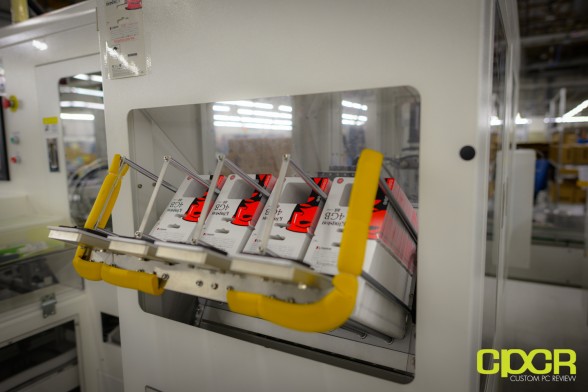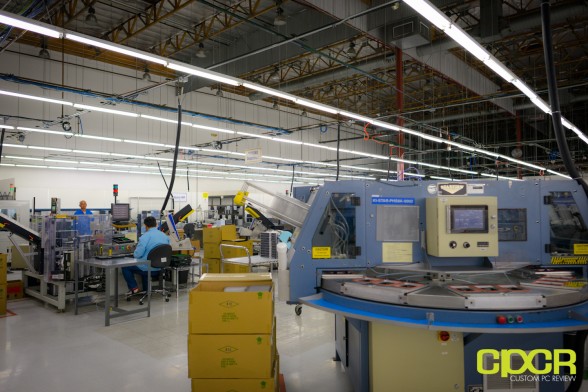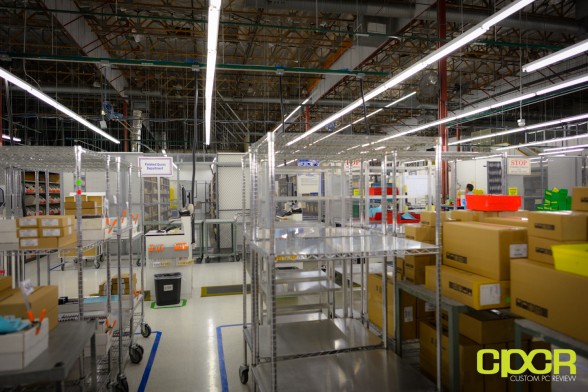 Conclusion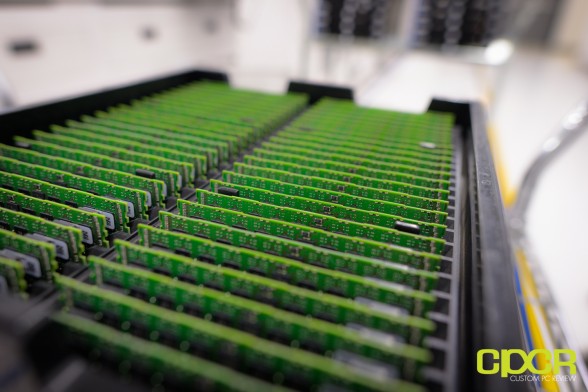 As a product reviewer, I work with a lot of companies and I get to see a lot of different products, but rarely do I get the opportunity to see what goes on behind the scenes. Luckily, thanks to the guys over at Kingston, I was able to get a much better picture of the company as a whole and hopefully, I was able to share a little of that experience with you as well. Additionally, I hope that a look behind the scenes will give you an idea of what sort of value add you're getting by going with products from a world class manufacturer such as Kingston.
Overall, I'd have to say my visit to Kingston was very positive. The atmosphere there was very friendly, open, and supportive. After all, I can't think of many companies who'd have the confidence to let me walk away with a CF card full of pictures of what goes on inside their factory. While trying to think of a great way to end this article, I felt the best way was just to quote a load of PR from Kingston's about us page. Unlike some companies who try to pull some sort of facade on their about us page though, Kingston is the real deal.
"Kingston has grown to be the world's largest independent manufacturer of memory products. With global headquarters in Fountain Valley, California, Kingston employs more than 4,000 people worldwide. Regarded as one of the "Best Companies to Work for in America" by Fortune magazine, Kingston's tenets of respect, loyalty, flexibility and integrity create an exemplary corporate culture. Kingston believes that investing in employees is essential and that each individual employee is a vital part of the company's success."
Special thanks to our tour guides David, Danny and Mark for making this article possible! Those interested in knowing more about Kingston Technology, be sure to check out their website here!