Los Angeles Colocation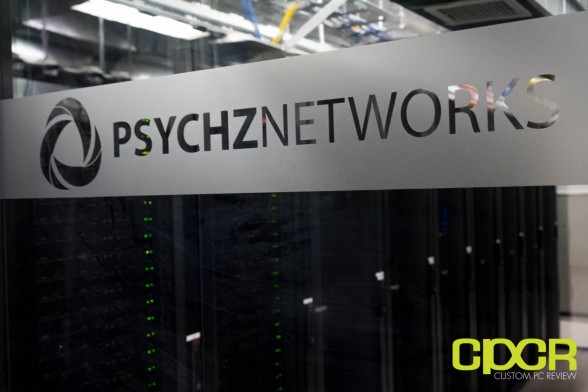 With the server hardware figured out, the final thing to do was to figure out where to keep the server. Since I don't have the infrastructure at home or at work to host a server, I needed a colocation. For those unfamiliar, colocations are basically datacenters that rent out server rack space. Since colocation datacenters were built from the ground up to house servers, colocations generally offer uptime guarantees northwards of 99.9%.
Since I'm based in Los Angeles, California, my ideal colocation would of course be somewhere in Los Angeles. After doing a good amount of research comparing prices, infrastructures, colocation access, and customer service, I ended up deciding to go with Psychz Networks. According to their website, their facility offers a fault tolerant infrastructure complete with independently powered cooling, chillers, backup generators, UPSes, and a direct fiber connection to a number of prominent carriers. They also claim an uptime of up to 99.995% (Tier 4 datacenter) and provide basic DDOS mitigation services with all their plans. While 99.995% isn't the best I've seen, it's pretty good considering I was happy with the 99.96% uptime I had last year.
After ordering a plan on their website at around midnight on Sunday (night before President's Day, a holiday in America), one of their sales, Jason, got back to me within the hour with instructions on shipping a server to their datacenter. Since I was local, I requested to bring my server in to take a look at the datacenter, take a look at the infrastructure, and gauge the knowledge of the employees. I also wanted to ensure this wasn't some fly by night operation that was going to be gone in 3 months. Once again, sales was quick to help set me up with a site tour.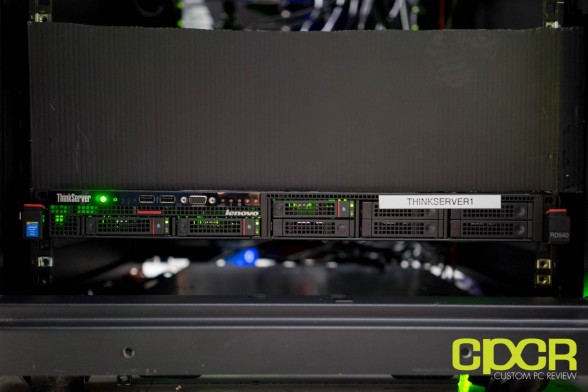 After touring the Psychz Nertworks datacenter, I was given the opportunity to hang out for several hours until the server was fully racked and setup by one of their employees. While I was there, I also learned several confidence inspiring things about their infrastructure.
Psychz Networks has owned their own datacenter since 2013. That means all racks, UPSes, PDUs, HVAC equipment, networking equipment, etc. are all owned by the company. Short of a catastrophic event, there's very little chance the company is going go to away.
The security. Everywhere except the lobby can only be accessed via keycard. There's also security cameras in the datacenter and employee(s) are there 24/7. I believe there's also building security guards, but I didn't really spend a whole lot of time looking around for security guards.
Psychz Networks has their own "Meet Me Room" which is actually a room that houses the connections to "the internet" AKA the major carriers. That's also where they house their secret DDoS protection infrastructure as well. They have a direct fiber connection to Wilshire One building, which is one of the world's most densely populated telecom buildings housing over 200 network carriers including giants such as AT&T, Verizon, Sprint, Time Warner, Comcast, etc.
Speaking of the network, Psychz Networks uses 100% Cisco and Dell networking equipment. Mostly Cisco. Nice. Me too.
Psychz Networks keeps their UPSes at 80% load or less to keep efficiency at peak levels. This should allow servers an average of 9 minutes of runtime after a power outage assuming their generators completely fail as well. I hope it never comes to that.
Each rack is also kept at 80% circuit load or less to prevent accidental tripping of the circuits and power surges. Each circuit is 30A/220V, so there's plenty of power to go around. In my rack, there was maybe another 8 or so servers, so they're nowhere near overloaded and it's unlikely there'll be any accidental power trips there. No pun intended.
Psychz Networks has two datacenters in Los Angeles. Although I only visited one of them, the one I was in was roughly 30-40% filled, so there's plenty of room for expansion. From what I saw, that's exactly what Psychz Networks was doing. While I was in the datacenter, it appeared that they recently took delivery of a row of new 42U cabinets and APC 42U UPS/PDUs which was waiting to get setup.
I get 4U worth of space and I'm paying about what others around the area want for just 1U of space. Awesome! That tells me that my rack isn't going to be oversold and it gives me a whole lot more options for my next generation server.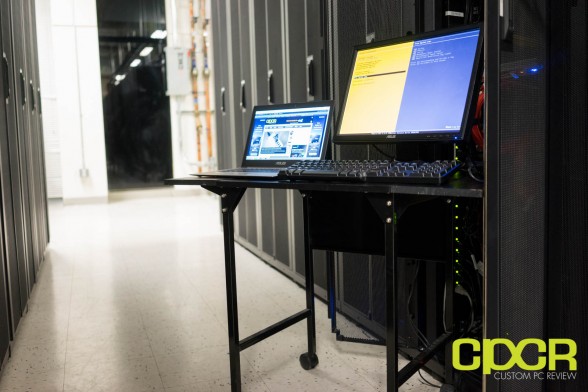 After the new CPCR ThinkServer was racked, networked, and ready to go I was given plenty of time (no rush) to setup the server. Psychz Networks provided me with WiFi access for my laptop and a basic crash cart (AV cart with just a keyboard/monitor) to get the server set-up. They also had the ability to set me up with a remote button presser in the event I needed to remotely restart the server, but they told me they'd be happy to do small stuff like button presses free of charge. Tech support also mentioned that virtual KVMs would be available as well should I need to do some work remotely on the server. In the case of an emergency, I could also drop by the colocation in person 24/7 although they would prefer that I make an appointment 24 hours in advance. Customer satisfaction seemed to be the name of the game and I have to admit, I'm pretty satisfied.
So far, I'm impressed with Psychz Networks as CPCR's first colocation. The infrastructure looks good, the staff is knowledgeable and customer service has been fantastic. Of course, we'll be sure to post updates down the line as well. Make no mistake, failures in uptime will be made public. Special thanks to George for the datacenter tour and Nicholas for racking the server and setting up the network.
Those interested in an excellent, reasonably priced colocation in Los Angeles can check out the Psychz Networks website here.