Lenovo's 1U Server Powerhouse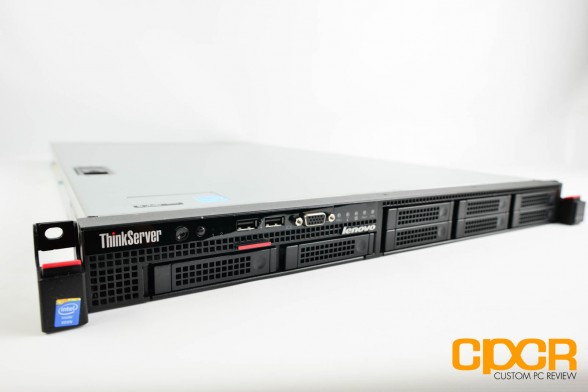 In the past couple days, I wrote several articles about the new server hardware and colocation infrastructure powering CPCR. If you've already read those articles, you'll probably already know that I picked up several Lenovo ThinkServer RD540's for the task. Since there's so much more to the ThinkServer RD540 than I wanted to talk about in a general overview of our hosting infrastructure, I decided to do a separate article on just the ThinkServer RD540 itself.
The Lenovo ThinkServer RD540 was launched back in late 2013 alongside the ThinkServer RD640. The main difference between the two is that the ThinkServer RD540 utilizes a 1U form factor while the ThinkServer RD640 utilizes a 2U form factor.
The Lenovo ThinkServer RD540 is a mainstream/performance server designed primarily for virtualization and mission critical applications. Lenovo also offers an even more entry level ThinkServer RS140 for non mission critical applications.
Lenovo ThinkServer RD540 Specifications
Manufacturer
Lenovo
Model
ThinkServer RD540
Processor
Up to two 12-core (24-cores HyperThreaded) Intel Xeon E5-2600 v2 series processors
Operating Systems Supported
Microsoft Windows Server 2008 R2 (including Hyper-V), Microsoft Windows Server 2012 (including Hyper-V), Microsoft Windows Server 2008 RS with SP1 (including Hyper-V), Microsoft Windows Small Business Server 2011, SUSE Linux Enterprise Server, Red Hat Enterprise Linux Server, VMware vSphere ESXi, Citrix XenServer
Form Factor / Height
1U Rack
Memory
Up to 320GB DDR3 – 1600 MT/s via 20 slots (RDIMM, LVDIMM)
Media bays
1 x slim optical (except 8 x 2.5″ configuration)
Disk Bays
Up to 4 x 3.5″ or up to 8 x 2.5″
Maximum Internal Storage
Up to 16TB 3.5″ chassis or up to 8TB 2.5″ chassis
RAID Support

ThinkServer RAID 500 Adapter (0, 1, 10, optional 5)
ThinkServer RAID 700 Adapter (0/1/10/5/50/6/60)
ThinkServer RAID 710 Adapter (0/1/5/6/10/50/60)

Cooling
8 redundant fixed fans
Power supply
Redundant hot-swap – 800 watt
Network Interface

2 x Integrated Gb Ethernet
1 x Integrated Gb Ethernet (shared with ThinkServer Management Module)

Expansion Slots

1 x PCIe GEN3: LP x8 (populated with hardware RAID adapter)
1 x PCIe GEN3: FH/HL x16

Diagnostics
Intelligent Diagnostics Panel
Systems Management

ThinkServer Management Module
Optional ThinkServer Management Module

Dimensions (W x H x D)
(482 mm x 43 mm x 734 mm) or (19.0″ x 1.7″ x 28.9″)
Weight
Starting at (12 kg) or (26.5 lbs)
In terms of specs, the Lenovo ThinkServer RD540 is a powerhouse. With the capability of accommodating two Intel Xeon E5-2600v2 series processors, the ThinkServer RD540 can scale up to 24 cores and 48 threads. A total of 20 DIMM slots means a total of 320GB of DDR3 ECC memory can be installed and a choice between 4x 3.5″ bays or 8x 2.5″ bays means up to 16GB of storage is possible.
Let's take a closer look.
A Closer Look at the Lenovo ThinkServer RD540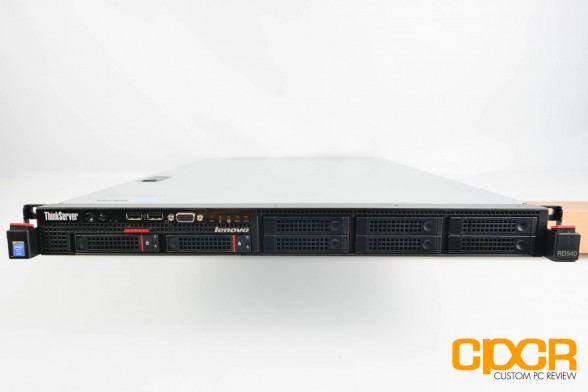 Lenovo offers the ThinkServer RD540 in one of two configurations. You can either get a 4x 3.5″ (LFF) SATA/SAS configuration + slimline optical drive bay or a 8x 2.5″ (SFF) SATA/SAS configuration. Since we were planning to go all flash, we naturally picked up several ThinkServer RD540's with the 8x SFF SATA/SAS configuration.
Looking at the front of our server, Lenovo includes 8x 2.5″ SFF drive bays, power/reset buttons, two USB 2.0 ports, a VGA out, and a multitude of indicator LEDs to quickly let you know if there's an issue.
Lenovo also includes a small slide out ID tag that displays serial number information as well. One important thing to note about these servers (and I believe most Lenovo servers in general) is that Lenovo does not include any drive caddies, so you'll need to purchase one for each drive you intend to install. Unfortunately, Lenovo drive caddies are a highway robbery at nearly $30 a pop (~$200+ to fully equip a server), but luckily there are numerous aftermarket drive caddies that work on the ThinkServer RD540 and can be found on Amazon for less than half the price.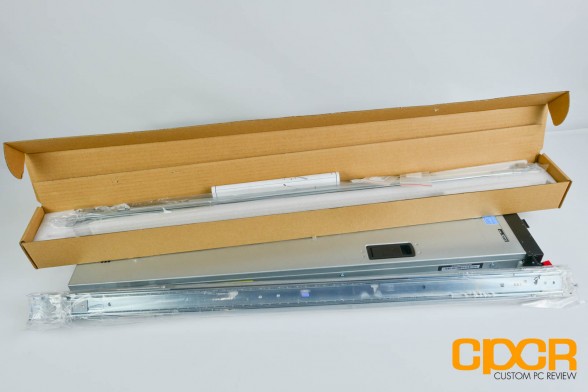 Although Lenovo prefers to nickel and dime you on the drive caddies, Lenovo does include a tool-less rail system with the ThinkServer RD540. This is nice to see as most server vendors require rails to be purchased separately and depending on the vendor, rails could cost as much as ~$75-$200 a set.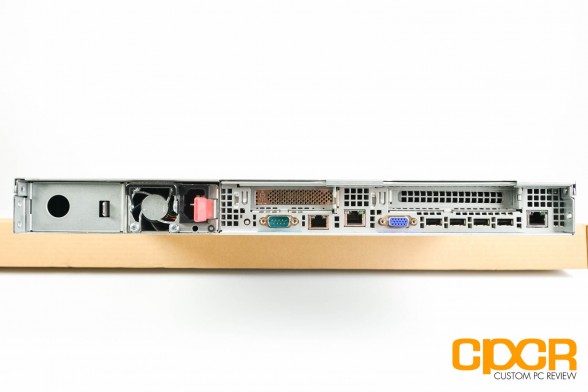 Swinging around the back, we can take a look at the rear I/O. At the left, there are two slots for power supplies – one primary and one redundant. There's also 3x Intel Gigabit network ports (one of the ports being a combo management port), a serial port, a VGA port, and four USB 2.0 ports.
Lenovo makes cracking open the server dead simple. Simply pull the lever and the entire top panel slides off. Once removed, you get easy access to all the server's internals. I really like the fact that Lenovo's design emphasizes a tool-less philosophy. The top cover is tool-less, the rails are tool-less, the fans are tool-less, the power supplies are tool-less, the PCIe expansion cards are tool-less, etc. One thing about the Lenovo RD540 though is that there are no locks on the drive bays or the top panel, so the server must be stored in a secure location.
Another thing you'll notice about the ThinkServer RD540 is the shroud covering the CPU and memory. The way the server is designed is that the array of fans pull air in through the front of the system and use the shroud to direct air out the back creating enough air flow to cool the CPU and memory despite not having a fan directly attached to the CPU's heatsink.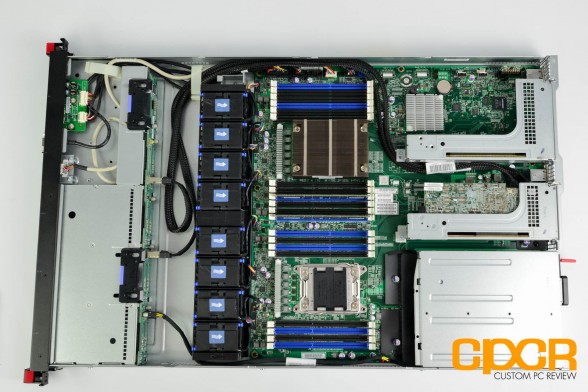 Here's a look at the ThinkServer RD540 with the cooling shroud removed. The first thing you'll notice is that the server's internals are incredibly clean thanks to the server's use of a proprietary power system.
Onboard we also get a custom designed Intel C602-J chipset powered motherboard which features two FCLGA 2011 sockets supporting two Intel Xeon E5-2600 v2 CPUs, and 20 DDR3 RDIMM slots (12x for CPU1, 8x for CPU2). It's almost pitiful to see how few components we've put into this thing, but it does guarantee us plenty of room for expansion down the line should we need it.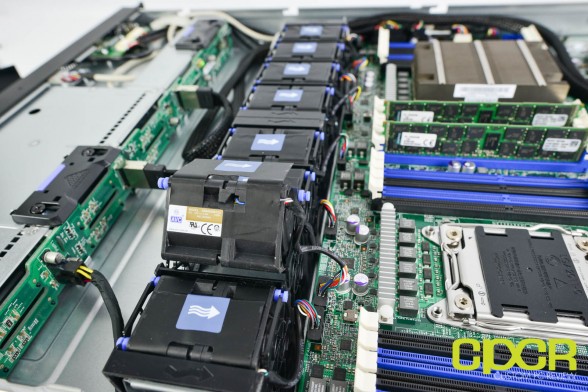 All fans are tool-less in design so they can simply be popped out and replaced in the event of a failure. Our server included a 7+1 redundant fan setup.
At the rear of the system, Lenovo offers two expansion slots complete with right angle adapter brackets for expansion cards. Pre-installed on our server is a ThinkServer RAID 700 which is the LSI 9260-8i RAID card. Lenovo also offers the ThinkServer RAID 500 and the ThinkServer RAID 710 as well which is the LSI 9240-8i and LSI 9266-8i respectively.
The ThinkServer RD540 can be configured with either one or two PSUs for redundancy. The PSUs onboard are 80 Plus Gold Certified 800w 1U PSUs manufactured by Delta. Delta is one of the top manufacturers of PSUs in the world and focuses primarily in the server PSU market so we're quite confident about these units.
For those with larger server deployments Lenovo also offers ThinkServer Smart Grid power management technology which allows system administrators to manage server power up to a rack level. This could be useful to ensure circuits aren't overloaded with a full 42U rack of servers running at peak load.
The only major downside with these PSUs is that they're very expensive to purchase separately with prices around ~$350 a pop making it almost cheaper to purchase a server just to harvest the PSU than to purchase a new PSU itself.
ThinkServer Management Module
One of the ThinkServer RD540's Gigabit Ethernet ports can also double up as a management port, which allows access to a wealth of server information along the with ability to upgrade firmware, turn on/off/restart the system, monitor system information, setup e-mail alerts, logging, etc. Since the servers I picked up started with extremely old firmware, it was very nice to be able to easily upgrade the firmware right from the management interface.
In addition to the standard management interface, Lenovo also offers an optional ThinkServer Management Module Premium add-on, which gives you access to a virtual KVM directly through the management website. Unfortunately our server wasn't equipped with the ThinkServer Management Module Premium add-on so we weren't able to test the virtual KVM functions however, I can see this being extremely useful especially for those running bare metal OS installations.
Final Thoughts
For the past few weeks, I've spent quite a bit of time tinkering with the Lenovo ThinkServer RD540 and so far it's been everything I had hoped it would be. Having only prior experience with Dell and HP servers, going with a Lenovo server was leap of faith for me, but I'm glad I made it. Everything about the ThinkServer RD540 was super intuitive as it should be from hardware design to installation. Setup and server maintenance was also an absolute breeze thanks to Lenovo's built in management system.
As I write this, CPCR's server infrastructure has already been migrated to the ThinkServer RD540 and it's been a few days since the server was racked. There haven't been any failures to report yet and hopefully no failures will happen in the next few years as well. Of course, any failures in our infrastructure will without a doubt be made public.
Over the next few weeks, we'll be continuously monitoring and optimizing server applications to better take advantage of the additional server resources. Hopefully, we'll start seeing reduced response times as a result. Currently I'm also thinking of bringing my cold backup server online for even better availability, but with the redundancies that are in place, it should be fine for now. Server power consumption is currently peaking at just 85w with average power consumption around 77w, so there's definitely room in our colocation to add some additional infrastructure.
Availability
Currently Lenovo no longer makes the ThinkServer RD540, so retailers such as Amazon or Ebay are your best bet to secure one of these outgoing servers at clearance pricing. Late last year, Lenovo announced the ThinkServer RD550, which will replace the ThinkServer RD540. Along with the Haswell-E architecture, it packs quite a bit more features making it an even more competitive offering for virtualization and mission critical applications.