Spire TherMax Eclipse III CPU Cooler Review
Posted June 11, 2012 by Mike Lewis in
Reviews
Navigation:
Never heard of Spire? It may be time to…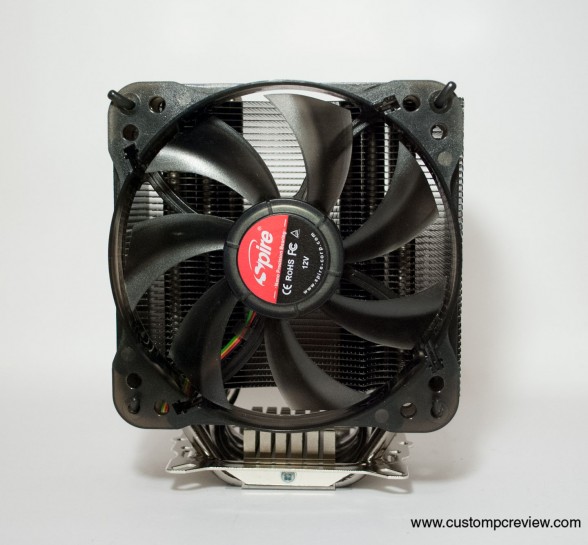 Back in 1998, Spire started out as an OEM PC hardware manufacturer, but recently, they've been starting to work their way into the enthusiast grade computer accessories market. Their lineup currently includes power supplies, chassis, and of course, cooling solutions – most of which you probably never heard of before. That's why today, we're going to be looking into their TherMax Eclipse III, or TME III for short. The TherMax Eclipse series has proven to be a reliable cooling solution in the past, but with only a single fan it was definitely fighting an uphill battle against coolers with push pull solutions. The TME III takes it up a step and ships with two fans, so we're eager to see how well it performs!
The Spire TME III is a heatpipe direct touch CPU cooler which features five 8mm U-shaped copper heatpipes, two 120mm PWM (Pulse Width Modulation) fans, and is compatible on virtually every modern socket from Intel and AMD. Spire seems to have tried to design this for the high end air cooler crowd, who want to take their CPUs as far as they can without having to go to extreme cooling methods such as water cooling. The TME III currently has an MSRP of $64.95 according to Spire, but can be found at $59.95 over at Coolerguys.com.
Specifications
Compatibility: Socket 1156 / 1155 / 1366 / 754 / 940 / 775 / 939 / AM2 / AM3
Fan Size/Qty: 2x 120mm (Push/Pull)
Bearing Type: Nano Precision Bearing
RPM: 600~1800 rpm RPM +/-10%
Air Flow: 74.63 CFM Max
Noise Level: 10~22 dBA
Power Connector: 4 Pin
Color: White
Heatsink Material: Aluminum, Copper
Heatpipes: 5x 8mm Copper, Direct Touch Heatpipes
Fan Dimensions: 120 x 120 x 25 mm
Weight: 822/1030g (Net/Gross)
Warranty: 5 years