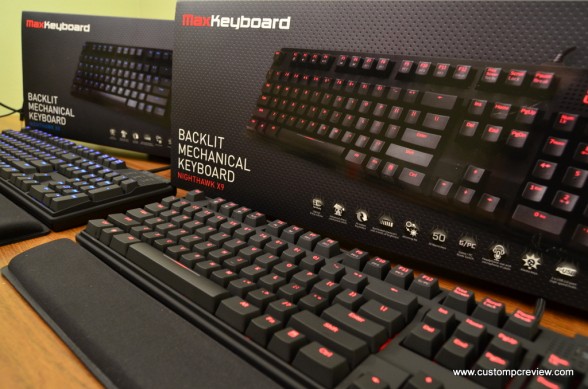 Anyone heard of Max Keyboard before? Cause I haven't, but they recently sent us a couple of their top of the line backlit mechanical keyboards for review and it turns out they're pretty awesome!
The keyboards they sent us were the Nighthawk X8 and Nighthawk X9 keyboards. While both keyboards are similar in appearance, the Nighthawk X8 comes with Cherry MX Brown keyswitches and blue LEDs while the Nighthawk X9 comes with Cherry MX Red keyswitches and red LEDs. In addition to Cherry MX mechanical keyswitches, both keyboards will come with wrist rests, gold plated USB connectors, a braided cable, internal memory for storing macros and macro profiles, a "game mode" for disabling the Windows key, headphone/mic out, a full speed USB 2.0 hub, and more.
For those interested in the keyboards, the Nighthawk X8 is currently available at the Max Keyboard website for $144.99 while the Nighthawk X9 is currently available for $149.99.
Specifications
Max Keyboard X8
KEYBOARD INFORMATION . Cherry MX BROWN mechanical key switches (soft tactile) . Individual backlit keys for enhanced visuals . Backlight setting memory . 4 level backlight modes (pulse mode on level 4) . 128k on-board memory . Laser engraved keycap . N-key rollover (full NKRO on USB, any combination) . Embedded multimedia keys . Built in 2 high-speed USB 2.0 hub (max 100mA each) . Built in headphone & microphone jack pass-through . Heavy duty braided cable . Gold plated connectors . Tilt legs . Windows key disabled function . Wrist pad for maximum palm comfort . US ANSI 104-key . Programmable macro keys (optional downloadable software)
Max Keyboard X9
KEYBOARD INFORMATION . Cherry MX RED mechanical key switches (soft linear) . Individual backlit keys for enhanced visuals . Backlight setting memory . 4 level backlight modes (pulse mode on level 4) . 128k on-board memory . Laser engraved keycap . N-key rollover (full NKRO on USB, any combination) . Embedded multimedia keys . Built in 2 high-speed USB 2.0 hub (max 100mA each) . Built in headphone & microphone jack pass-through . Heavy duty braided cable . Gold plated connectors . Tilt legs . Windows key disabled function . Wrist pad for maximum palm comfort . US ANSI 104-key . Programmable macro keys (optional downloadable software)