Samsung 840 Pro Series 256GB SSD Review
The Magic of Samsung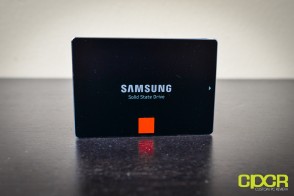 A number of weeks back, I had the wonderful opportunity of reviewing the famous Samsung 830 SSD and while the drive is still in the upper echelon of drives with all things considered, the performance of the drive just isn't up to snuff when put in comparison to all the new drives popping up on the market these days. After all, the Samsung 830 was unveiled about a year ago, and in technology years, a year is a long time.
So right now, I'm sitting here in Seoul, Korea witnessing the launch of Samsung's newest SSD, the Samsung 840 and the Samsung 840 Pro. Yes, that's right people, Samsung is introducing two SSD models – one model geared towards the general user, the Samsung 840, which is a 21nm TLC (Triple Level Cell) Toggle NAND based SSD, while a second model is geared towards enthusiasts/enterprise, the Samsung 840 Pro, which is based off of Samsung's new 21nm MLC Toggle NAND.
Now Samsung is quite proud of their new SSD offerings, and with good reason too. Like the Samsung 830, the Samsung 840/840 Pro is designed and manufactured completely in house. There's no sourcing of controllers from 3rd parties such as Marvell or SandForce, and there's no sourcing of NAND from 3rd parties such as Toshiba/SanDisk or IMFT. This means that Samsung is able design, manufacture and handpick NAND that's most compatible with the controller/firmware and has the luxury of spending tons of time in validation testing. Moreover, Samsung is also better equipped to fix any SSD issues that crop up on a timely basis as they don't need to rely on a 3rd party to help push out new firmware. This is very important especially for those who remember all the flak OCZ took with their SandForce based Vertex 3.
That said, today we'll be reviewing the Samsung 840 Pro SSD, Samsung's top tier 840 series SSD geared towards enthusiasts and enterprise applications. Before getting any further, let's take a look at a specifications comparison between the older Samsung 830 SSD and the new Samsung 840 Pro SSD. For our comparison, we'll only do a comparison between the 256GB edition of the drives, but be aware that both the Samsung 830 and Samsung 840 Pro is available in a number of capacities.
Samsung 830 vs Samsung 840 Pro Specifications
| | Samsung 830 | Samsung 840 Pro |
| --- | --- | --- |
| Capacity | 256GB | 256GB |
| Controller | Samsung S4LJ204X01-Y040 | Samsung S4LN021X01-8030 |
| NAND | 27nm Toggle Mode MLC | 21nm Toggle Mode MLC |
| Sequential Reads | 520 MB/s | 540 MB/s |
| Sequential Writes | 400 MB/s | 450 MB/s |
| Active Power Use | 0.24W | 0.068W |
| Idle Power Use | 0.14W | 0.042W |
| Interface | SATA 3 6GB/s | SATA 3 6GB/s |
Overall, the specifications are a mixed bag here. Sequential reads are bumped up to a nice 540MB/s while sequential writes are only bumped up to 450MB/s. That said, do remember that the Samsung 840 Pro will perform identically for both incompressible and compressible data. While SandForce drives are typically able to reach a maximum of 500MB/s+ sequential reads/writes, they can only reach the 500MB/s+ throughput when the data transferred is compressible.
Also important to note is the power usage here. As the Samsung 840 Pro is 7mm in thickness, it's quite apparent that it was designed with notebook users in mind. As such, any amount of power savings however slight will amount to at least some battery life savings. According to Samsung's specifications, they've managed to shave off about 72% power draw under load and about 70% power draw when idle, which should significantly impact battery life on notebooks.
With all that, let's take a look at Samsung's new 840 Pro SSD and see if it's a worthy successor to the Samsung 830.