Review: Razer Kraken 7.1 Surround Sound Gaming Headset
The Kraken. Now in 7.1 Virtual Surround.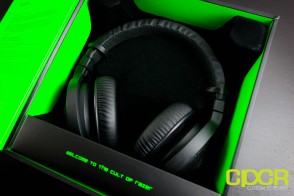 A couple years back, the only option to get any sort of surround sound on a computer was to either purchase a physical 5.1/7.1 surround sound system or purchase an expensive, bulky, and generally crappy sounding true 5.1 surround sound headset. If you think those are both pretty bad options, you're probably not alone which is why a number of companies are investing in virtual surround sound software which use principles of psychoacoustics to simulate 7.1 channel audio in headsets that only have two physical drivers.
Now recently it seems like gaming peripherals giant Razer has also gotten into the virtual surround bandwagon as they've developed and released their own software capable of turning any headset into a virtual surround headset. Whereas previously virtual surround software was generally licensed and tied to a specific headset you bought, Razer decided to offer their Surround software for free to everyone willing to download it. Yup. Quite a good deal indeed.
Fast forward a couple weeks and now we have a brand new headset from the guys over at Razer, which they're referring to as the Kraken 7.1 surround sound gaming headset. The Kraken 7.1 is based off the Kraken headset which is a headset that Razer already has in their repository of gaming headsets, but the Kraken 7.1 does have a number of differences that make it the Kraken 7.1 rather than a Kraken Pro. While the core design of the Kraken 7.1 is nearly identical to the Kraken Pro, the Kraken 7.1 does include a new and improved digital microphone along with a new black color scheme. It's also powered by USB as well, which is pretty useful for those who own a notebook that only has a single 3.5mm headphone/mic combo port (Razer Blade, anyone?).
Wanna find out what we think about the Kraken 7.1? Flip the page to check out our review!
Razer Kraken 7.1 Specifications
| | |
| --- | --- |
| Manufacturer | Razer |
| Model | Kraken 7.1 |
| Formfactor | Over Ear |
| Interface | USB |
| Driver Diameter | 40mm Neodymium Magnets |
| Frequency Response | 20 – 20000 Hz |
| Impedance | 32 Ω |
| Microphone | Omnidirectional |
| Warranty | 1 Year |
| Check Pricing | Razer, Amazon |