[section label=1. Introduction]
The Almost Perfect Tenkeyless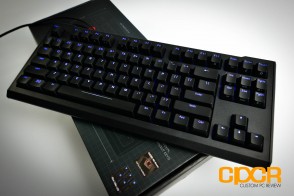 It's been well over a year since my last mechanical gaming keyboard review and I'd have to say not much has radically changed in the mechanical gaming keyboard landscape. Cherry MX switches are still the most popular mechanical keyboard switches out there and for the most part, most new mechanical gaming keyboards on the market are becoming some sort of ODM sourced product from some mass keyboard manufacturer in China.
Today we'll be reviewing the Max Keyboard Blackbird, which is a new tenkeyless mechanical gaming keyboard from the guys who brought you the Max Keyboard Nighthawk series mechanical gaming keyboards. Whereas the Nighthawk series was an off the shelf ODM model with a couple small customizations from Max Keyboard, the new Blackbird tenkeyless is more of a custom design with features implemented based on input from keyboard enthusiasts. Today's review will be focused on the Max Keyboard Blackbird with the Cherry MX Brown switches and blue LED backlighting although the Blackbird also comes in models with Cherry MX Blue switches and red LED backlighting as well.
Tenkeyless, mechanical and fully backlit? Excited! Let's dive right in to the review!
Features and Specifications
Manufacturer
Max Keyboard
Model
Blackbird
Key Switch
Cherry MX Blue/ Brown/
Keycaps
Double Shot Injection Molded
Backlighting
All Keys, Side Panel
Red, Blue
3 Levels
3 Modes
Key Rollover
6KRO or NKRO
Polling Rate
1000 Hz
Interface
USB 2.0
USB Hub
2 Port, USB 2.0
USB Cable
6ft, Braided, Gold Plated Connector
Dimension
14.75 in x 6.5 in x 1.25 in
Weight
2.4 lbs
Warranty
1 Year
Additional Features
Game Mode, Custom LED Lighting, Media Keys, Timer Function
Additional Accessories
Foam Wrist Rest
Check Pricing
Click Here
[section label=2. A Closer Look]
A Closer Look at the Max Keyboard Blackbird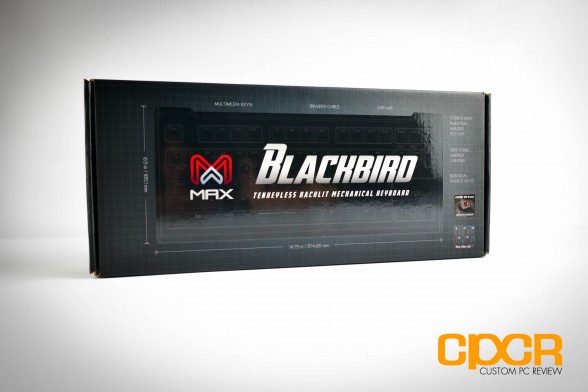 Here's a look at the packaging for the Max Keyboard Blackbird.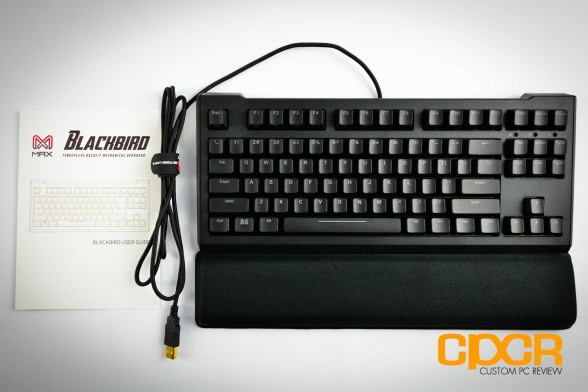 Included in the box we get some documentation, the Blackbird tenkeyless mechanical keyboard itself, and a foam wrist rest.
Our Blackbird sample arrived with both Cherry MX Brown switches and a US layout (long enter key, long shift keys, etc.) although Cherry MX Blue switches and the UK layout are available as well. The keyboard is constructed of thick, high quality plastic finished in a matte black finish.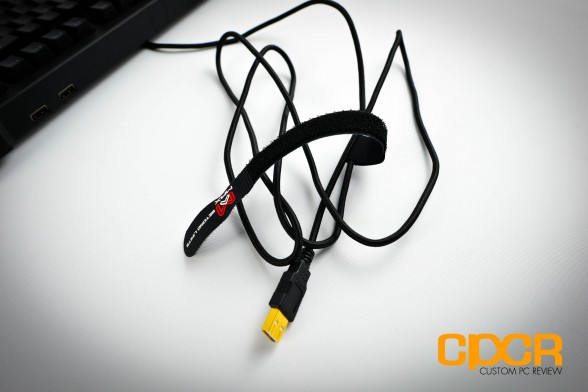 The Blackbird includes a 6ft braided cord with a gold plated USB connector. Max Keyboard also includes a velcro cable tie which makes it easy to pack the keyboard when taking it on the go.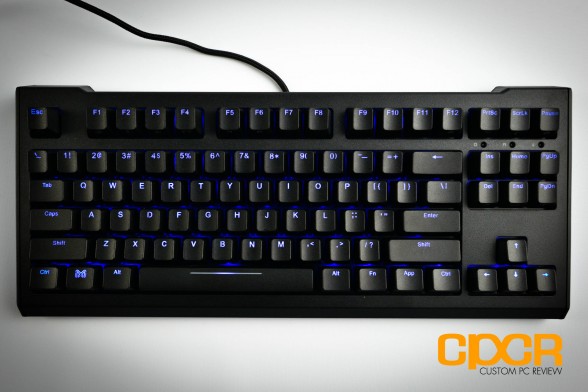 Plugging the Blackbird in, we can see that our sample is a blue backlit unit. There's also a red unit available as well. There are four levels of backlighting – low, medium, high, and pulse.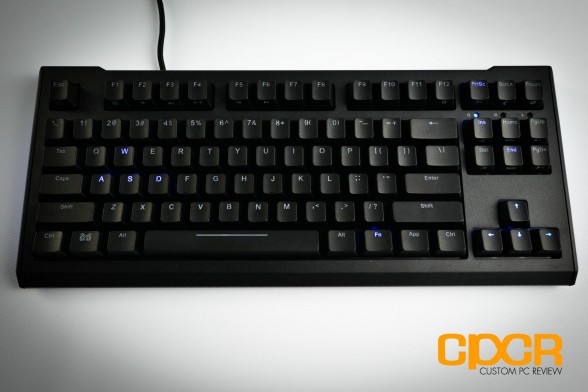 For those who prefer not to get distracted by every key lighting up, you may also choose for a couple of keys to light up only or you may record a custom combination of LEDs you want to light up. By default, we can see W,A,S,D + Fn + Arrow Keys + Ins + End + PrtSc is lit up. There's a reason why the Fn, End, Ins and PrtSc is lit up in addition to W,A,S,D, and the arrow keys. FN + End allows switching to NKRO mode, FN + Ins switches the backlighting to all key backlit mode, and FN + PrtSc allows recording of which keys light up in the custom backlighting mode. This way you could customize backlighting to whatever keys are needed in whichever game you're playing at the moment.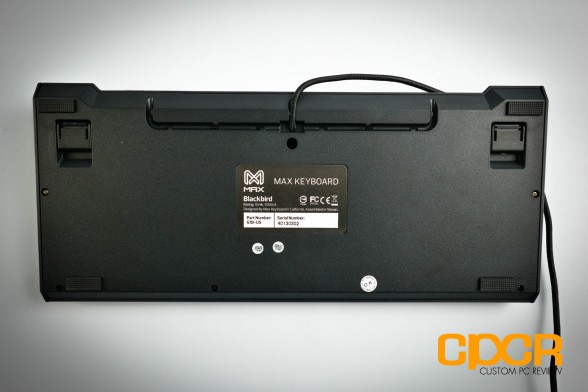 The bottom of the Blackbird includes four grippy rubber feet that keep the keyboard from moving even in intense gameplay. There's also two feet that will allow you to lift the keyboard up for those who prefer the keyboard lifted although there are no anti slip material applied to the risers.
Max Keyboard has a couple wire channels as well although the side channels don't stretch all the way across the entire horizontal length of the keyboard.
Unfortunately, the Blackbird does not include a detachable USB cable. Rather, the cable is attached to the bottom of the keyboard.
Moving around the side, we get a nice window with some LEDs behind it. The LEDs don't do anything for you, but does provide a bit of side glow, which looks pretty cool in the dark.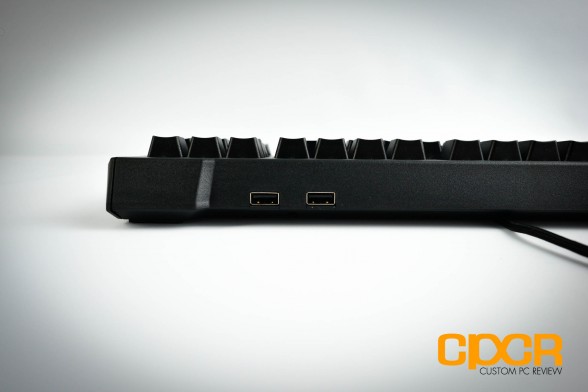 Here's a look at the front of the Blackbird. Max Keyboard has put two USB 2.0 ports here which is useful for connecting lower power USB devices such as memory sticks or USB mice. It's quite evident that Max Keyboard has put some serious thought into the design and layout of even the USB ports as they're adequately spaced for larger USB memory sticks to fit side by side without issue.
Since the Blackbird only has a single USB 2.0 connector to power the keyboard along with two USB 2.0 ports, everything needs to share a total of 500mA. This unfortunately means that the two USB 2.0 ports here have a maximum output of 100mA each.
Taking a closer look at the Blackbird, here's a couple of the secondary functions. Max Keyboard designed the keycaps here pretty well by putting the secondary functions on the side rather than on the top. That way you get nice, large, consistent font across the entire keyboard while the secondary functions are tucked away at the sides.
Starting from the left side of the keyboard, we get a timer function and some media keys (mute, volume up, volume down, play/pause, track back, track forward). On the right side of the keyboard we get the gaming mode key, which disables the Windows key, a record custom lighting key that records custom light modes, a sleep button, LED controls for the keys and the sides, LED brightness control, and protocol switching between 6KRO/NKRO. The reason there are buttons for both 6KRO and NKRO modes is that sometimes keyboards using a custom NKRO protocol may have compatibility issues before the operating system is loaded (such as when working in BIOS, for example).
Removing a couple key caps, we can take a closer look at the keyswitches, the LEDs, the keycaps, and the stabilizers on the Blackbird.
The Blackbird uses Cherry MX Brown switches and a LED is included for each of the keys on the keyboard.
The key caps used on the Blackbird are double shot injection molded key caps. This is important as most keyboards these days use laser etched key caps or some less expensive, lower quality method of key cap production. Double-shot injection molded key caps on the other hand rely on molding the plastic keycap around a pre-made mold. This makes the key cap much more durable and since the legend is built into the key cap rather than etched on top, the top of the key cap is completely smooth. This gives the key caps on the Blackbird a dry, matte, slightly textured feel that's very comfortable to the touch.
Max Keyboard has chosen Cherry MX Stabilizers for the Blackbird. Generally I prefer Costar Stabilizers over Cherry MX Stabilizers as they feel more consistent when actuated compared to the rest of the keys on the keyboard, but unlike most mechanical keyboards that employ the use of Cherry MX Stabilizers, the Blackbird's Cherry MX Stabilizers do not seem to alter the amount of force needed to actuate the keys. Keypresses feel very consistent throughout the entire length of longer keys such as the spacebar or the shift key.
[section label=3. Performance]
Max Keyboard Blackbird Performance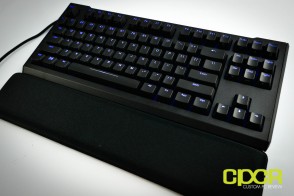 Testing the Max Keyboard Blackbird over the past couple weeks, I felt the keyboard performed very well in both gaming and productivity applications. For gaming, I spent quite a bit of time in Battlefield 4 and League of Legends and noticed zero issues at all. With the keyboard in NKRO mode, every keypress registered flawlessly with no ghosting detected.
In productivity applications such as typing up this review, the Cherry MX Browns used in the Blackbird performed very well as expected. The Cherry MX Brown switches have a little bump in the switch which provides tactile feedback whenever a key is actuated. Unlike Cherry MX Blue switches, the Cherry MX Brown switches do not provide additional auditory feedback. The actuation force for Cherry MX Brown switches is 45g, which is enough actuation force so that you don't accidentally actuate keys while typing, yet does not require so much force it would tire out your hands after typing for an extended period of time.
Generally speaking, I see ~11% increase in typing performance after using a mechanical keyboard with Cherry MX Blue or Brown switches for at least week. Since I've now switched all the keyboards here at the Custom PC Review office to either Cherry MX Blues or Browns, I didn't notice any differences in typing performance when using the Blackbird compared to any other mechanical keyboard here in the office. Those interested in testing your own typing speed can go to typrX to  benchmark your own typing speed. I'd suggest taking the test 5 times and taking the average for best results.
NKRO/Anti-Ghosting Testing
Along with gaming and productivity testing, I'll also be conducting some synthetic tests in order to properly test NKRO and the anti-ghosting features onboard. For my testing today, I'll be utilizing a webapp produced by Microsoft's Applied Sciences Group. The app simply translates any keystrokes into a virtual keyboard, allowing me to test for any sort of ghosting issues inherent on the keyboard.
More information about the webapp, ghosting, and NKRO may be found here.
Here's some common tests to try to get some of the keys to ghost. As you can see here, I didn't have any ghosting issues in any of the scenarios above.

Here's a test for the NKRO function on the Blackbird. While I'd love to be able to hold down every single key on the keyboard, that's a bit difficult, so I simply held down a huge chunk of keyboard space instead. Every key that I held down registered on the app without issue.
[section label=4. Conclusion]
Max Keyboard Blackbird Conclusions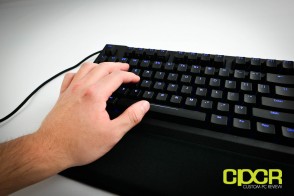 I still remember a little more than a year and a half ago when Max Keyboard was still a company with only a single product line – the Nighthawk Series X8 and the X9. The Nighthawk series was a fantastic series of mechanical keyboards that succeeded mainly due to the failure of larger, more popular peripheral companies to provide innovative, quality mechanical keyboards that had everything a gamer or keyboard enthusiast was looking for.
With the Blackbird tenkeyless, Max Keyboard continues to offer the same kind of innovation and feature-set, except in the tenkeyless formfactor. The Blackbird has almost everything a gamer or keyboard enthusiast is looking for – the unit is high quality, it has a basic and functional design, it has fully individually backlit double injection molded keys, it has a proper key layout, it has a USB hub, and it has NKRO support. While it's missing a detachable USB cable and audio passthroughs, I think it's important to remember that it is a tenkeyless form factor keyboard, so space is definitely limited when adding additional features.
That said, I think the biggest issue for most people is that the USB hub on the Blackbird carries the same 100mA power limit on the USB ports similar to what we found with the Nighthawk series. This is done so that you don't need to connect two USB connectors into your PC to use the USB hub, but some higher powered USB devices such as headsets, phones, or tablets can't be used. For devices that use moderately high power, Max Keyboard does have a built in intelligent power management system, which automatically draws power from the keyboard to power higher power drawing USB devices connected to the hub. When the keyboard isn't capable of supplying enough power to the USB devices, it will re-route power designed for the backlighting to the USB devices. This causes momentary backlight flickering on the keyboard, but it does ensure that the USB devices are getting enough juice. It's definitely not the preferred method of doing things, but it's better than the USB device not working at all.
One thing I would've liked to see Max Keyboard do as the innovative company that they are is to be the first to integrate a USB 3.0 hub rather than use the same legacy USB 2.0 hub everyone else is using. USB 3.0 has become mainstream especially with Haswell CPUs now natively supporting USB 3.0 and since USB 3.0 includes a higher 900mA power limit, it would allow Max Keyboard to up the power limit on the USB hub. While I can't ding Max Keyboard too much on this since no other vendor I know of has found a way to integrate a USB 3.0 hub into their keyboard (full size or tenkeyless), it would be nice to see vendors start adopting USB 3.0 hubs down the line especially since USB 3.0 isn't necessarily the new technology it was a year ago.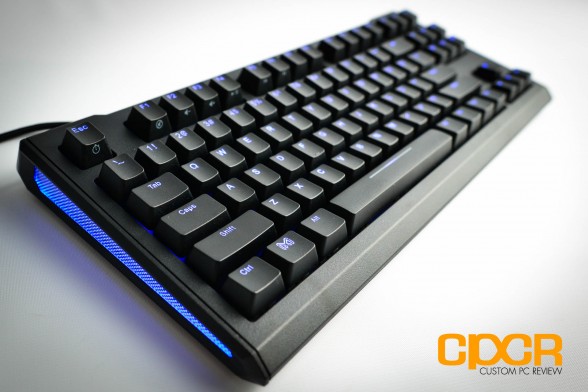 Currently, the Max Keyboard Blackbird is priced at $149.99, which is quite expensive for a keyboard these days – even for mechanical one. Competitors such as the CM Storm QuickFire TK is currently priced at $79.99 and the Razer BlackWidow is currently priced at $79.99. That said, while the Max Keyboard Blackbird isn't the perfect tenkeyless just yet, it comes pretty damn close. It has all the must-have features covered, then it adds a couple more features in there for good measure. If you're a gamer or a keyboard enthusiast looking for a great tenkeyless this holiday season, the Max Keyboard Blackbird may just be the keyboard for you.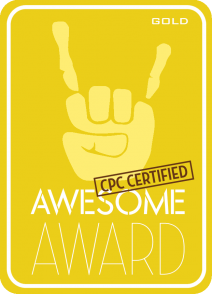 Sample provided by: Max Keyboard
Available at: Amazon