Review: PNY XLR8 Pro 240GB SSD
Run of the mill SandForce SSD? Not so fast!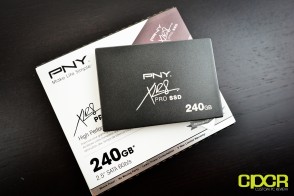 It's always fun digging around in the storage closet to find a product that's been on the review backlog for a while that you've accidentally forgotten about after traveling to expos and events for weeks on end. Since it's been quite some time since our last SandForce based SSD review here at Custom PC Review, today we'll be taking a look at an interesting SSD from the guys over at PNY. Now we generally don't hear much about PNY and for those of us who actually hear about PNY, it's mostly their USB memory sticks, SD memory cards, and graphics cards. However, PNY does produce a number of SSD models through their partnership with SandForce.
As such, today we'll be doing a review on the PNY XLR8 Pro 240GB SSD. PNY offers a complete line of SSDs oriented towards the entry level user to the enthusiast/enterprise user with the XLR8 Pro that we're reviewing falling into that enthusiast user category. Like most enthusiast class SandForce drives on the market, the PNY XLR8 Pro 240GB SSD offers sequential read speeds of up to 550 MB/s and sequential writes of up to 520 MB/s.
At first I thought this would be a pretty standard, seen this done that type of review, but after opening up the drive, I actually found something magical. Ready to take a look at what I found? Flip the page to find out!
PNY XLR8 Pro Specifications
| | | | |
| --- | --- | --- | --- |
| Manufacturer | PNY | PNY | PNY |
| Model | XLR8 Pro | XLR8 Pro | XLR8 Pro |
| Form Factor | 9mm, 2.5″ SATA | 9mm, 2.5″ SATA | 9mm, 2.5″ SATA |
| Capacity | 120 GB | 240 GB | 480 GB |
| Controller | SandForce SF-2281VB1 | SandForce SF-2281VB1 | SandForce SF-2281VB1 |
| NAND | 25nm IMFT MLC Synchronous NAND, 3,000 P/E Cycles | 25nm IMFT MLC Synchronous NAND, 3,000 P/E Cycles | 25nm IMFT MLC Synchronous NAND, 3,000 P/E Cycles |
| Sequential Reads | 550 MB/s | 550 MB/s | 550 MB/s |
| Sequential Writes | 515 MB/s | 520 MB/s | 520 MB/s |
| Interface | SATA 3 6GB/s | SATA 3 6GB/s | SATA 3 6GB/s |
| Warranty | 5 Years (3 years + 2 years with registration) | 5 Years (3 years + 2 years with registration) | 5 Years (3 years + 2 years with registration) |