NZXT Havik 120 and Havik 140 CPU Cooler Review
Wreak Havik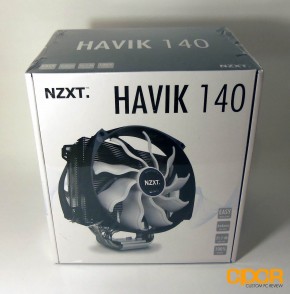 Back in 2004, NZXT started out as a computer case manufacturer based out of Los Angeles, California producing some very innovative cases such as the NZXT Nemesis, NZXT Guardian, NZXT Gamma, etc., and with their success in the computer case market, they've recently branched out quite a bit to cover a wide variety of computer related products such as CPU coolers, power supplies, case accessories, notebook coolers and more.
Today, we're going to be reviewing a couple of NZXT's offerings from their Havik series of CPU coolers, the Havik 120 and Havik 140. Both CPU coolers have quite a solid reputation among the hardware enthusiast community for performing very well at an excellent price point, so I'm quite eager to see how it stacks up against other CPU coolers on the market.
Both the Havik 120 and the Havik 140 are tower style coolers, which feature dual fans in a push/pull configuration. The Havik 120 is a dual 120mm fan cooler while the Havik 140 is a dual 140mm fan cooler. Both coolers also feature a two year limited warranty direct through NZXT.
NZXT Havik 120/Havik 140 Specifications
Model
Havik 120
Havik 140
Materials
Aluminum / Copper Nickel-Plated
Aluminum / Copper Nickel-Plated
Dimensions
125(W) x 160(H) x 112(D) mm
125(W) x 160(H) x 58(D) mm (heatsink)
140(W) x 166(H) x 120(D) mm
135(W) x 160(H) x 60(D) mm (heatsink)
Weight
680g (heatsink)
980g (with dual 120mm fans)
760g (heatsink)
1035g (including dual 140mm fans)
Fan Size
Dual 120(W) x 140(H) x 25(D) mm
Dual 140(W) x 140(H) x 25(D) mm
Fan Bearing
Long Life (Oil-Leaking Prevention)
Long Life (Oil-Leaking Prevention)
Fan Speed
1200 +/- 10% RPM (low)
1500 +/- 10% RPM (high)
1200 +/- 10% RPM
Noise Level
18-22 dBA
25 dBA
Air Flow
61.5-75.8 CFM
90.3 CFM
Connector
3-Pin
3-Pin
Compatibility
Intel Socket: 2011, 1366, 1155, 1156, 775
AMD Socket: AM3, AM2+, AM2
Intel Socket: 2011, 1366, 1155, 1156, 775
AMD Socket: AM3, AM2+, AM2