[section label=1. Introduction]
The coolest gadget you didn't know existed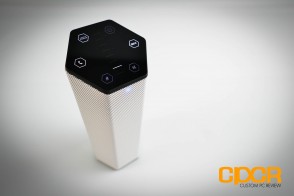 Last year when we reviewed the Creative Sound Blaster AXX SBX 10 and SBX 20 it was probably one of the coolest products we've ever come across. Whereas generally you'd get a product that's a Bluetooth speaker, or sometimes you'd get a product that's an external sound card, or sometimes you'd get a product that's a desktop microphone – with the Sound Blaster AXX, you get it all in single product. While we were impressed with what Creative had done with the first generation Sound Blaster AXX, once we got some hands on time with it, we noticed that there were a couple features that we felt were lacking.
Now only a year after the initial release of the first generation Sound Blaster AXX, Creative has gone back to the drawing board and have released the second generation Sound Blaster AXX, which promises to improve on the already feature filled Sound Blaster AXX with a whole slew of new features and functionality. Whereas the first generation Sound Blaster AXX was already a feature-packed device containing a speaker, a dual microphone array, a sound processor (SB-Axx1), and Bluetooth connectivity, the second generation refines on the original and adds to that by adding a battery, a quad microphone array, NFC connectivity, and more.
Sound Blaster Axx 200 Specifications
| | |
| --- | --- |
| Manufacturer | Creative |
| Model | Sound Blaster AXX 200 |
| Audio Processor | SB-Axx1 |
| Connectivity Interface | USB 2.0, Bluetooth |
| Wireless Technology | Bluetooth 2.1 + EDR |
| Bluetooth Profiles | A2DP, AVRCP, HFP |
| Audio Codec | AAC, SBC, aptX |
| Operating Range | Up to 10m/33ft |
| Build-in Microphone | Quad-array Noise Cancelling Condenser |
| Audio Inputs | 1x 3.5 mm Aux In/Microphone In Combo Jack |
| Audio Output | 1x 3.5 mm Headphone Jack |
| DC Outputs | 1x USB 5V, 1A |
| Battery | 5,200 mAh Li-ion |
| Dimensions (L x W x H) | 64mm x 73mm x 200 mm |
| Weight | 0.5kg |
| Check Pricing | Click Here |
The first generation Sound Blaster AXX line featured the SBX 8, the SBX 10, and the SBX 20 with the largest speaker being the SBX 20 and the smallest being the SBX 8. Today we'll be reviewing the Creative Sound Blaster AXX 200, which in terms of size seems to be an update to the medium sized Sound Blaster AXX SBX 10. So far, there's only a single second generation Sound Blaster AXX offering, but I've seen mentions of a Sound Blaster AXX 100, so there might be another, lower end model down the line designed to replace the AXX SBX 8. I haven't seen any mention of a AXX 300 or anything like that, so it seems like Creative might not be updating the larger AXX SBX 20 just yet.
[section label=2. A Closer Look]
A Closer Look at the Creative Sound Blaster AXX 200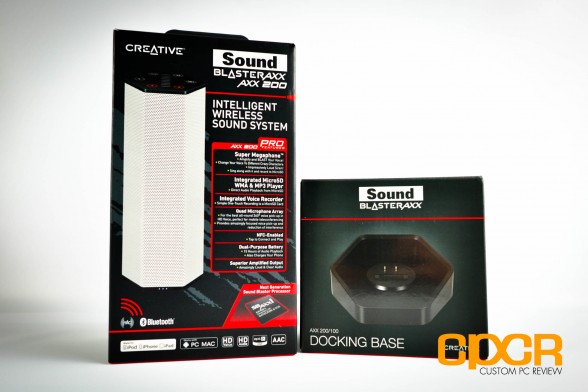 Here's a look at the packaging for the Creative Sound Blaster AXX 200. Along with our sample of the Sound Blaster AXX 200, we also received the AXX 200/100 docking base. The docking base is not included with the Sound Blaster AXX 200 and must be purchased separately.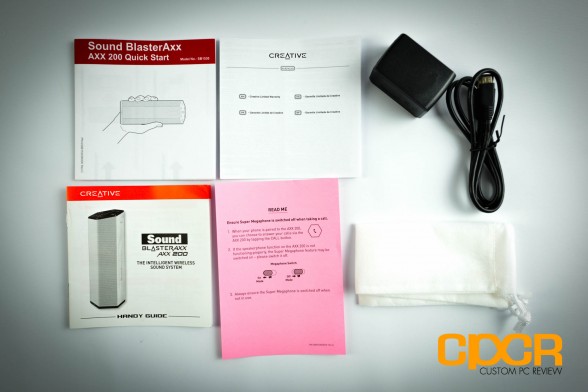 Inside the packaging for the Sound Blaster AXX 200 we get some various documentation, a cloth drawstring pouch, a USB to micro-USB cable, and a USB power adapter.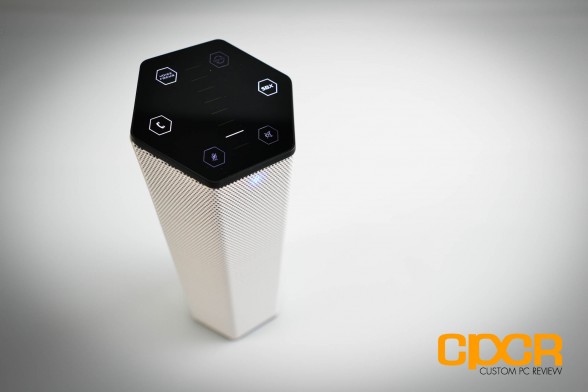 Of course, we also get the Sound Blaster AXX 200 as well. Overall the hexagonal design is similar to that of the older Sound Blaster AXX SBX series. The main difference is that while the older Sound Blaster AXX SBX models which were all black, the new Sound Blaster AXX 200 comes in white. Creative also removed the piece of cloth in front of the speaker grille, which probably wasn't needed anyway since the drivers aren't exposed.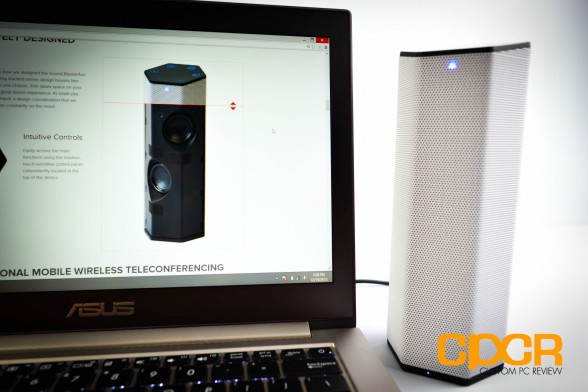 The Sound Blaster AXX 200 comes with two drivers which are strategically placed on the unit for maximum sound output and better stereo imaging. There's also a quad microphone array which is used for capturing voice and helps make a lot of the cool audio effects work.
Up top, we get the capacitive  touch controls which allows quick access to a number of the features on the unit. Nothing's really changed here. There's a volume slider in the middle, touch control for voice focus, SBX, noise cancellation, speaker mute, microphone mute, and call/end call.
Moving around to the back, there's a ton of little buttons here that activate the various features on the unit. Starting from the top we get the power/Bluetooth button, play/pause button, previous track/previous folder button, next track/next folder button, voice record button, voice playback/pause button, mic on/mute switch, shuffle/repeat all switch and megaphone switch. We also get some I/O ports as well including a MicroSD slot, USB charging port, headphone jack, aux in/mic in jack, and micro USB port. At the rear there's also a port tube as well which is used for enhancing the bass response on the AXX 200.
Moving back up to the top, just left of the power button area is also a NFC pairing area which allow NFC enabled devices to be easily paired with the AXX 200 by simply touching the two devices together.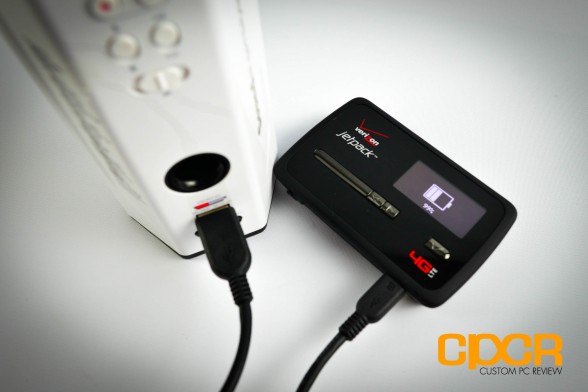 For those wondering why there's a full size and a micro-USB port on the back, that's because one of the ports is a 5V, 1A output which allows you to charge any 1A or under USB powered device with the 5,200 mAh battery onboard. This includes most smartphones and in our case, a wireless hotspot as well. Unfortunately tablets or larger devices requiring a 2A USB port cannot be charged with the AXX 200.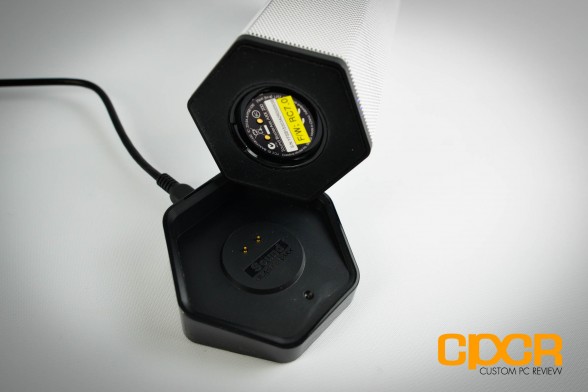 At the bottom of the AXX 200 we get a large piece of rubber padding which helps make the base slip resistant. For those who purchase the docking base, there's also connectors which connect to the base for charging.
Speaking of the docking base, let's take a look at what's included with the docking base. We get the docking base, a USB to micro-USB cable, and a number of power adapters which allow the unit to be used pretty much anywhere in the world. Unfortunately there's no carrying case for that, so you'll have to be careful not to lose anything.
Once docked, the Sound Blaster AXX 200 can charge off the dock and use any of the functionality available however, the contacts between the docking base and the AXX 200 doesn't carry a USB signal, so you'll have to directly connect a USB cable to the AXX 200 to play audio or use the microphone via USB.
Creative Sound Blaster AXX 200 Feature Demo
[section label=3. Software]
Creative Sound Blaster AXX 200 Software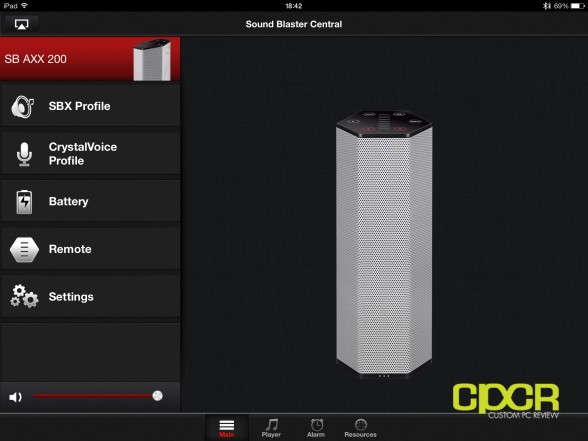 Software on the Creative Sound Blaster AXX 200 is pretty much identical to what you'd find on the AXX SBX series. In fact, Creative doesn't have a dedicated software page for the AXX 200, so it directs you to the software suite for the AXX SBX 20 instead. We didn't have an Android device to test the Android version, but the Windows and iOS versions of the software is pretty much identical, even in layout. For our purposes today, we'll just take a quick look at the iPad iOS version. It's nothing we haven't seen before though so I won't go too in depth here.
Feel free to check out our review of the Creative Sound Blaster AXX SBX 10 and SBX 20 for more information about the software along with the different options that can be adjusted within software.
Here's a look at the SBX Profile tab. Here we can adjust how much audio processing is done to the audio. We can choose between a number of presets or manually adjust the settings in finer detail.
Here's a look at the CrystalVoice Profile tab. Here we can adjust how much audio processing is done to the microphone input. Like the SBX Profile tab, we can either choose between a couple presets or go into the settings in finer detail. Many of these options are also directly available via the touch control area of the AXX 200.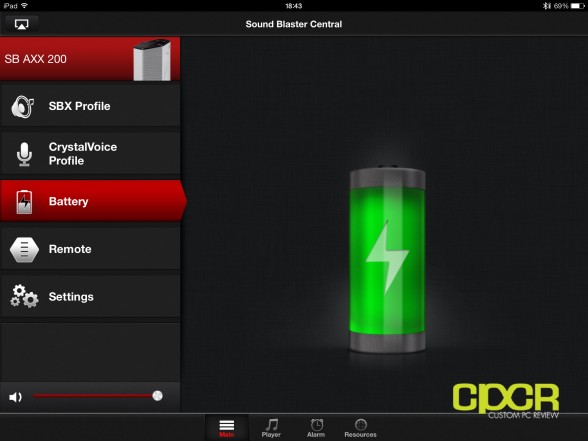 Creative also includes a tab to monitor the amount of battery left in the AXX 200. It's not super accurate since it's just a graphical representation rather than a precise number.
On the iOS iPad version of the software, there's also a remote function that allows users to remotely control the buttons on the AXX 200.
[section label=4. Performance]
Creative Sound Blaster AXX 200 Performance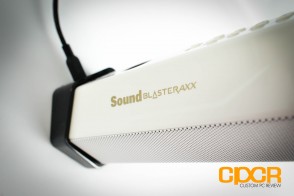 Having previously reviewed the first generation Creative Sound Blaster AXX SBX 10 and SBX 20, the audio performance of the second generation AXX 200 is more or less the same as what we found in the first generation product. The AXX 200 is about the size of the AXX SBX 10 (~8 inches tall), so it's not as large or as powerful as the AXX SBX 20, but I think it's a good size as the second generation AXX is meant to be a portable device rather than a stationary one.
Performance from the speaker is decent as expected although it's probably not going to blow you away especially if you've used any sort of decent 2.1 desktop speaker system. Mobile users will find that the AXX 200 is a huge step up from the integrated speakers found on typical smartphones, tablets, and notebooks. Games and movies will sound deeper and richer, and while it's still preferable to use something like a dedicated 2.1 speaker system, the ability to easily take the AXX 200 to go is something you simply can't do with a typical 2.1 desktop oriented speaker system.
Music on the other hand is hugely dependent on the music that's being played off the AXX 200. Given the small size of the speaker, it's not going to have the ability to put out earth rumbling bass, even when compared to similar products such as the Jawbone Jambox or the UE Boom; however, it does better job delivering a cleaner and crisper upper range along with very warm sounding mids compared to competing products. Those listening to vocal heavy music tracks will really like what the AXX 200 has to offer, but those looking to listen to EDM or hip hop might find the bass response on the AXX 200 a bit hollow.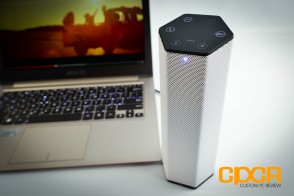 Microphone quality is decent and voices are picked up clearly by the quad microphone array on the AXX 200. With some of Creative's audio processing features such as noise reduction enabled, there's little to no static noise which is very good as well. Using the AXX 200 in regular phone and Skype calling, the general consensus is that the sound quality is far better than the iPhone's internal microphone and voices can be heard loud and clear. For typical phone calls and chatting on Skype, the AXX 200 is a great solution; however, those looking to use the microphone for more creative purposes like game commentary, voiceovers or podcasting might want to pick up a quality condenser microphone such as the Blue Snowball.
As an external sound card, I think the AXX 200 is a decent solution for those looking for gaming or casual music listening, but I don't feel like it's quite there for those expecting the AXX 200 to be an audiophile grade dedicated external DAC. Sound quality is a lot cleaner when compared to the sound output from notebook audio outputs and you get the benefit of having the Creative SB-Axx1's audio processing suite at your disposal, but if you're looking to hook up a pair of 600Ω audiophile grade Sennheisers or Beyerdynamics, you're better off with a dedicated DAC with a built in amp.
Some of the other features onboard performed as you'd expect, although the functionality is pretty basic. There's an onboard MP3 player for example where you load WMA's or MP3's onto a microSD card that you stick into the back of the AXX 200. However, without an onboard LCD, it's difficult to manage a music library with more than 5 songs. If all you're planning to do play random songs, it's fine, but choosing a specific song is next to impossible. There's also voice recorder functionality that's simply a push to record type of deal. Again, very basic and very easy to use as well. There's no way to select a specific recording to play back, but you can play them back individually one at a time. There's also a megaphone feature that allows the AXX 200 to project your voice via the built in speakers. Since I could probably scream louder than the speaker, I'm not sure how useful it'd be as a megaphone; however, it's quite a fun feature. Creative markets it as a portable karaoke machine so if you play a song via the AXX 200, you could turn on the megaphone while the music is playing to sing along with your favorite songs. Unfortunately, my singing ability does limit the usefulness of this feature somewhat, but it's nevertheless quite a fun feature that gives you a better idea of how bad your singing actually is. That… or how bad your kids' singing is. =)
[section label=5. Conclusions]
Creative Sound Blaster AXX 200 Conclusions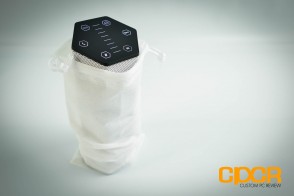 When Creative first introduced the Sound Blaster AXX series last year, it had all the features and all the promises of being the best, most versatile Bluetooth speaker on the market. It had Bluetooth functionality, it had great sound, it had a decent microphone, and it had a very unique set of audio processing features brought on by the SB-Axx1 audio processor nobody else has. However, ultimately it was anchored by the fact that it didn't have an integrated battery. When you're talking about a portable speaker where one of its main functions is to pair with mobile devices to wirelessly stream music and make calls, it's very limiting when it also has to be tethered via USB. With the second generation Sound Blaster AXX, Creative not only fixes that problem by adding a sizeable 5200mAh battery, they also add a couple more features that make the AXX 200 an even more enticing product than its predecessor.
Sound quality on the AXX 200 is decent, but like the first generation AXX, I don't think it's going to be replacing your 2.1 desktop speakers anytime soon. Don't get me wrong, the AXX 200 sound great for a Bluetooth speaker of this size, but it simply doesn't have the power to compete with a larger, more powerful set of speakers. Office users who only need basic audio functionality will find the AXX 200 to be a good solution, especially since it's both a speaker and microphone in one, but home desktop users on the other hand may find the AXX 200's performance a bit lacking.
That said, for mobile users on the go, that's where it's at and I think that's where Creative designed the Sound Blaster AXX 200 to be. Instead of watching Netflix on your iPad with its relatively weak integrated speakers, you can use the much more powerful AXX 200 to create a more immersive listening experience. When you're at the beach and you need some music for the party, the AXX 200 is a great speaker solution that's both small and light enough to carry, but also has enough power for a decent sized group to enjoy the music. At the same token, if you're traveling and need to make a Skype call, you can use the AXX 200 with its SB-Axx1 audio processor, quad microphone array, and dual speaker setup to provide much cleaner and clearer audio for yourself and the other party compared to the noisy microphone array and cheap low powered speakers found on your typical Ultrabook.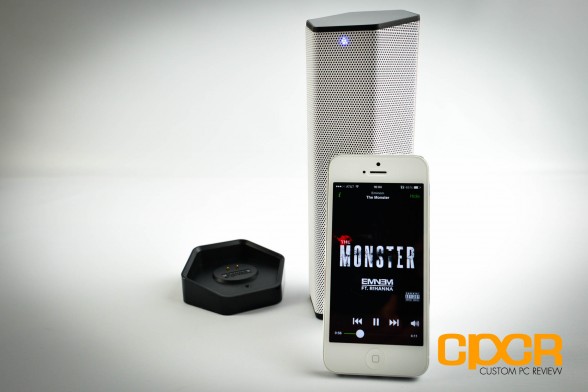 Other features on the AXX 200 are pretty sweet as well. With the second generation AXX, you also get dual purpose onboard battery that can serve as a USB battery pack. Since the Sound Blaster AXX contains a relatively large 5200mAh battery onboard, you can charge your phone via the USB power output. Given that most smartphones on the market have a battery of 2,000 mAh or less, the AXX 200 will easily be able to charge your phone two to three times making it a very useful device to take with you on the go. The Sound Blaster AXX 200 also works as an external sound card. By connecting the AXX 200 via USB, you bypass the sound card on your desktop or laptop and offload audio processing to the AXX 200. By connecting your headphone, microphone or headset to the 3.5mm headphone/microphone outputs on the AXX 200, you're able to leverage the audio processing capabilities of the AXX 200, which provides a much cleaner, much richer sound experience compared to what's offered by most onboard audio chipsets.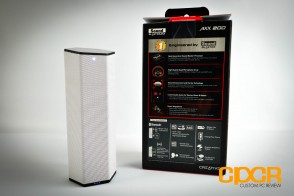 Additionally, the AXX 200 also features a couple more value add features that you may or may not use as well. There's the voice recorder that records voice clips to the onboard microSD card on the AXX 200, there's onboard MP3 player functionality that plays audio from the onboard microSD card, and there's also megaphone functionality as well which can amplify your voice using the onboard speakers. While these features work as advertised, I can't help but feel like these are more gimmicky last minute tacked on features than anything. That said, having these additional little features don't detract from the overall experience of the AXX 200 and for some, the megaphone karaoke machine could be exactly what you're looking for.
Pricing on the Creative Sound Blaster AXX 200 is currently $149.99 and the Sound Blaster AXX Docking Base is currently $59.99. While the AXX 200 is a very fair price, I think the dock is much pricier than it needs to be especially since all it does is charge the AXX 200. It's not a real docking station in that it won't transmit USB signal or anything so you still have to connect the AXX 200 via USB directly to your computer if you wanted to use it as a speaker or microphone.
High end Bluetooth speakers generally retail at around the $100-$200 range and not one of them has the insane amount of features you're getting with the Sound Blaster AXX 200. It's a wireless speaker, a microphone, an external sound card, a USB battery pack, a voice recorder, a megaphone, and an integrated MP3 player in one. It has so many features, it's simply impossible to describe what the Sound Blaster AXX 200 really is. There's really nothing out there quite like it.
If you're looking for a new gadget to pick up this holiday season, definitely take a look at the Creative Sound Blaster AXX 200. It's simply the coolest little gadget you can buy.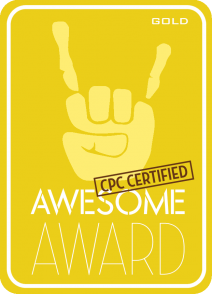 Sample provided by: Creative
Available at: Amazon