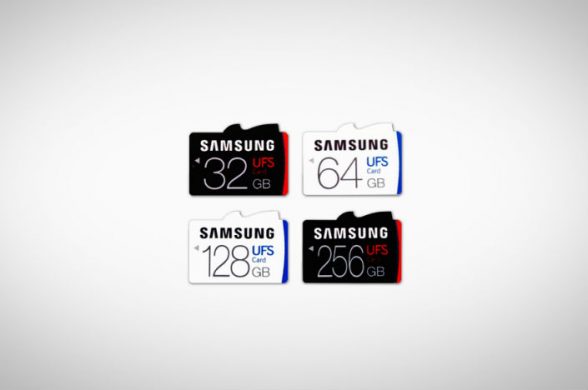 SD cards and all of its variants have served us very well over the years, but now with 4K video recording and even 8K video recording coming to the scene shortly, a faster, more reliable memory card is needed. The answer? UFS. UFS, or Universal Flash Storage, is a JEDEC flash storage standard which is designed to replace SD and eMMC currently used in most smartphones, portable electronics, and cameras.
Leading the charge is Samsung, who's already implemented UFS last year in the Samsung Galaxy S6 and is now officially the first to launch a removable UFS drive. The new drive, named UFS card, will come in capacities of 32GB, 64GB, 128GB, and a massive 256GB. While there's nothing too special there, the UFS card is expected to support up to 530MB/s sequential reads and 170MB/s sequential writes, easily doubling the performance of even some of the faster SD cards out there. Furthermore, random read/write performance is significantly improved with the UFS card, boasting up to 40,000/35,000 IOPS random read/writes. This is over 20x faster random read and 350x faster random write performance when compared to your typical microSD card! This is made possible thanks to UFS standard's full duplex operation and advanced command queuing features.
Unfortunately, there's no word on where to purchase these UFS card or even any products that will support them, but with Samsung's Galaxy Note 7 expected to come out this fall, UFS support could start becoming a real possibility. Stay tuned for more!