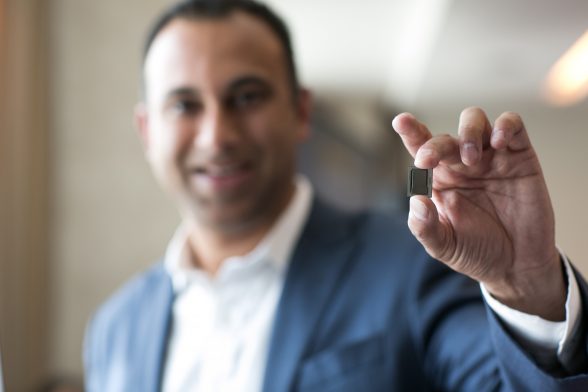 Well, we've been waiting for a long time and it's finally here. Intel recently launched their new 7th Generation Core Processors, codename Kaby Lake, which packs better performance, better media functionality and better power efficiency.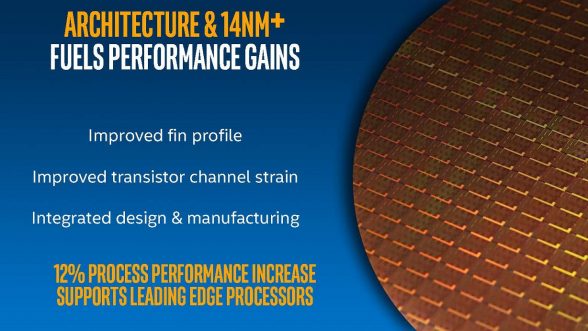 The new 7th Generation Core Processors, will be based on the 14nm process node which is the same as Skylake and Broadwell before it. Intel announced previously that they'll be moving from their traditional tick tock release strategy to a tock, tick, tick release strategy due to difficulties in continuing to shrink their manufacturing process past 14nm.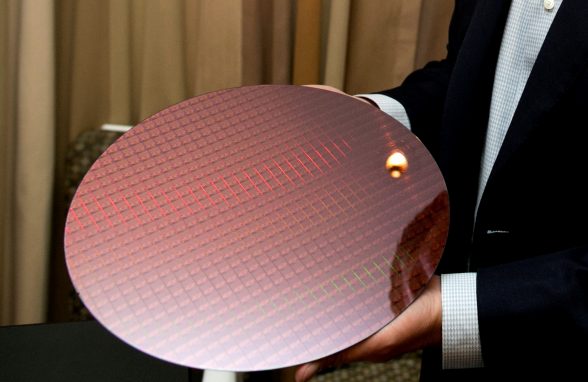 Despite staying at the same node, Intel has however refined their 14nm manufacturing process with what's now called 14nm+. No specifics were shared regarding the node however, Intel claims the new process provides an improved fin profile, improved transistor channel strain, and integrated design & manufacturing. Rightly so as Intel says the new process leads to a 12% performance increase due to these improvements alone. Some benchmarks were leaked recently which seem to support this claim.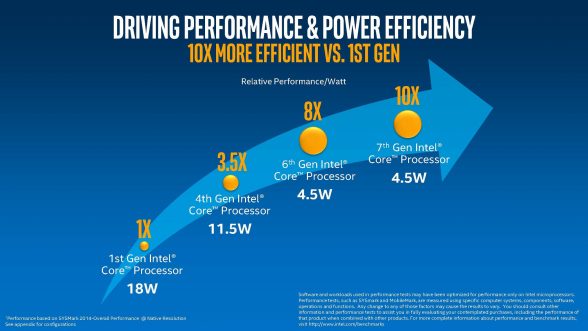 Comparing against some of Intel's older mobile chips, Intel claims their new 4.5w 7th Generation Core Processors are an additional 2x more efficient than 6th Generation Core Processors (Skylake) and 10x more efficient compared to 1st Generation Core Processors.
One of the biggest new features for the new 7th Generation Core Processor is the inclusion of VP9 and HEVC 10-bit decode capability. By offloading decoding of these codecs to specialized processing units within the chip rather than using the CPU, Intel is able to greatly improve battery life to the tune of 9.5 hours for 4K UHD streaming on HEVC 10-bit encoded content and 7 hours for streaming on VP9 encoded content.
Intel 7th Generation Core Processor Specifications
Architecture
Kaby Lake
Processor Model
m3-7Y30
i5-7Y54
i7-7Y75
i3-7100U
i5-7200U
i7-7500U
Cores/Threads
2/4
Base Clock
1.0 GHz
1.2 GHz
1.3 GHz
2.4 GHz
2.5 GHz
2.7 GHz
Turbo Clock (Single Core)
2.6 GHz
3.2 GHz
3.6 GHz
N/A
3.1 GHz
3.5 GHz
Memory Support
Dual Channel DDR3L, LPDDR3
Dual Channel DDR3L, LPDDR3, DDR4
Graphics
HD 615 (GT2)
HD 615 (GT2)
TDP
4.5W
15W
Price
$281
$281
$393
$281
$281
$393
The first wave of 7th Generation Core Processors will be low power Y and U SKUs designed for ultraportables. Intel claims that they will have over 100 designs from their OEM partners for 2 in 1 and ultrathin notebooks designed for both consumers and small businesses so there should be plenty to choose from by the end of Q4. Given that the new processors champion efficiency, this is fitting as these form factors have the most to gain from the new processors.
Intel's enthusiast notebook, desktop, enterprise, and workstation chips are expected to be coming in January, so we'll likely hear more once CES rolls around. Stay tuned for updates!
Source: Intel