After the initial X79 launch last year, it seems like these days nobody wants to get into the enthusiast class X79 business. Of course, I can see why especially with Z68/P67 (and soon Z77) stealing the show.
However, it seems like there's one company out there who still believes in the X79 platform, and that's ASRock. They've currently got eight different X79 boards and it looks like they're not done yet. Nope, because at CeBIT 2012, they've just introduced the monstrous X79 Extreme11 along with the X79 Fatal1ty Champion, both of which look absolutely AMAZING!
First we've got the X79 Extreme11, and just by the naming scheme you know you're going to be seeing some beastly specs here. First of all, this board is built for the EATX form factor, so those rocking those miniscule ATX cases need not apply. At the core of the LGA 2011 board, we get a full 16+2 phase DigiPower VRM powered through DUAL 8 pin power connectors, compatibility of up to 64GB of memory through 8 DDR3 slots which provide overclocking capability of up to 2400MHz.
Oh, and we're not done yet. No, the board also has 7 PCIe 3.0 x16 slots and supports up to 32 lanes for that quad SLI/CF configuration you've been looking for. In order to achieve this, the board also features two PLX PEX8747 chips to double PCIe lanes. Near the SATA headers, you also see a giant LSI chip, which provides additional SATA ports, and will probably allow some pretty advanced RAID setups as well to maximize performance and redundancy. On the sound front, the board also features Creative's new Sound Core3D audio processor, so we've really got a pretty complete package here.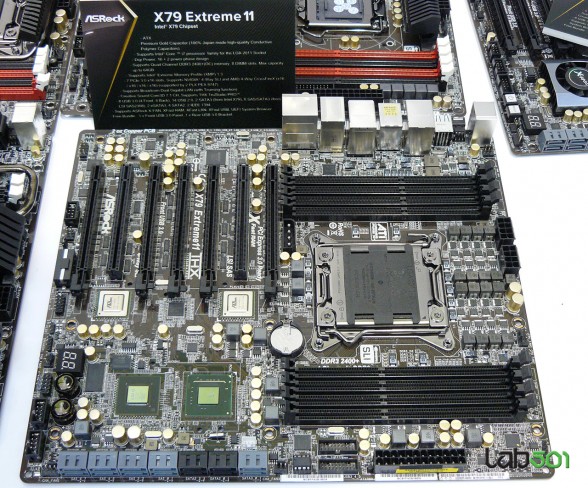 Next, we've also got another high end X79 board, the X79 Fatal1ty Champion. From the looks of it, this will be the higher end edition of the recently introduced X79 Professional. While it isn't as impressive as the Extreme11 shown earlier, it's no slouch either. At the core of the beautifully designed LGA 2011 board, we're looking at 12+2 Digi Power phases along with compatibility of up to 64GB of DDR3 2400MHz in 8 DIMM slots. We've also got 5PCIe 3.0 x16 slots with compatibility for quad SLI/CF. As usual this board will also feature the Creative Sound Core3D sound processor as well, bringing high quality integrated sound to the mix as well.
Source: TechPowerUp / Lab501.ro
Image Credit: Lab501.ro