Today, AMD has officially detailed the specifications, pricing, and expected launch dates for their all-new Polaris based RX 470 and RX 460 GPUs which aim to cater to the mainstream gaming markets in the sub-$100-$200 price range. These new GPUs will complete their Polaris family of GPUs which also includes their higher-end RX 480 which was recently last month to rave reviews. We even got to take a look at it ourselves and came away very impressed.
RX 470 and RX 460 Officially Detailed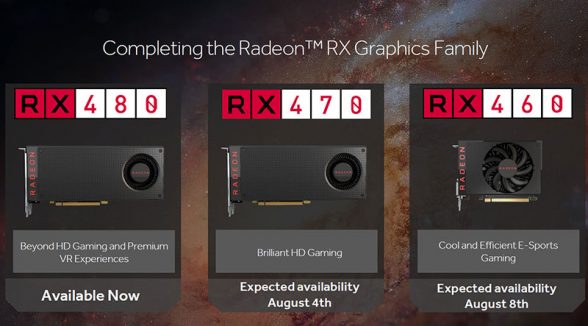 The RX 470 and RX 460 will be available on August 4th, and August 8th, respectively and priced starting at $149 for the RX 470 4GB, and $99 for the 2GB variant of the RX 460. Both models will have more expensive variants available which double the VRAM capacity to 8GB for the RX 470 and 4GB for the RX 460, those will cost a bit more at $179 and $119 each.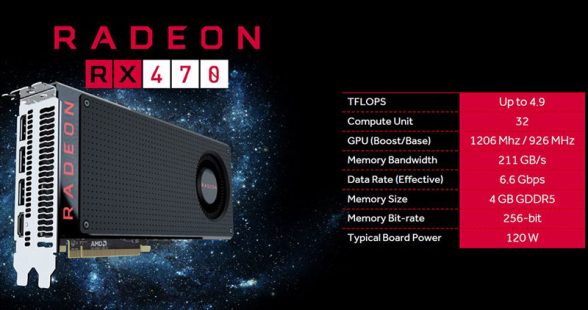 The RX 470 will feature specifications which are very similar to but slightly cut down from the current top of the line RX 480. They are both based on the most powerful Polaris 10 GPU, however, the RX 470 utilizes the Polaris 10 Pro, whereas the RX 480 features a full Polaris  10 XT GPU core.  While the RX 480 features 36 Compute Units for a total of 2304 Stream Processors, the RX 470 disables four of them for just 32 Compute Units and a total of 2048 Stream Processors.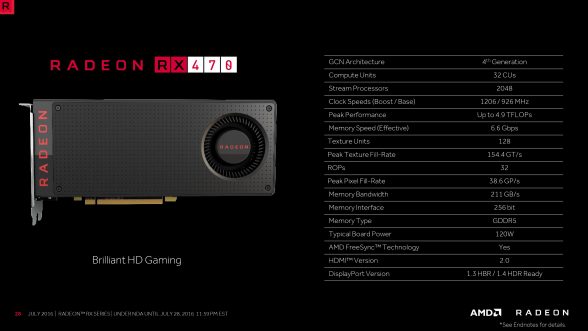 While ROPs stay the same at 32, TMUs (Texture Mapping Units) get reduced from 144 to just 128 and Boost Clocks are down from 1266MHz to 1206MHz.  Also, while the memory interface is the same at 256-bit, Memory Clock speed is reduced to 6.6 Gbps compared to 8.0 Gbps from the RX 480. All of this accounts for a total compute performance of 4.9 TFLOPs, which is a roughly 16% decrease in performance compared to the RX 480. The TDP has also been reduced to 120W, which is about 30W less than the RX 480 is rated for.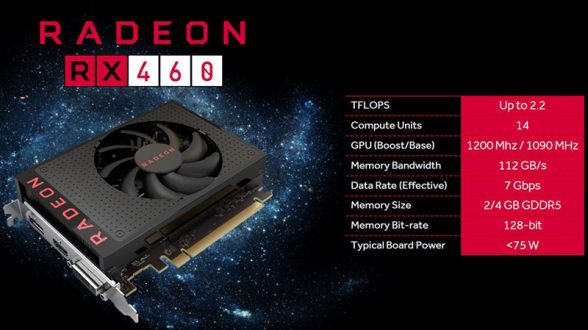 Moving on to the RX 460, we have a Polaris 11 Pro GPU core which features 14 Compute Units for a total of 896 Stream Processors, 48 TMUs and a Boost Clock of 1200MHz. For Memory, we have a 128-bit Memory Interface powering 2/4GB of 7 Gbps GDDR5. All of this gives us a total compute performance of 2.2 TFLOPs.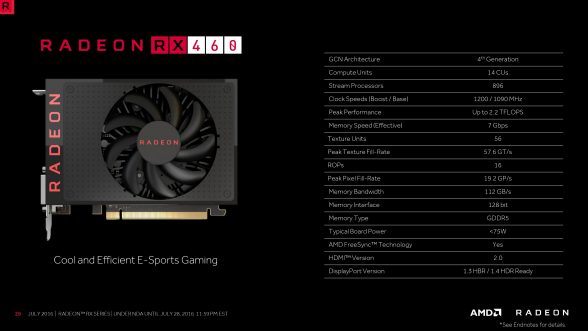 AMD says the RX 460 is targeting "cool and efficient E-Sports gaming" which means that this will likely be the card that replaces the GTX 950 as the go-to card for budget gamers and those looking to upgrade OEM systems.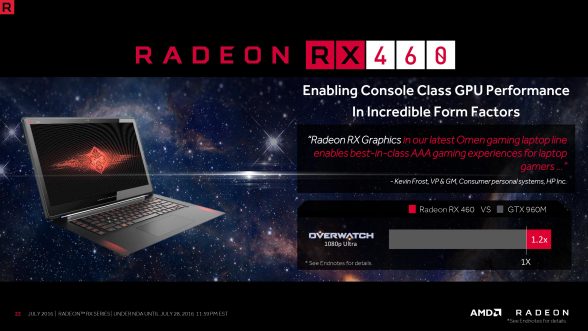 Finally, while we don't have very much information as of yet, AMD has confirmed that the RX 460 will be available in laptops, not a mobile variant, but a fully-powered desktop class model. This is very exciting as it can usher in a whole new lineup of inexpensive gaming laptops which are capable of playing the latest eSports titles at 1080p.