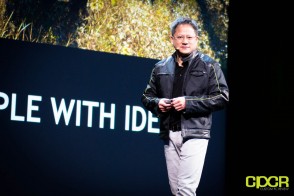 As it would seem, this time of the year is jam packed with different conventions that scream for our attention. With many great options on where to go and what to see, we decided to head out to Nvidia's 2013 GPU Technology Conference in San Jose to see what Nvidia and their partners have in store for this year.
To kick off the event, we attended the opening keynote which was presented by none other than the man, the myth, the legend, Jen-Hsun Huang, CEO and President of Nvidia, himself. Within the first couple of minutes into the keynote, it was clear that GTC is a very technically focused convention, oriented towards developers, researchers, businesses and enterprises rather than the general consumer. Fortunately for us, Jen-Hsun's near 3 hour presentation gave us great insight as to what to expect from Nvidia down the road.
Overall Jen-Hsun covered five topics: an overview of their past year, the current state of GPU computing, roadmaps of Nvidia's future, the current state of remote graphics, and the announcement of their new GRID VCA. Throughout the announcements, one thing became very clear – Nvidia strongly believes in the future of cloud based remote graphics solutions and is committed to making its solutions available to a broader audience, not just the ultra large enterprise.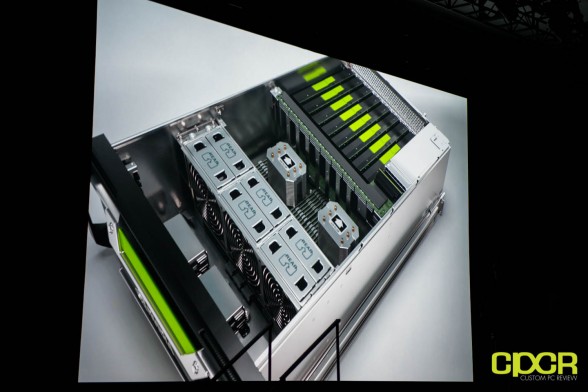 The showstopper of this conference of course was definitely Nvidia's newest toy, the GRID VCA. The GRID VCA is a 4U server that houses two Xeon commercial processors, 8 to 16 GRID GPUs, and 192 to 384 GB of memory. Safe to say, it's a beast of a machine. What's cool about the GRID VCA is that it's able to run up to 16 virtual workstation instances which can be accessed remotely via an internal or external network through many different systems and many different platforms (PCs, MACs, tablets and more). As you may imagine, the benefits of something like this especially for businesses dealing with software that requires top end hardware is immense. Since the GRID VCA is essentially a remote desktop type of thing, this allows anyone with access to even low powered hardware such as a notebook for example to harness the full processing power available to the GRID VCA. To show off this new device, Nvidia showed a number of demonstrations running virtual instances of applications such as SolidWorks and 3ds Max from the GRID VCA, and remotely streaming the instances onto a Macbook Pro laptop. As this is a product to aimed towards business and enterprise users, the cost for their units start at $24,900 in addition to an annual licence fee of at least $2,400 a year.
Overall, the keynote was informative as it was entertaining with Jen-Hsun presenting a fantastic recap of just how far Nvidia has come over the past couple of years as well as what we could be expecting from Nvdia down the line. Hopefully there's still more in store for us at this year's GTC, so be sure to check back soon!