ROCCAT Isku Gaming Keyboard Review
Posted October 17, 2012 by Tom Li in
Reviews
Navigation:
More Than Just Another Gaming Keyboard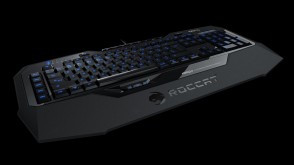 Following up our recent review of the ROCCAT Kone[+] gaming mouse, today we'll be reviewing another one of ROCCAT's most popular products, the ROCCAT Isku gaming keyboard. With the mechanical keyboard craze that's going on lately, it's not everyday that we get to review a non-mechanical keyboard, but with the Isku, ROCCAT has opted for the more common non-mechanical membrane switches. Despite this lack of mechanical switches, the ROCCAT Isku is still very competitive with just the sheer amount of features they've thrown in at the sub-$70 price point.
Will the ROCCAT be roasted in the heated war of gaming planks or will it do the roasting? Read on to find out.
ROCCAT Isku Specifications
Illuminated keyboard with 123 keys
Enhanced anti-ghosting capability
3 programmable Thumbster Keys (T1-T3)
5 programmable Macro Keys (M1-M5)
20 additional Macro Keys (Easy Zone)
5 Profile-Status LEDs
3 Status LEDs (Caps Lock, Easy Shift[+]™, Num Lock)
1000Hz polling rate, 1ms response time
2m USB cable