OCZ Vertex 4 128GB SSD Review
Navigation:
Back to Indilinx for a New Vertex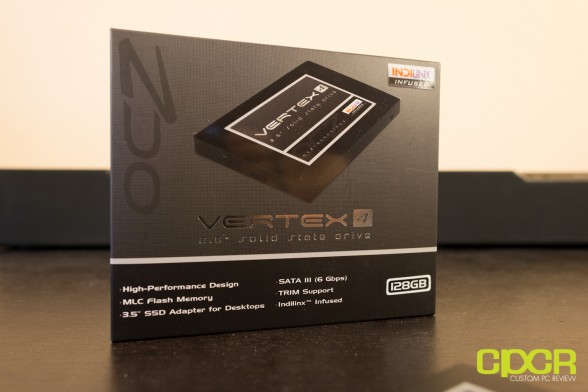 OCZ's Vertex series have always been OCZ's most popular high performance consumer grade SSDs. First introduced in 2009, the original Vertex shook the storage industry by becoming one of the most popular SSDs on the market. Being the first SSD to introduce the Indilinx Barefoot controller, OCZ surprised the market when it demonstrated that SSDs did indeed have a brilliant future. While riding the wave of the Vertex's success, OCZ then introduced the Vertex 2. Featuring the then relatively new Sandforce controller, OCZ proved that with newer technology, faster, more affordable SSDs were possible. By now, practically everyone had eliminated their doubts about the future of SSDs, with some even betting that SSD technology will replace the traditional hard drives in the future. After enjoying much success with the Vertex 2, OCZ soon followed up with a new third generation Vertex, the Vertex 3. The Vertex 3 again was among the most advanced of its time, featuring the new SF-2200 series controller and the SATA 3 6Gb/s interface. Despite OCZ's success in being first to market with a lot of the new technologies, the success of Vertex 2 and the Vertex 3 brought about an unexpected problem – reliability concerns.
Today, a quick search on OCZ SSDs will return many articles on reliability concerns – blue screens, dead drives, etc. While many spit fires at OCZ for making sub-par products, a large part of the problem is actually due to the SandForce firmware. In comparison to many other companies, OCZ has been very aggressive when rolling out new technology, introducing new products as soon as the technology is available – not after waiting for patches and new firmware updates prior to releasing their own SandForce based SSDs. As OCZ essentially became the SandForce guinea pig, OCZ's reputation as a provider of reliable SSDs tanked significantly after a large majority of consumers began having issues. So for their next revision of the Vertex, OCZ has decided to use a different controller – one recently acquired, Indilinx.
Today, we'll be reviewing the newest revision of the Vertex series SSDs, the OCZ Vertex 4. After OCZ's acquisition of Indilinx last year, OCZ has been hard at work integrating Indilinx technology into their SSDs, starting with the Octane SSD, and now with the Vertex 4. Will the Vertex 4 live up to the Vertex name in terms of performance? Can this new Vertex help salvage OCZ's bad reputation? Let's find out!
Vertex 4 Specifications