Kingston HyperX Genesis: LoVo 8GB DDR3 Kit (2x4GB) Review
Navigation:
Go Green!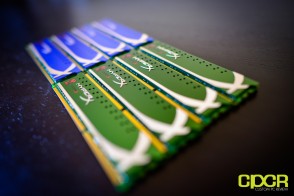 Since we're mostly enthusiasts here at Custom PC Review, we typically enjoy reviewing the highest clocked, lowest latency memory, but with energy efficiency becoming so popular these days with companies introducing ultra energy efficient 28nm GPUs, 22nm CPUs, and solid state drives, it only seems logical to find out what kind of energy efficiency may be had by going with low voltage memory.
This is why today, we'll be reviewing the Kingston HyperX Genesis: LoVo 8GB (2x4GB) DDR3 1600MHz kit. (Which will now be referred to as HyperX LoVo for simplicity's sake in the review.) Whereas the Kingston HyperX name typically implies high performance memory, the HyperX LoVo is actually clocked at a very run of the mill 1600MHz. So the HyperX LoVo doesn't run at the highest memory frequency, then what makes it so deserving of the HyperX, "high performance" name? Well, whereas typical memory kits require 1.5v or even 1.65v to run at 1600MHz, the HyperX LoVo is actually capable of running at a frequency of 1600MHz despite receiving only a measly 1.35v. In theory then, this means that the memory will be more power efficient and will run cooler than 1.5v and 1.65v memory, but will still run at comparable speeds to the more standard 1.5v or 1.65v volt memory.
Is it time to go green? Head on to the next page for more!
Kingston HyperX Genesis: LoVo Specifications
| | | |
| --- | --- | --- |
| SKU | KHX1600C9D3LK2/4GX | KHX1600C9D3LK2/8GX |
| Capacity | 4GB (2x2GB) | 8GB (2x4GB) |
| Type | 240-Pin Non-ECC DDR3 | 240-Pin Non-ECC DDR3 |
| Frequency | PC3-12800 (1600MHz) | PC3-12800 (1600MHz) |
| Timings | 9-9-9-27-1T | 9-9-9-27-1T |
| Voltage | 1.35v | 1.35v |
| Warranty | Lifetime | Lifetime |
| Check Pricing | Click Here | Click Here |