Review: Max Keyboard Blackbird Tenkeyless Mechanical Gaming Keyboard
The Almost Perfect Tenkeyless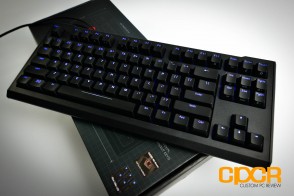 It's been well over a year since my last mechanical gaming keyboard review and I'd have to say not much has radically changed in the mechanical gaming keyboard landscape. Cherry MX switches are still the most popular mechanical keyboard switches out there and for the most part, most new mechanical gaming keyboards on the market are becoming some sort of ODM sourced product from some mass keyboard manufacturer in China.
Today we'll be reviewing the Max Keyboard Blackbird, which is a new tenkeyless mechanical gaming keyboard from the guys who brought you the Max Keyboard Nighthawk series mechanical gaming keyboards. Whereas the Nighthawk series was an off the shelf ODM model with a couple small customizations from Max Keyboard, the new Blackbird tenkeyless is more of a custom design with features implemented based on input from keyboard enthusiasts. Today's review will be focused on the Max Keyboard Blackbird with the Cherry MX Brown switches and blue LED backlighting although the Blackbird also comes in models with Cherry MX Blue switches and red LED backlighting as well.
Tenkeyless, mechanical and fully backlit? Excited! Let's dive right in to the review!
Features and Specifications
Manufacturer
Max Keyboard
Model
Blackbird
Key Switch
Cherry MX Blue/ Brown/
Keycaps
Double Shot Injection Molded
Backlighting
All Keys, Side Panel
Red, Blue
3 Levels
3 Modes
Key Rollover
6KRO or NKRO
Polling Rate
1000 Hz
Interface
USB 2.0
USB Hub
2 Port, USB 2.0
USB Cable
6ft, Braided, Gold Plated Connector
Dimension
14.75 in x 6.5 in x 1.25 in
Weight
2.4 lbs
Warranty
1 Year
Additional Features
Game Mode, Custom LED Lighting, Media Keys, Timer Function
Additional Accessories
Foam Wrist Rest
Check Pricing
Click Here