ASUS Radeon HD 7870 DirectCU II Review
7870 Done Right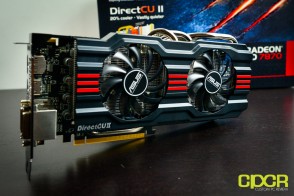 It's great to be a PC gamer these days. Gaming PC costs have fallen significantly over the past couple years largely in part due to the amount of performance AMD and Nvidia have been able to cram on their mid range graphics cards, and gaming bundles such as AMD's Never Settle Reloaded bundles are making it easier than ever to obtain great graphics and some great games at prices unheard of many years ago.
Today we'll be reviewing ASUS's custom implementation of the Radeon HD 7870, the ASUS Radeon HD 7870 DirectCU II (HD7870-DC2-2GD5-V2). The Radeon HD 7870 is a mid to high end graphics card, which features a 1GHz clock speed, 1280 stream processors, 80 TUs, 32 ROPs, and 2GB of GDDR5 running off a 256-bit memory bus.
As usual for most of ASUS's recent graphics card lineup, we get their DirectCU II cooler, which has been ASUS's go to custom graphics card cooler for a couple generations now. The cooler features a dual fan design, which is advertised to provide 20% better cooling with significantly less noise than the stock design. In addition to the DirectCU II cooler, ASUS has also custom designed the PCB as well, souping up the power delivery system by incorporating a digital VRM design based off DIGI+ VRM along with super alloy capacitors, mosfets, chokes, and much more.
Intrigued? Let's flip the page and take a closer look.
Specifications
AMD Radeon HD 7850
AMD Radeon HD 7870
ASUS HD 7870 DirectCU II
(HD7870-DC2-2GD5-V2)
Fabrication
28nm
28nm
28nm
Core Clock
860MHz
1000MHz
1000MHz
Stream Processors
1024
1280
1280
Texture Units
64
80
80
ROPs
32
32
32
Buffer Size
2GB GDDR5
2GB GDDR5
2GB GDDR5
Memory Interface
256-bit
256-bit
256-bit
Memory Frequency
1125MHz (4.5 GHz Effective)
1200MHz (4.8GHz Effective)
1200MHz (4.8 GHz Effective)
Additional Features
N/A
N/A

DirectCU II




DIGI+ VRM




Super Alloy Power




GPU Tweak