An "AMD Confidential" slide was leaked by OBR-Hardware recently regarding a new "World's Fastest GPU, Based on the Enhanced GCN Architecture". According to the slide, "Tenerife" is expected to contain 1.2x the compute power of the current performance king, the AMD Radeon HD7970, GCN 2.0 architecture, and and 3GB of GDDR5 on a 384-bit memory interface.
Additionally, according to OBR-Hardware, "Tenerife" will pack 2304 stream processors, the memory will run at a clock speed of 6GHz, and it should be coming around Q3 this year or Q1 2013.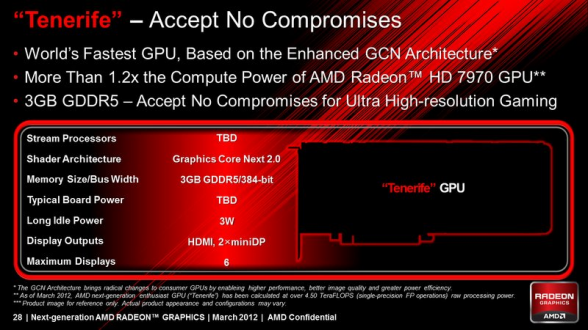 As usual, this is just a rumor only, so take all this information with a grain of salt. OBR-Hardware also touches upon the dual GPU HD7990, which they claim will not be released in Q1 or Q2 as originally planned. More information at the link below.
Source: OBR-Hardware