EpicGear Meduza, Skorpios, and CompoXite Review
Epic Win or Epic Fail?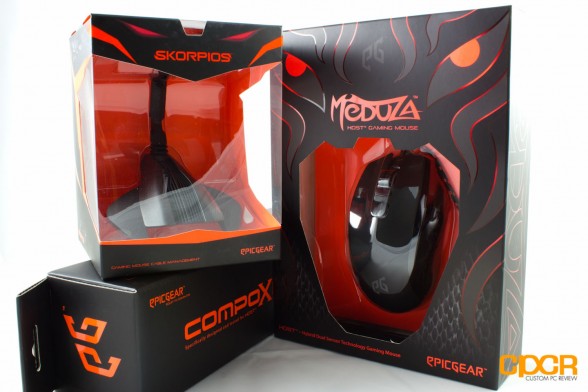 Most of us are familiar with GeIL Memory's existence and while the company almost seems like that distant-aunt's-cousin-whom-we-don't-really-know over here at Custom PC Review, today we'll be checking out a new line of products from one of their newest sub-brands, EpicGear.
Being a newly established sub-brand, EpicGear doesn't have many products in their lineup, but they were more than happy to share with us three of their newest products – the Meduza gaming mouse, the CompoXite gaming mouse pad, and the Skorpios mouse bungee.
While each of these new products have their special features and we'll be touching on each one of these products later in the review, the main topic of discussion for today is the EpicGear Meduza gaming mouse. What's special about the Meduza is its ability to switch between the onboard laser and optical sensors as well as the ability to use both the laser and optical sensors in a hybrid, or HDST, mode. Additionally, it's also got an onboard 32 bit Cortex-M3 CPU, 128KB onboard memory, braided cables, and more.
GeIL's move into the world of gaming peripherals is a bold one, but not an unfamiliar one, especially with the likes of memory giant Corsair (quite successfully) hopping into the gaming peripherals mix last year. That said, with peripheral veterans like Razer and Steelseries running around dominating the market, will EpicGear with their new line of products have what it takes to compete with the best? Let's find out!
EpicGear CompoXite Specifications
3D-textured pattern for maximized control
Silicom bottom layer
"r" shaped edge design
Available Sizes:
Medium – 380 x 270 x 3 mm
EpicGear Skorpios Specifications
Focused on functionality and aesthetic
Flexible cable-holding rail
Providing optimal cable-control
Dimension:
L – 120mm
W – 97mm
H – 109mm
Weight: 151g
EpicGear Meduza Specifications
3 switchable sensing modes: Laser, Optical and HDST™
Sensitivity of up to 6000 dpi
USB 2.0 full speed: 1000Hz report rate
2 year warranty