CM Storm Scout 2 Review
Second Generation Scout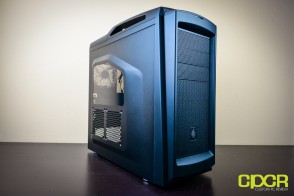 When Cooler Master first introduced the CM Storm Scout, it quickly became one of my most highly recommended cases. Despite the case being oriented as a budget gamer case, it had been packed with tons of features which made it one of the best price to performance cases out there. While the CM Storm Scout is still a fairly competitive case, the design is almost 3 years old and it's definitely time for an update.
This then brings us to our review for today, the recently introduced CM Storm Scout 2 gaming case. Like the original CM Storm Scout, the CM Storm Scout 2 is still a mid tower case, still features a windowed sidepanel (albeit a bit smaller), and still features the unique handle design that made the original CM Storm Scout so popular. That said, the CM Storm Scout 2 has also received some upgrades as well including USB 3.0 support, full support for any graphics card on the market as well as a full on redesign as well.
Does the CM Storm Scout 2 live up to the high standards set by the original CM Storm Scout? Let's find out!
CM Storm Scout 2 Specifications
Model
SGC-2100-KWN1 (black)SGC-2100-GWN1 (gunmetal gray)
Color
Black (SGC-2100-KWN1)Gunmetal Gray (SGC-2100-GWN1)
Material
Appearance: Polymer, Coated Steel Mesh and Body
Dimension
230 x 513.5 x 517.5mm / 9.1 x 20.2 x 20.5 inch
Weight
Net: 8.3 kg / 18.3 lb
M/B Type
Micro-ATX, ATX
5.25″ Drive Bay
3 (exposed)
3.5″ Drive Bay
7 (hidden)
2.5″ Drive Bay
2 (converted from one 3.5″ drive bay)
I/O Panel
USB 3.0 x 2 (int.), USB 2.0 x 2, Mic x 1,Audio x 1 (supports AC97/HD Audio)
Expansion Slots
7
Cooling System
Top: 120mm fan x 2 (optional)Front: 120mm fan x 2 or 140mm fan x 1 (optional)

Rear: 120mm red LED fan x 1 (with LED on/off function)

Bottom: 120mm fan x 1 (optional)

Side: 120mm fan x 2 (optional)

HDD cage: 120mm fan x 1 (optional)

Power Supply
PS2 (optional)
Maximum Compatibility
VGA card length:287mm / 11.3 inch (with HDD cage)

399mm / 15.7 inch (without HDD cage)

CPU cooler height:

147mm / 5.8 inch (with side fan)

162mm / 6.4 inch (without side fan)

Warranty
2 years