AZiO Levetron Clicker Mechanical Gaming Keyboard Review
Mechanical Gaming Keyboard for Under $60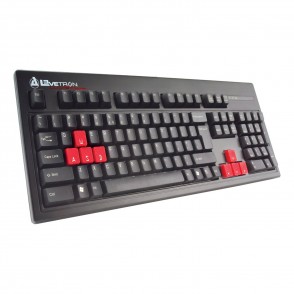 Depending on how long you've been following our site, you'll know that we love mechanical keyboards. We love the feel of them, we love the sound they make, and most importantly we love how using one improves typing speed – a fact proven by counless hours of typrX benchmarking.
That said, if there's one thing stopping most of us from picking up a mechanical keyboard, it's going to be the cost. Because of the materials used in the production of mechanical keyboards, they simply cost more to product so when you take a look at the mechanical keyboard market today, you'll be very hardpressed to find good ones near $60. It simply doesn't exist.
However, it seems like AZiO plans to change all that. With over 10 keyboard offerings ranging from small wireless entertainment system keyboards to the monstrous Levetron Mech5, AZiO is no stranger to the PC peripherals market and with their newly released AZiO Levetron Clicker Mechanical Gaming Keyboard, we finally have a relatively affordable mechanical gaming keyboard on our hands.
As you may have guessed then, today we'll be reviewing the AZiO Levetron Clicker mechanical keyboard. As a part of the Levetron line, the AZiO Levetron Clicker is a gaming oriented keyboard, similarly to the AZiO Levetron Mech5 we reviewed a couple weeks back. What really helps AZiO's Levetron Clicker stand out form its competition though is the fact that it uses white ALPS style mechanical switches, which we'll get into a bit later.
How will AZiO's first budget oriented mechanical gaming keyboard with the rare ALPS style switch pan out? Lets find out!
AZiO Levetron Clicker Specifications