Synology DiskStation DS1512+ NAS Review
A Lot of Redundancy…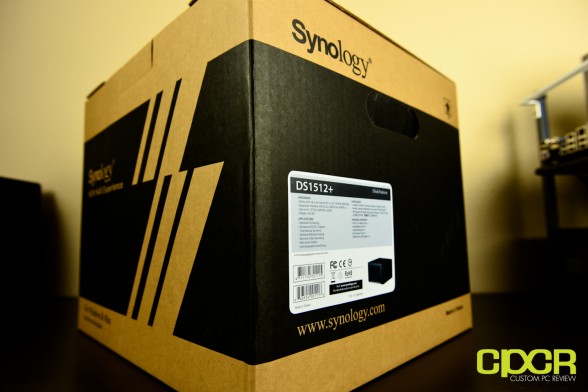 I can't say I've done reviews on every NAS unit out there, but I've had my fair share of experiences with them. Previously, we've taken a look at the home oriented 2 bay Synology DS212, which is a great home oriented NAS unit perfect for those home users who need a storage unit with some sort of redundancy built in. Then, we took a look at the SOHO oriented 4 bay Qnap TS-419P II, which was a fantastic, well priced NAS unit with plenty of features designed for those who want more versatile redundancy options offered with a 4 bay NAS unit such as RAID 5 or RAID 10.
Naturally then, today we're going to review something a bit more advanced – the Synology DiskStation DS1512+ NAS unit designed for small to medium sized business. What makes this one so different from ones designed for home or small office use? Well, we're going to get a couple things such as a faster processor, more memory, more hard drive bays, and more expandabiilty options just in case what we've got here isn't quite enough.
Specifications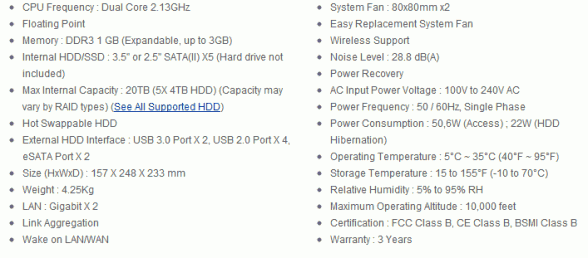 Taking a look at the specifications page for the DiskStation DS1512+, Synology gives us a pretty vague description of the CPU as it just says Dual Core 2.13GHz. That said, what's actually inside is an Intel Atom D2700 x86 processor, and a quick peek at its product page on Intel's website reveals that it's a dual core, hyperthreaded processor, so it'll also support a maximum of four threads. Additionally, it's also got a max TDP of only a mere 10w, which is extremely power efficient. In comparison, ULV (Ultra Low Voltage) Sandy Bridge and Ivy Bridge processors are rated at around 17w TDP, nearly double that of the Atom.
Additionally according to the specifications, Synology has pre-included a massive 1GB of memory, which should be plenty for most users, but it can be increased up to 3GB for those running heavy databases and web applications.