SilverStone Temjin Series TJ04-E Review
For the most part, it seems like SilverStone never rests in their ability to innovate. Over the years we've seen the chassis/cooling giant create some of the most uniquely designed products with some of the most innovative features such as the vertical exhaust, the inverted motherboard tray, removable motherboard trays, etc. so when I first saw this case through a YouTube video of somebody visiting the SilverStone booth, I wasn't too impressed. I mean, it was boxy, basic and it looked like something that was designed in the early 2000's. Been there done that, let's move on.
If that was your first impression too, then you'd be right on the money. Why? Well, this case is actually a refresh of the SilverStone classic, the SilverStone TJ04 (seen below), which had a mostly tool-less design, brushed aluminum front bezel, diamond cut edge, and a giant window. While cutting edge in 2004, it's not so cutting edge today.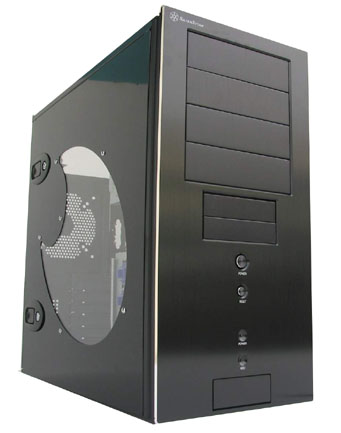 So, enter the SilverStone's newly designed Temjin TJ04-E. E of course for Evolution. While its still got some of the old school charms of the Temjin TJ04 on the outside, it's a completely different beast on the inside. So, is the new case worth your money? Let's find out!