Samsung 840 250GB SSD Review
Samsung 840 250GB Conclusions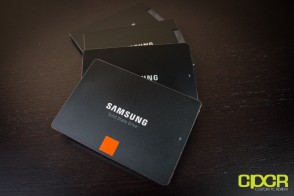 The way I see it, Samsung's introduction of the 840 now puts them in a couple of "special spots" in the SSD market. First and foremost, Samsung manufactures the 840 completely in house. Controller, NAND, DRAM cache, everything. This means cherry-picking of the best NAND off each wafer, better NAND/controller integration, ability to do much more validation/testing, and faster firmware turnaround times if any tweaking is ever needed. Second, Samsung now has access to a TLC NAND based SSD product. TLC NAND is roughly 30%-40% cheaper than MLC (2 bit per cell) NAND, so it gives Samsung a lot of room to become much more "competitive" if so desired. Considering current pricing on MLC NAND based products on the market, I wouldn't be surprised to see the Samsung 840 regularly selling for $0.50/GB by Q2 2013.
Performance on the Samsung 840 was definitely unexpected especially since it seemed like Samsung spent a lot more time promoting the 840 Pro and downplaying the 840 during their SSD Summit. While it's true sequential writes were lacking, most client workloads are focused towards random reads and writes, which is precisely where the Samsung 840 excels in. This is why the Samsung 840 was able to top the charts in PC Mark 7 despite most other drives being advertised as having significantly faster sequential writes. Of course, those of you planning on using the drive in scenarios where constant sequential writes are needed, you might want to check into the Samsung 840 Pro, but for general computing, the Samsung 840 should be a beast of a drive that's more than capable of fulfilling most general consumer needs.
| | Samsung 840 | Samsung 840 | Samsung 840 |
| --- | --- | --- | --- |
| Capacity | 120GB | 250GB | 500GB |
| Model | MZ-7TD120BW | MZ-7TD250BW | MZ-7TD500BW |
| Price | $109.99 | $199.99 | $549.99 |
Pricing on the Samsung 840 250GB is expected to be around $199.99 for the bare drive, which puts it at well under $1/GB even at MSRP pricing. Looking at the 120GB and 500GB drives, it seems like pricing is either around or under $1/GB, which will make the entire Samsung 840 lineup extremely competitive when it launches next month. Samsung will also be offering the 840 with a combination desktop/notebook kit for an additional $20, which includes stuff like a 2.5″ to 3.5″ bracket, 2mm riser, etc., which isn't too bad for those who need the extra stuff.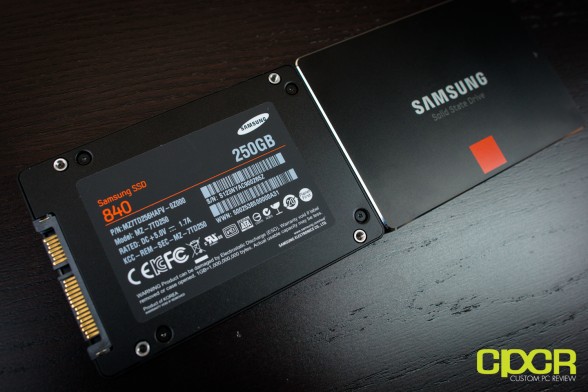 Warranty on the Samsung 840 is a very standard 3 years, which is a bummer especially with the 840 Pro getting the coveted 5 year treatment. Given that TLC NAND is a fairly new development in consumer SSDs, it would definitely inspire a lot more confidence into the generally less durable NAND if Samsung were to offer a 5 year warranty. However, it seems like Samsung is quite confident that the TLC product will be as durable as MLC (2 bit per cell) offerings, so we'll see what happens in the coming months. Given Samsung's excellent track record in the SSD market, there shouldn't be any problems, but it's definitely something to keep in mind. That said, I will be using the Samsung 840 extensively until its retail launch, so I'll be sure to post any updates on the drive if any problems do arise.
Bottom Line
With the 840, Samsung has done a remarkable job showing us that TLC NAND can and will be a viable solution for more affordable, larger capacity SSDs from this point forward. While long term durability is still up in the air pending mass user adoption and long term testing, Samsung's pricing and their reputation as a tier 1 SSD manufacturer makes the 840 a very attractive option when it begins shipping in October.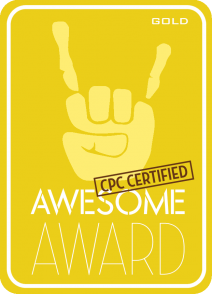 Special thanks to Samsung for making this review possible! Don't forget to check out our review of the Samsung 840 Pro 256GB!
For more information, be sure to check out additional independent Samsung 840 reviews from our friends below!