MSI GS40 6QE Phantom Review
MSI's New 14″ Portable Gaming Powerhouse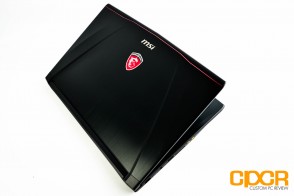 With the introduction of more power efficient CPUs and GPUs along with the introduction of more flexible storage form factors such as M.2, the once massive gaming laptop is now significantly smaller. Over the past couple years, MSI has been among the pioneers of the new trend of ever shrinking gaming laptops, introducing an array of portable systems including the GS70, GS60, GS30 and now the GS40.
Today we'll be reviewing MSI's latest GS40 Phantom which is the 14″ variant of MSI's GS series of gaming laptops. The GS series gaming laptops have always been portable gaming notebooks with high powered processing and graphics capabilities in a thin and relatively light form factor, and the GS40 Phantom follows the trend.
MSI GS40 6QE Phantom Specifications
| | |
| --- | --- |
| Notebook | MSI GS40 6QE Phantom |
| CPU | Intel Core i7-6700HQ (6M Cache, Up to 3.50 GHz) |
| Motherboard | MSI MS-14A1 HM170 Motherboard |
| Memory | 16GB Samsung DDR4-2133 Memory |
| Graphics | Intel HD 530 Integrated Graphics + Nvidia GeForce GTX 970M 3GB |
| Storage | 128GB Samsung PM951 PCIe NVMe SSD + HGST 1TB 7200RPM HDD |
| Optical Drive | N/A |
| Display | 14″ LG IPS 1920×1080 LED Backlit Display |
| Sound | Built-in Stereo Speakers |
| Networking | Killer Wireless N1525 a/b/g/n + Killer E2400 Gigabit + Bluetooth v4.1 |
| Keyboard | Built-in SteelSeries Anti-Ghosting Keyboard |
| Mouse | Built-in Touchpad |
| Battery | 4-Cell 70Wh 6400mAh Li-Ion Battery Pack |
| Webcam | Built-in HD Webcam (1.3MP) |
| I/O | 2 x USB3.0 ports, 1x USB 3.1 Type-C port (Thunderbolt 3), 1x Mini-DisplayPort v1.2, 1x HDMI v1.4, 1x 3.5mm microphone port, 1x 3.5mm headphone port, 1x Gigabit LAN port, 1x DC-in power port |
| Operating System | Microsoft Windows 10 Home |
| Dimensions | 13.58″ x 9.65″ x 0.87″ |
| Weight | 3.75 lbs |
| Warranty | 2-Year Limited Warranty |
| Check Pricing | Click Here |
The MSI GS40 6QE Phantom is the first of the MSI GS40 Phantom models to launch in the US. In terms of specs, MSI has crammed practically everything they could into the GS40's compact form factor and on paper, it's pretty awesome. Among others, the notebook features Intel's latest Skylake based Core i7-6700HQ processor, Nvidia's GeForce GTX 970M GPU, 16GB of DDR4 memory, a 128GB Samsung PM951 PCIe NVMe SSD, 1TB 7200RPM HDD, and much more.
It definitely has all the horsepower behind a great gaming machine, so let's see how it fares.
A Closer Look at the MSI GS40 6QE Phantom
Here's a look at the packaging for the MSI GS40 6QE.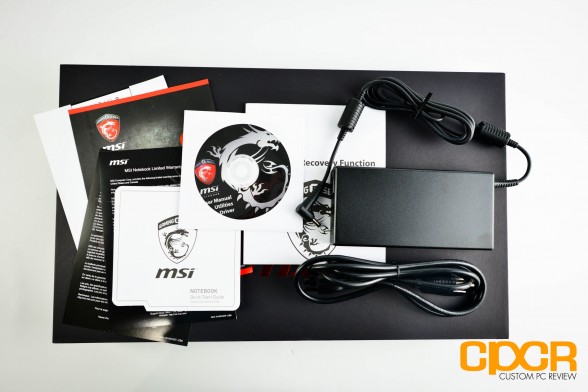 The MSI GS40 6QE comes relatively light on accessories. Included there's simply some documentation, a driver disk and a 150w power adapter.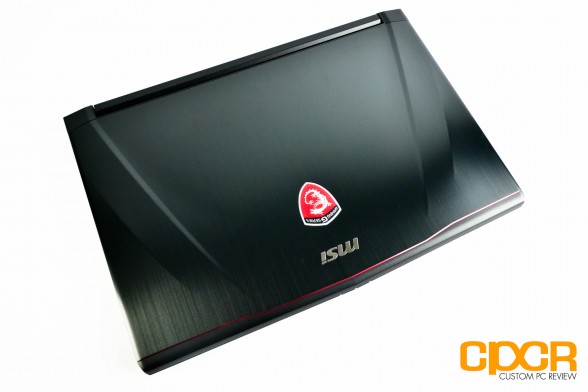 Here's a look at the MSI GS40 6QE. The unit is overall quite portable for a gaming notebook, measuring in at just 13.6″ wide, 9.6″ deep, and 0.90″ thick, weighing in at just 3.5lbs. The unit is almost entirely constructed of metal. At the top of the unit is the MSI Gaming logo which lights up when the unit is in use.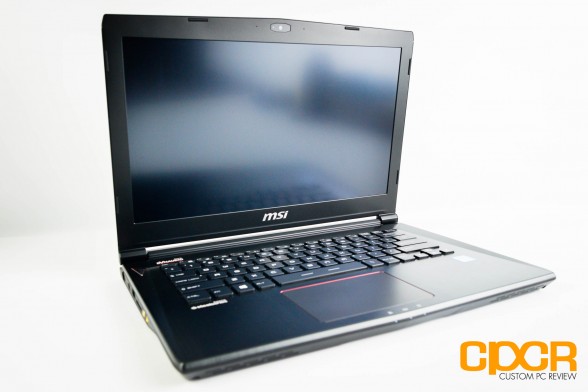 The screen on the MSI GS40 6QE is a 1920×1080 LGD046D IPS display. Above the screen is a webcam capable of up to 30fps at 1080p.
Thanks to its metal chassis, the MSI GS40 6QE feels extremely sturdy. With its heavy base and smooth hinge, the top lid can be opened with just a single hand. As MSI has been building most of their higher end notebooks out of metal for quite some time, the build quality on the GS40 is very good.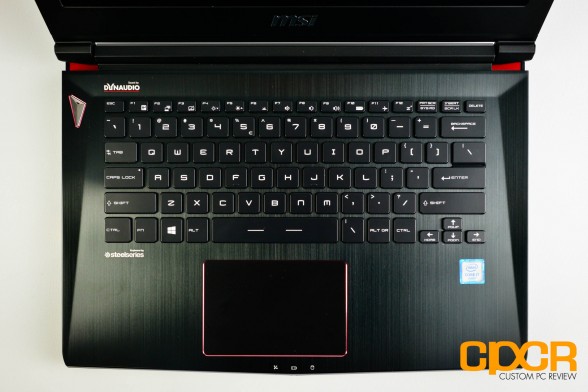 The keyboard on the MSI GS40 6QE is designed by SteelSeries, as are many of the keyboards in MSI's newer notebooks. The keyboard in the MSI GS40 6QE is backlit with only red LEDs however and are not RGB like some of MSI's other notebook keyboards.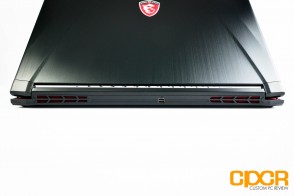 I/O connectivity includes 2 x USB3.0 ports, 1x USB 3.1 Type-C port (Thunderbolt 3), 1x Mini-DisplayPort v1.2, 1x HDMI v1.4, 3.5mm microphone/headphone port, 1x Gigabit LAN port, and a DC-in power port. On the right side of the unit is a small grille for heat dissipation. At the front of the GS40 is two speakers.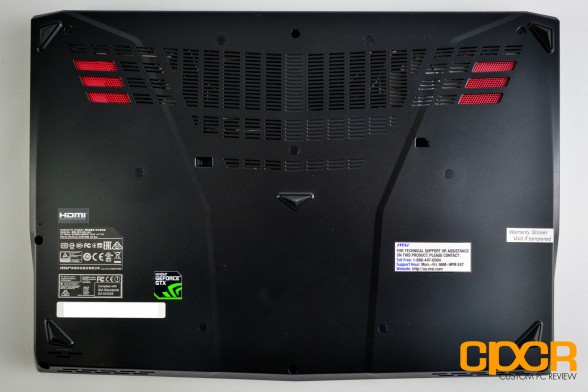 Here's a look at the bottom of the MSI GS40 6QE. There are a number of large rubber feet which lift the notebook up for better heat dissipation during operation.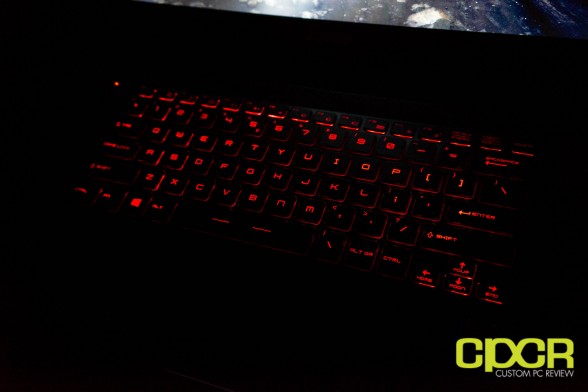 Here's a look at the backlit keyboard in the dark. MSI's keyboard backlighting for the GS40 Phantom is bright red with three brightness modes (off, low, high).
A Closer Look at the MSI GS40 6QE Phantom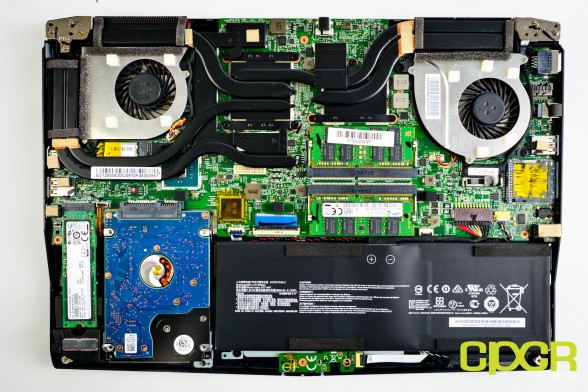 Servicing the MSI GS40 6QE is extremely easy. Simply remove the screws at the bottom and the bottom cover pops off. Removing all the screws at the bottom of the unit will void the warranty though which is unfortunate since so much of the system is user serviceable.
Pulling the bottom panel off the MSI GS40 6QE, we can take a look at some of the components inside. The design here is relatively clean and the location of components are well organized.
About 1/4 of the space inside the unit is dedicated to the battery. MSI has included a 4 cell, 61.25Wh, 8060mAh battery.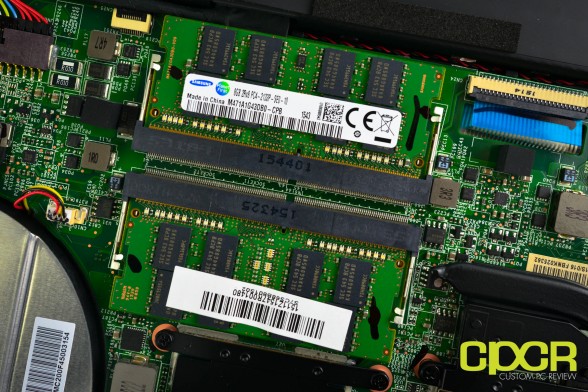 The MSI GS40 6QE Phantom utilizes two 8GB Samsung DDR4 2133MHz SO-DIMMs for a total of 16GB of onboard memory. This is further upgradeable to 32GB for those who need the extra memory.
For storage, MSI has equipped the GS40 6QE Phantom with a 128GB Samsung PM951 PCIe NVMe SSD along with a HGST 1TB 7200RPM HDD. Unfortunately, given its compact form factor, these are the only storage options available.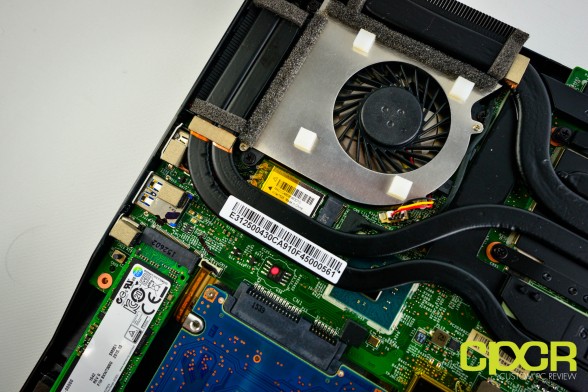 For networking, MSI has included a Killer N1525 a/b/g/n/ac WiFi along with Killer E2400 Gigabit Ethernet. These may be used simultaneously thanks to Killer's DoubleShot Pro software which automatically load balances applications and selects the fastest, lowest latency interface for gaming applications.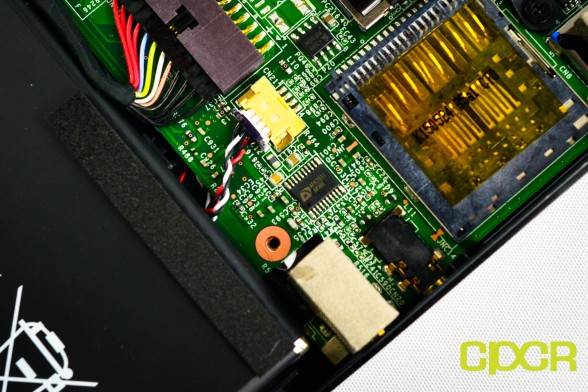 For audio, MSI has partnered with Dynaudio who powers the audio system in a number of MSI's more premium notebooks. The system on the GS40 Phantom includes a Realtek sound chip, an ESS Sabre Hi-Fi DAC capable of up to 24bit/192kHz and a SNR of 122dB and an APA2031 amp for compatibility with high end headphones.
MSI GS40 6QE Phantom Initial Boot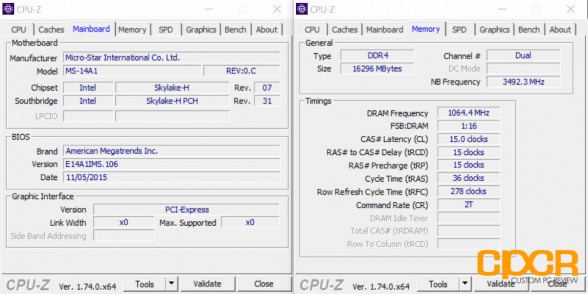 At the heart of the MSI GS40 6QE is an Intel Core i7-6700HQ running at 2.6GHz with the capability of turboing up to 3.5GHz. The Intel Core i7-6700HQ is a 45w TDP quad-core, hyper-threaded CPU based on the Intel's latest Skylake 14nm architecture. The motherboard is listed as a MSI MS-14A1 which utilizes Intel's Skylake-H (HM170) chipset. Memory onboard is 16GB of Samsung 2133MHz CAS 15 DDR4.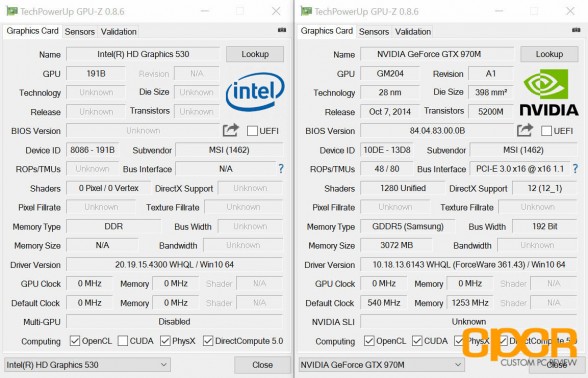 Graphics is powered by a combination of Intel HD 530 integrated graphics along with a Nvidia GeForce GTX 970M 3GB discrete graphics. Nvidia Optimus technology switches between integrated and discrete graphics depending on graphics load to improve battery life
MSI GS40 6QE Phantom Performance
System Performance
PC Mark 7
PC Mark 7 is a full system benchmark designed to test real world system performance.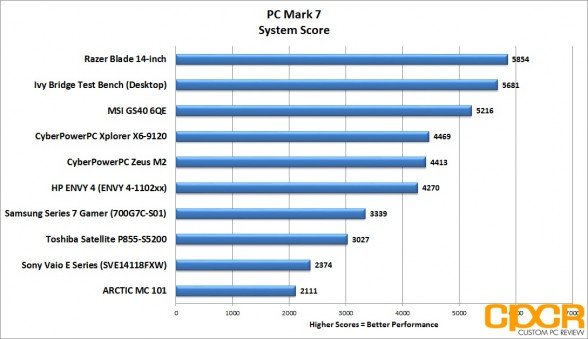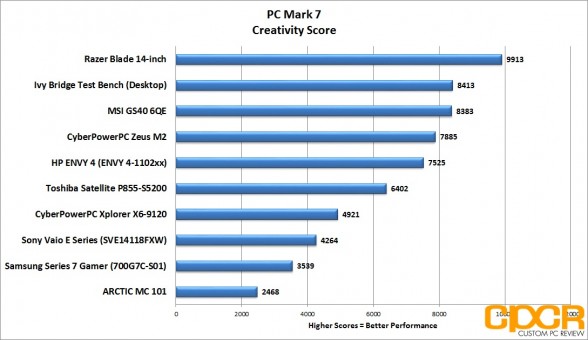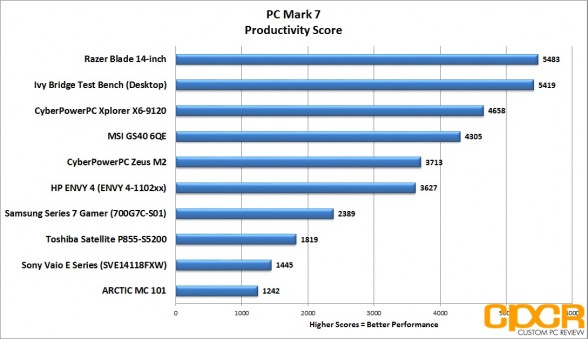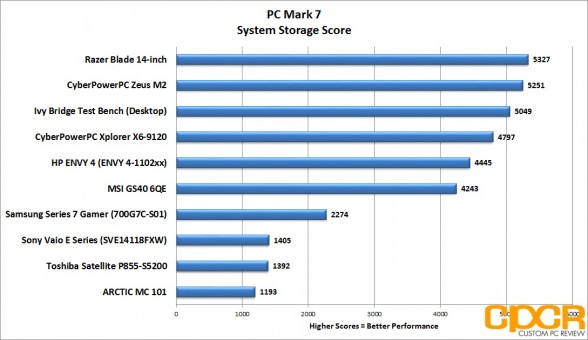 PC Mark 8
PC Mark 8 is the successor to the highly popular PC Mark 7 and is a full system benchmark designed to test real world system performance.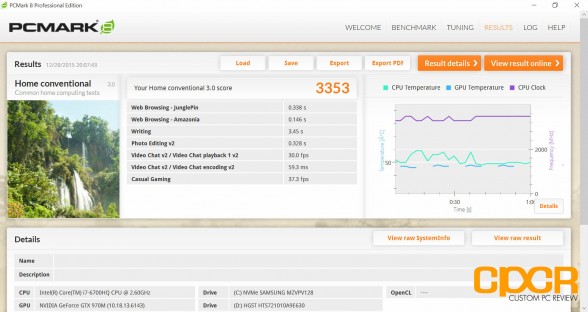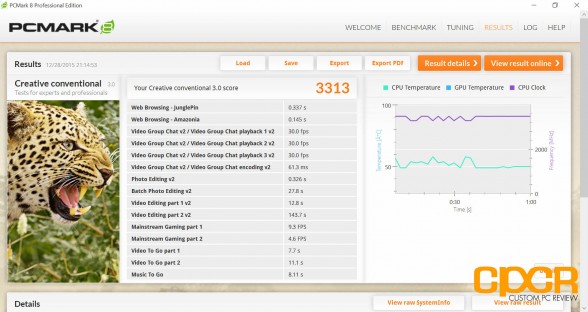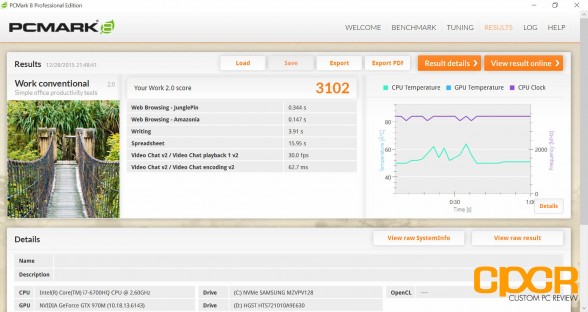 Performance Analysis
System performance for the MSI GS40 6QE was very good although slightly less than what was expected. We'll explain that a little bit later.
MSI GS40 6QE Phantom Performance
CPU Performance
SuperPi 32M
SuperPi is a single threaded benchmarking tool which for our purposes simply calculates pi for us and records the time to calculate 32 million digits after the decimal point.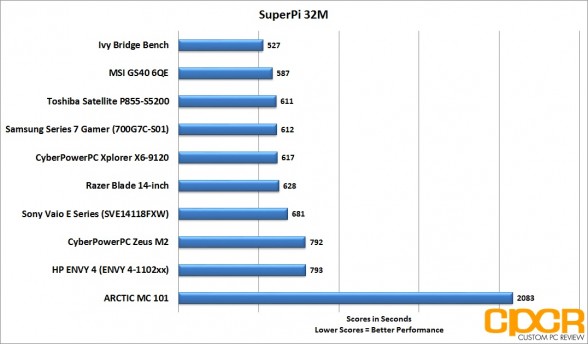 WPrime 32M
WPrime is a multi-threaded benchmarking tool which for our purposes simply calculates pi for us and records the time to calculate 32 million digits after the decimal point.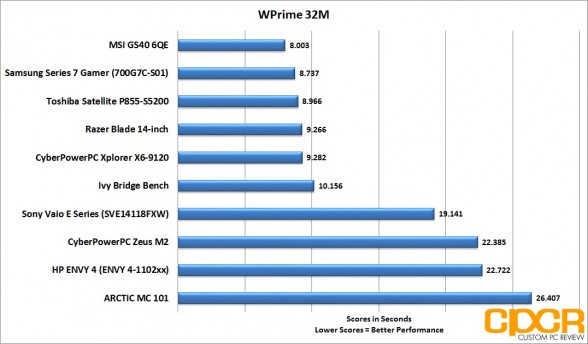 x264 HD Video Benchmark v5.0.1
x264 HD video benchmark tests how fast the system can encode a 1080p video into a high quality x264 video file. The most recent 5.0.1 release includes a more advanced benchmark script to better stress test newer multi-core processors.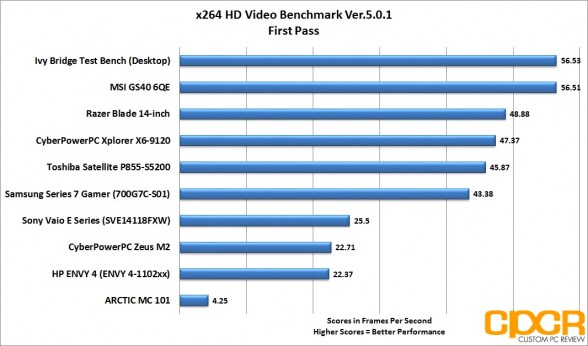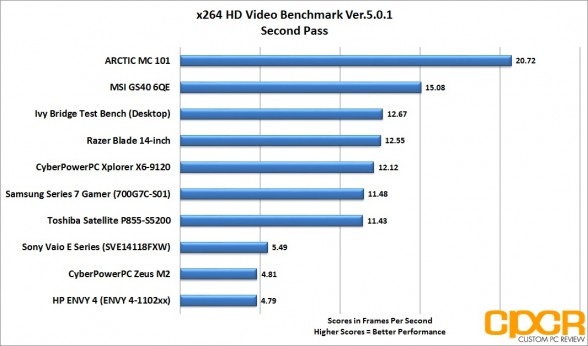 Cinebench v11.5
Cinebench is a real world benchmark that tests system performance using the Cinema 4D animation software. For our benchmarking, we'll be testing multithreaded performance only.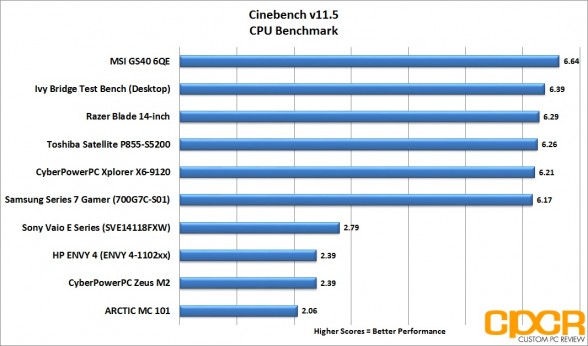 Performance Analysis
This is our first run-in with the Skylake based Intel Core i7-6700HQ and while performance here isn't really revolutionary per say, it does perform on par or slightly better than its Haswell based counterparts. Interestingly enough, despite the move down to 14nm, the Intel Core i7-6700HQ still carries a maximum TDP of 45w which is 2w lower than the Intel Core i7-4710HQ's 47w TDP and 8w higher than the Intel Core i7-4702's 37w TDP.
MSI GS40 6QE Phantom Performance
Graphics Performance
3D Mark
3D Mark is Futuremark's latest benchmark utility used widely by gamers, enthusiasts, and overclockers to benchmark system performance and stability under consistent graphics loads. Since this benchmark is very, very new we don't have a huge database of benchmark scores yet, but we'll be using the new 3D Mark from here on out for future testing.
FireStrike
Fire Strike is 3D Mark's most graphically intensive benchmark designed for high performance gaming systems.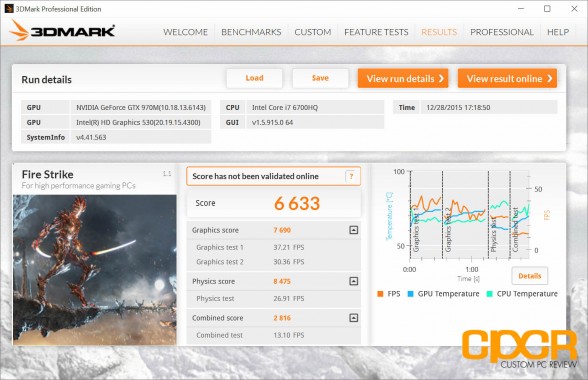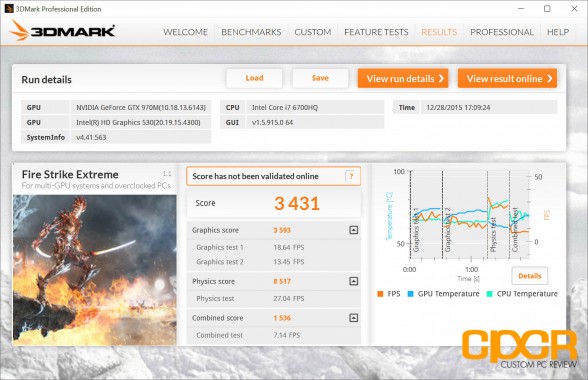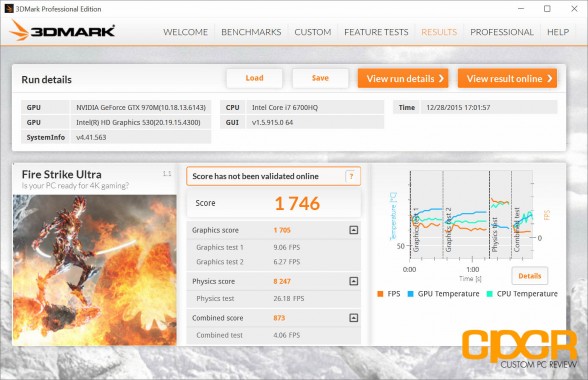 Game Benchmarks
Our game benchmarking today is going to be a bit different in comparison to our typical suite of game benchmarks. As the Blade comes equipped with a 1600×900 resolution panel rather than a 1920×1080 resolution panel, we'll be doing our testing in its native resolution at the highest settings along with testing at 1280×720 (720p) at high settings.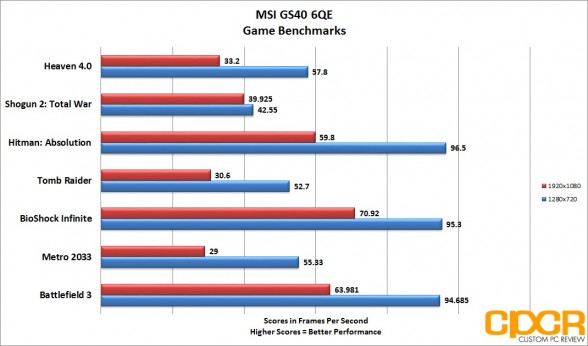 Performance Analysis
Being equipped with Nvidia's latest GeForce GTX 970m, the MSI GS40 6QE had no trouble driving any of the games we tested at the onboard screen's native 1920×1080 resolution.
MSI GS40 6QE Phantom Performance
Disk Performance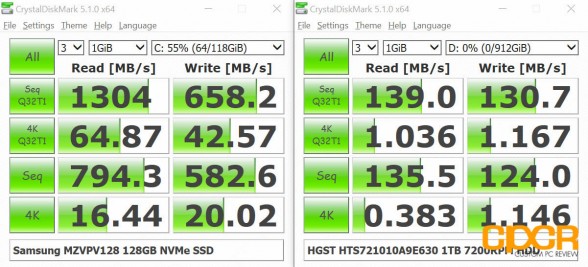 The MSI GS40 6QE is equipped with a combination of a Samsung PM951 PCIe NVMe SSD and a HGST HTS721010A9E630 1TB 7200RPM HDD. Here we can see that the Samsung SM951 was able to reach up to 1,300/658 MB/s sequential reads/writes while the HGST HTS721010A9E630 was able to reach 139/130 MB/s sequential reads/writes.
This combination provides an excellent balance of a high performance SSD for boot applications and a high capacity HDD for storage. Unfortunately, MSI currently only offers one SKU of the GS40, which is unfortunate since it would be nice to be able to purchase a unit with a 256GB or 512GB SSD.
USB 3.1 Performance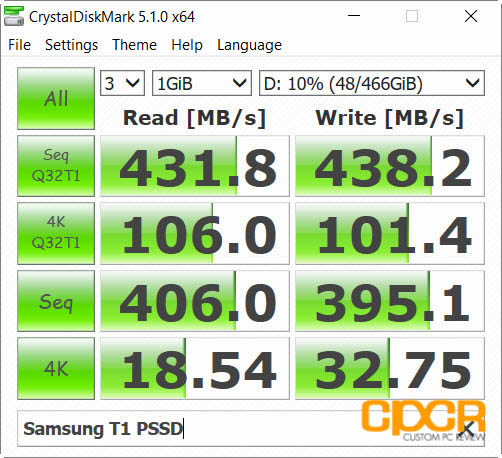 The MSI GS40 6QE has 2x USB 3.0 ports and 1x USB 3.1 Type-C/Thunderbolt port. Since we didn't have any devices that fully utilize USB 3.1 or Thunderbolt at this time, we'll only be testing the USB 3.0 ports. We'll be sure to revisit USB 3.1 and Thunderbolt later as newer devices become capable of taking advantage of its bandwidth.
To test USB 3.0 performance, we hooked up a Samsung T1 PSSD which delivered a fantastic 431 MB/s sequential reads and 438 MB/s sequential writes. Safe to say, USB 3.0 performance was stellar.
MSI GS40 6QE Phantom Power Consumption
Here we'll be testing the maximum power consumption of each of the test systems shown below. Idle power consumption is taken after the notebook is left idle for a minimum of 5 minutes. For load power consumption numbers, both Prime95 and Furmark are run simultaneously for a minimum of 5 minutes before the final results are taken. If possible, the battery is removed for a more accurate reading of power consumption. Power consumption readings are taken using a Extech 380801 Power Analyzer connected via a Tripp-Lite LCR2400 Line Conditioner.
For our testing below, the notebooks are set to "balanced" power mode with the screens at 100 nits of brightness. The ARCTIC MC101 and the Ivy Bridge Bench are not notebooks and have been included for reference purposes only.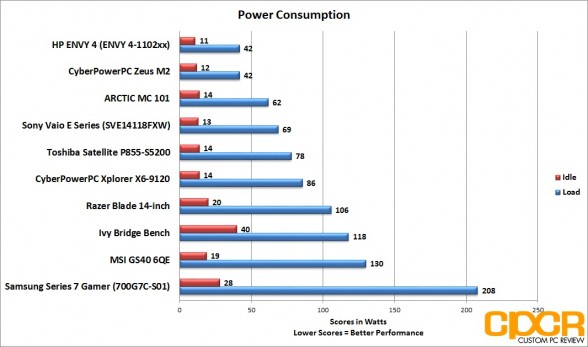 With its high powered components, the MSI GS40 6QE Phantom isn't going to be the most power efficient laptop out there and our testing reflected this as it was one of the most power hungry, drawing ~130w under full load. Idle power consumption on the other hand came in at ~19w which is as expected of the class of components onboard.
PC Mark 8 Battery Life Testing
Work Benchmark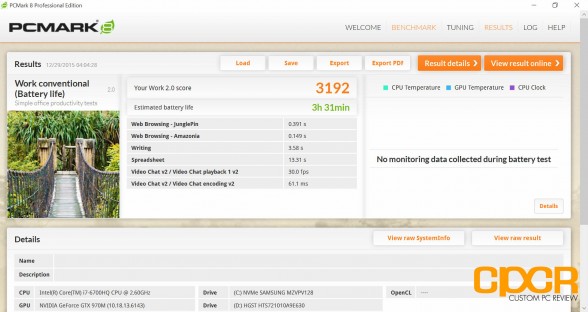 Creative Benchmark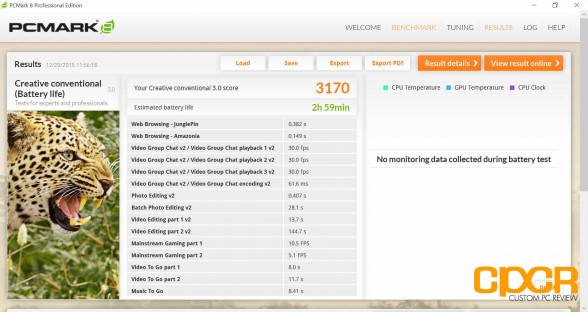 Performance Analysis
The MSI GS40 6QE Phantom comes with a decent 8,060mAh, 61.25Wh battery. In our testing it was able to last 3.5 hours on a light load and about 2 hours on a heavy load. Unfortunately this isn't great by any means, but it's the tradeoff we unfortunately have to accept between performance and battery life.
MSI GS40 6QE Phantom Temperatures
Temperature testing is conducted by simultaneously running Prime 95 and Furmark in order to generate the maximum amount of heat possible. Temperatures are taken after a minimum of 20 minutes of testing.
Ambient Temperature – 23.6°C (Taken via Extech EA10 dual probe thermometer)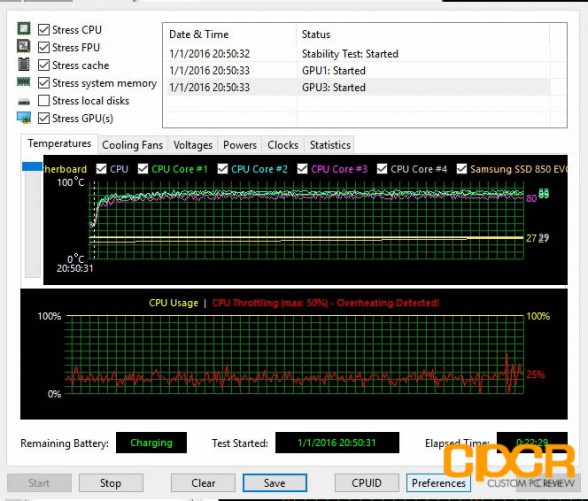 When you have a ton of high powered components crammed into a small 14″ notebook frame, there's no doubt that there may be some cooling issues which was the case with the MSI GS40 6QE Phantom. In our AIDA 64 stress testing, the notebook quickly overheated and began throttling. While we've seen this in many other high performance, portable notebooks, the MSI GS40 6QE Phantom had to throttle significantly to prevent overheating.
This is also likely the reason as to why we saw slightly lower than expected performance in some benchmarks from the MSI GS40 6QE Phantom as the system would periodically throttle itself to prevent overheating. Throttling was significantly more apparent in applications which placed a constant stress on the system.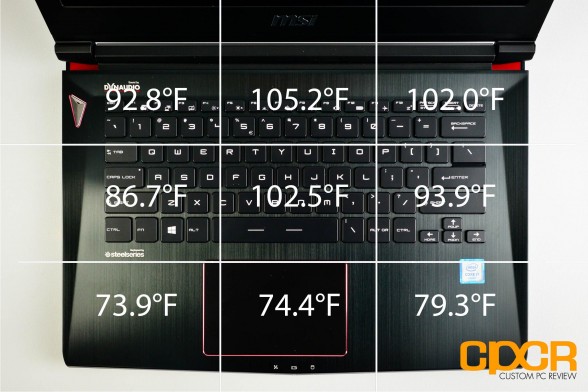 Here's a look at temperatures around the keyboard area as a heavy load is placed on the notebook for an hour. MSI has done a relatively good job at ensuring the system isn't too hot to touch even after prolonged gaming. Here we can see that only a couple areas around the system breaks the 100ºF barrier with key areas such as the WASD staying relatively cool.
MSI GS40 6QE Phantom LCD Testing
The display MSI is using for the GS40 6QE Phantom is a LP140WF3-SPD1 14″ LED-backlit IPS panel.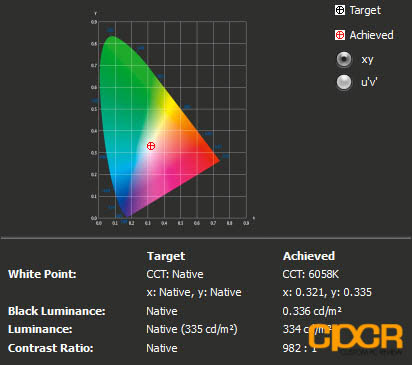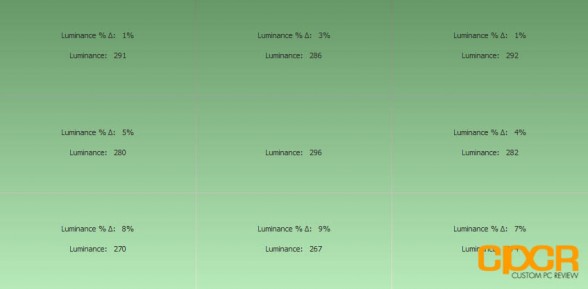 Screen brightness is fairly good with the screen capable of up to 334 nits. This should be just enough for those looking to use the notebook outdoors or in brighter environments. Backlight uniformity wasn't bad as well with the top and middle of the screen being most uniform. The bottom of the screen does lose a bit of brightness, but overall it's acceptable.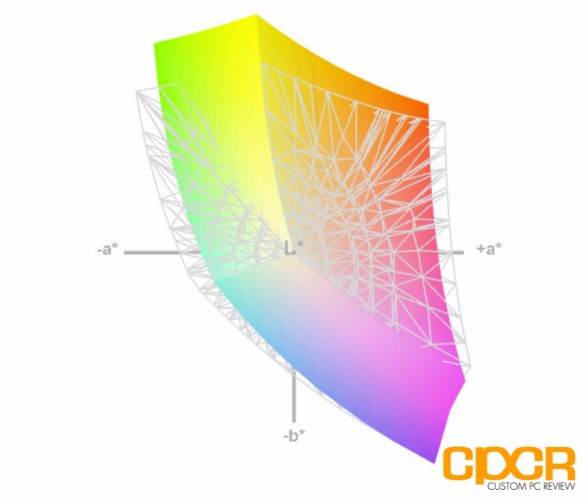 Since the MSI GS40 Phantom utilizes a LP140WF3-SPD1, it has good color coverage, covering 91% of the sRGB color space and 63% of the Adobe RGB 1998 color space. While this is average for an IPS display, it's significantly better than the typical TN panels you'd normally find on most lower end gaming laptops on the market. Those looking to use the MSI GS40 6QE Phantom for creative work should find the screen decent enough for taking projects on the go.
Viewing Angles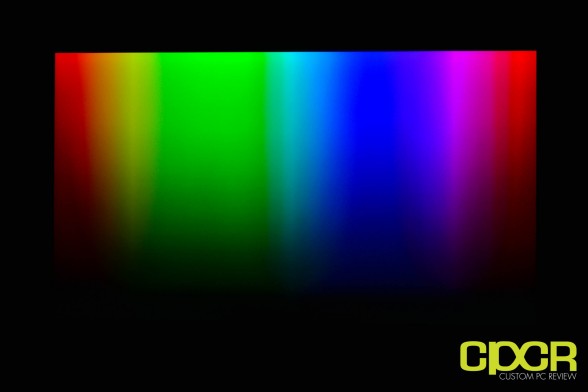 Horizontal and vertical viewing angles are very good, as expected of an IPS panel.
MSI GS40 6QE Phantom Conclusions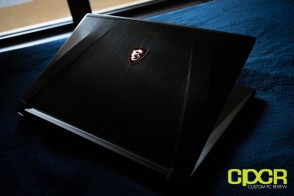 MSI already has a relatively strong portfolio of gaming notebooks, and the GS40 Phantom continues to help round out that portfolio giving customers looking for top end hardware in a 14″ form factor a strong offering that few other system integrators offers.
Design-wise, the MSI GS40 Phantom takes its inspiration from the rest of the GS notebook lineup so those who loved the design of the GS30, GS60, or GS70, but always wanted a 14″ laptop will find the GS40 a perfect fit. The beautiful all metal body along with the top notch hardware makes the GS40 a pretty sweet system, especially to think something like this would not have been anywhere near possible just a couple years ago.
Not only is the hardware in the the MSI GS40 Phantom top notch, but it's also paired very well to help create a very well rounded system that checks all the boxes for a premium gaming system. In our testing, the MSI GS40 6QE Phantom was easily able play all the latest games on the market at relatively high graphics settings. Furthermore, the combination of the Skylake based 6th Generation Intel Core i7-6700HQ along with the GeForce GTX 970M, 16GB of DDR4 memory, a beautiful 14″ IPS display, a good combination of fast SSD and high capacity HDD storage and a relatively decent keyboard makes it a strong machine for many other applications as well.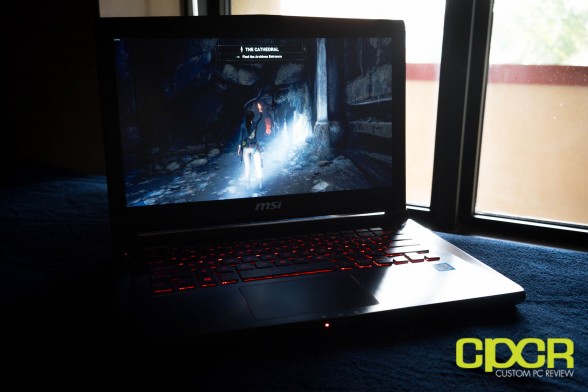 The biggest issue with the MSI GS40 Phantom and unfortunately most portable gaming notebooks on the market today is cooling. In our testing, the MSI GS40 Phantom throttled significantly to keep temperatures within its acceptable range. While this isn't a debilitating issue for common tasks such as gaming, web browsing, streaming movies, etc. as they don't necessarily tax the system to its fullest 100% of the time, this could be an issue for those looking to do something more demanding such as media encoding which creates a heavy processing load for extended periods of time. This is unfortunately the tradeoff for such high powered components in such a small enclosure.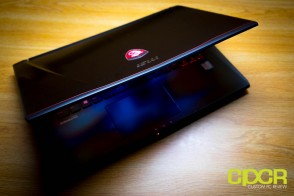 Another issue I found with the GS40 Phantom is that the onboard speaker system needs to be significantly improved as well. Despite the system being powered by Dynaudio, it appears that they've decided to include the weakest speakers on the planet. At maximum volume, the speakers are still fairly weak and will be barely audible in practically any environment except a completely quiet room. That being said, those looking to primarily use headphones will find that the ESS Sabre Hi-Fi DAC powered system is among the best onboard sound we've heard when using the 3.5mm headphone jack. It's just a shame that the onboard speakers are so bad. An upward facing system such as the one in the GS60 would've been a significantly better design choice.
Currently the only SKU for the MSI GS40 Phantom is the 6QE model, which is available online for ~$1,599 and given its powerful set of components, this is fairly reasonable. Unfortunately, because there's only a single model, those who want slightly different configurations such as a higher capacity SSD or a less powerful graphics card don't have much of an option without voiding the warranty on the system. For now.
Overall, the MSI GS40 6QE is a great choice for those looking for a portable high end gaming notebook. While there are a couple issues to be ironed out, there are few competing notebooks out there that offer the type of performance the GS40 Phantom offers in a sub 1″ thick, 14″ form factor.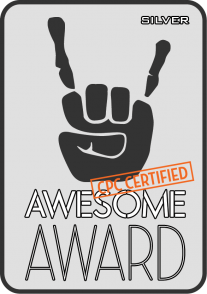 Available at: Amazon