Razer Orbweaver Mechanical Gaming Keypad Review
Razer Orbweaver Perfomance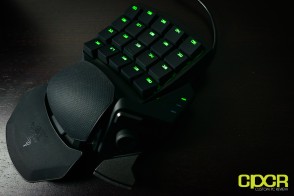 For performance testing, I tested the Razer Orbweaver in a number of different games to see if the keypad offered any sort of advantage while gaming.
For FPS gaming, I played some Battlefield 3 along with some CS:GO and overall I didn't notice much improvement in gameplay. Since FPS gaming doesn't benefit much from setting macros, I pretty much played the games using the default keypad setup. After spending about two weeks with the Orbweaver, I still can't really say that I'm seeing much improvement in gameplay versus using a standard keyboard. The spacebar button on the Orbweaver is too light and the position of the thumbrest is too much of a stretch for my hand so it simply isn't all that comfortable. The upper buttons, even with the Orbweaver's palmrest at the shortest setting was still too far of a reach for my fingers so changing weapons was a bit difficult. I also generally use a bit of my palm to hit the CTRL button while using a standard keyboard, so there was definitely a slight learning curve to using my pinky instead.
The next game I spent some time playing was League of Legends, and being a game that pretty much only requires 4 keys on the keyboard to play, I didn't notice any performance improvements here either. Given how difficult it is for my hand to reach the top row of buttons, I constantly found myself reaching for my keyboard instead.
Finally, I also played some Diablo 3 to see if a different genre of game could benefit more from the keypad and it didn't really do much either. Diablo 3, like League of Legends just doesn't require all that much in terms of buttons so I didn't find much improvement moving over to the Orbweaver.